A Bit of History:
I have to admit that I did not actually know what kind of pepper I was buying while purchasing a can of chipotle peppers in adobo sauce for my Peach Chipotle Espresso BBQ Sauce. Therefore, the time was ripe to do a little research for this post. Interestingly, I learned that chipotle peppers are actually smoked red jalopeno peppers. Typically, red jalopeno peppers, smoke for several days until they resemble prunes. Even though they look extremely unappetizing, I love the flavor these prune-like peppers add to sauces and soups.
I have always been fascinated by history. In regards to food history, I find it very interesting to learn the paths foods travel across the globe. Historians believe that the Aztecs were among the first peoples to smoke peppers for preservation. When Christopher Columbus arrived in Central America, research indicates he transported smoked jalopeno peppers back to Spain. From the Iberian peninsula, the smoked delicacy spread throughout Europe. Today, chipotle peppers play a huge role in cuisine from Mexico and the Southwestern Unites States.
---
About the Recipe: Peach Chipotle Espresso BBQ Sauce
In this recipe, the sweetness of fresh ripe peaches perfectly balance the heat of chipotle peppers and habanero pepper infused honey. Adding espresso to BBQ sauce builds another layer of intense flavor. Nevertheless, this recipe is simple, fast and crafted from pantry staples. Peach Chipotle Espresso BBQ Sauce provides a wonderful condiment for topping grilled vegetables, rice, and vegetarian tacos. Its flavors pair nicely with sweet potatoes, squash, zucchini, corn, broccoli, cauliflower, and peppers.
---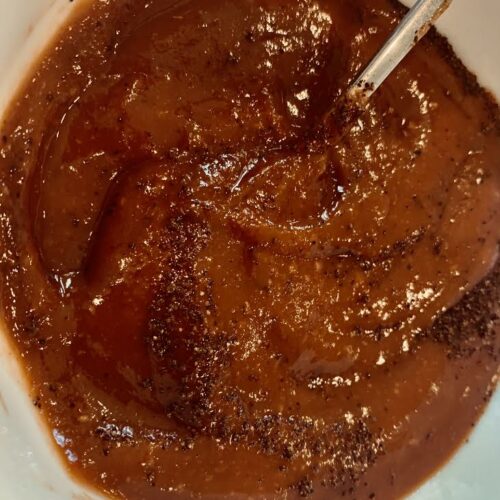 Peach Chipotle Espresso BBQ Sauce
A savory BBQ sauce with a little kick of espresso and chipotle peppers balanced by the sweetness of fresh peaches. It's the perfect topping for grilled vegetables, vegetarian tacos, or as a marinade.
Ingredients
1

cup

fresh cherry tomatoes (or 1 15 oz. can)

4

shots

espresso (or 1 cup of strong coffee)

6-8

canned chipotle peppers

2

fresh peaches sliced

1

tbsp

honey (I like to use haberno infused honey. Substitute sugar if vegan)

1

tsp

onion powder

1

tsp

garlic powder

1 1/2

tsp

pepper

1 1/2

tbsp

balsamic vinegar

1 1/2

tbsp

soy sauce

2

tbsp

tomato paste

salt and chili powder to taste
Instructions
Combine all ingredients in a large sauce pan. Bring to a gentle simmer and cook 15 minutes.

Taste and adjust seasonings.

Remove from heat and allow to cool a few minutes. Transfer to a blender and process until smooth.
Looking for some other great Ultratruffle recipes? Try these favorites:
Roasted Green Tomato Salsa with Burritos