A Bit of History:
Every time I hear the words green tomato, my mind immediately recalls the 1991 movie Fried Green Tomatoes with Kathy Bates. Set in Alabama, the main characters operate a small cafe near a railroad, where they specialize in serving fried green tomatoes. While this movie contains many memorable quotes I always like "Secret's in the Sauce." I truly believe that a great sauce elevates any dish, and this Roasted Green Tomato Salsa for Burritos is no exception.
When referring to produce, the term green tomatoes causes a lot of confusion. It refers to both unripe red tomatoes (green in color) or ripe green heirloom tomatoes. Un-ripened tomatoes feel hard, almost like an apple, with a more acidic and tart taste compared to ripe tomatoes. In contrast, green heirloom tomatoes are softer and taste similar to ripened red tomatoes. For this recipe, I used unripe green tomatoes for their unique flavor.
About the Recipe: Roasted Green Tomato Salsa with Burritos
My husband always requests burritos and salsa for lunches to take to work. From my perspective, it's perfect, because my roasted salsa recipe is so easy to make! Slice a few tomatoes, peppers, garlic, and an onion in half and roast in the oven. Simply, blend with cilantro and fresh lime juice and done! We love to serve this salsa with homemade chips and incorporated into burrito wraps.
Burritos are perhaps one of the most perfect meal prep meals. We craft our burritos with seasoned rice, black beans, peppers, onion, fresh cilantro, and lime juice. Using frozen bags of microwavable rice and canned black beans definitely shorten the prep time. I slice a few bell peppers, purple onion, jalapeno and cook for a few minutes (while the rice is in microwave) on the stove with black beans and my favorite taco seasoning. Then, I toss the pepper mixture with the rice, some fresh lime juice, more seasoning, and fresh cilantro. Finally, I scoop some of the rice mixture into flour tortillas, top with Roasted Green Tomato Salsa and that's a wrap! We wrap the burritos individually in foil for storage in the freezer. When ready to enjoy, simply defrost in the refrigerator or microwave and brown on the stove or eat straight from the microwave!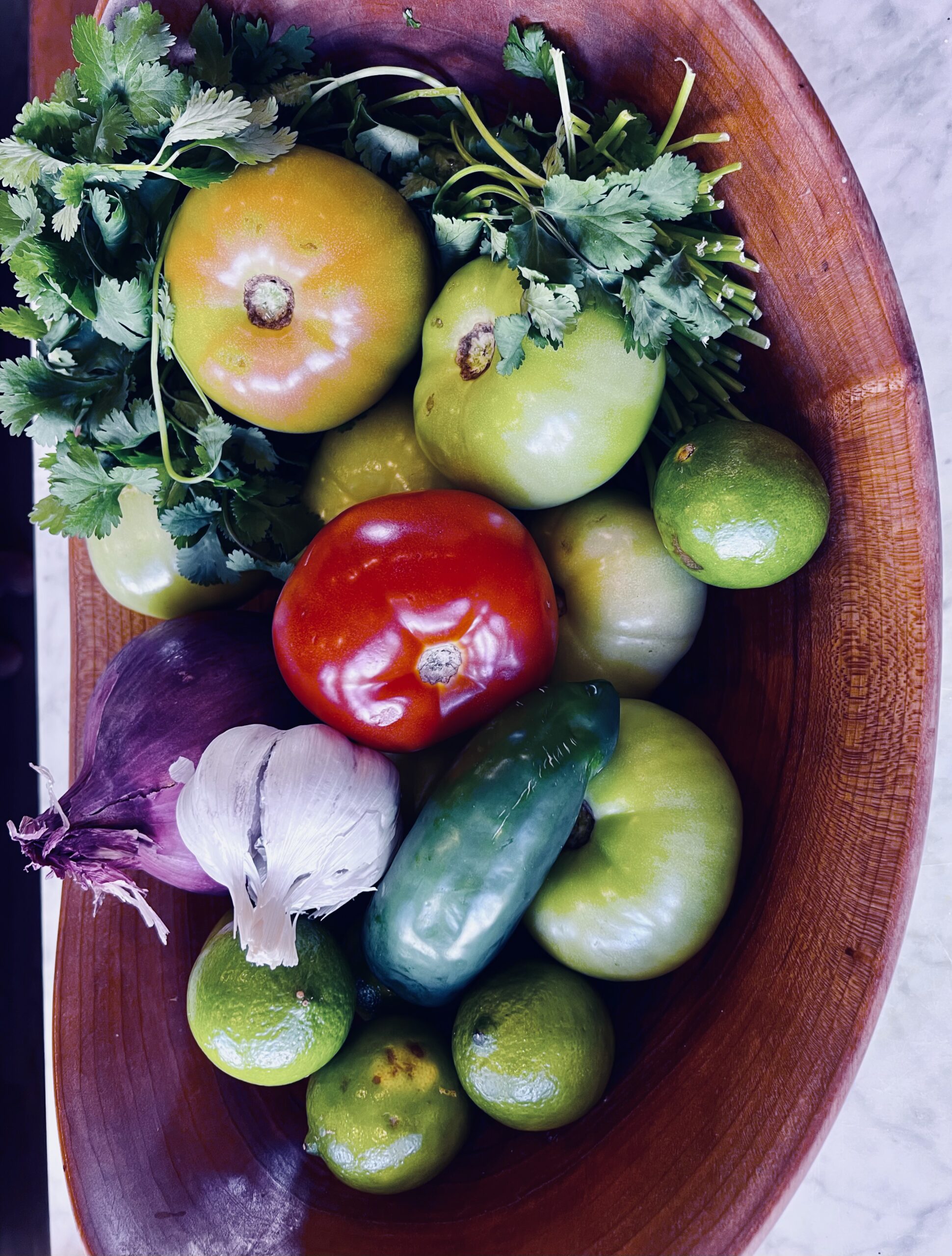 A beautiful array of green and red tomatoes, red onion, and fresh limes for this recipe were provided by Rainbow Packaging Corporation specializing in same day harvest and delivery!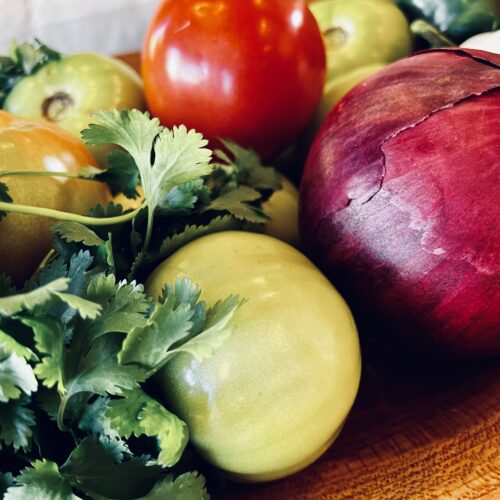 Roasted Green Tomato Salsa Burrito Wraps
Freshly roasted green tomato salsa with onion, cilantro, garlic and jalapeno. Perfectly complements seasoned rice, black beans, and peppers wrapped in a tortilla. An easy dinner or meal prep for lunch all week!
Ingredients
Roasted Green Tomato Salsa (YIELDS: 6-7 cups)
8

green

tomatoes, sliced in halves

1/2-1

purple onion (depending on size), peeled

2

jalapeno peppers, seeds removed and sliced in half lengthwise

6

cloves

garlic, peeled and wrapped in foil

1

large

bunch fresh cilantro, rough ends of stems removed

8

fresh

limes, juiced (or substitute bottled lime juice to taste. Start with approximately 1/4 cup and adjust as needed).

salt to taste
Burritos
1

15 oz.

can black beans, drained and rinsed

2

cups

cooked rice or quinoa*

2

bell peppers (or 8 baby bell peppers), diced

1/3

cup

red onion, diced

1/2-1

jalapeno pepper, seeds removed and diced (use 1/2-1 pepper depending on your spice preference)

2

tsp

Taco seasoning**

salt and cayenne pepper to taste

1

lime

juiced

1

cup

fresh cilantro, chopped

6

burrito sized tortillas of choice
Instructions
Roasted Green Tomato Salsa
Preheat oven to 400 degrees F.

Place prepared tomatoes, onion, jalopeno, and garlic packet on a lined baking tray. Roast for 30-40 minutes until starting to brown.

Add cilantro, lime juice, and 1 tsp of salt to a blender. When vegetables are finished roasting add to blender and process until smooth. Taste and add more lime juice and salt if desired.
Burrito Filling
While the vegetables are roasting, prepare the burrito filling.

In a large pan, combine the bell peppers, black beans, jalopeno, onion, and seasoning. Cook for 5 minutes until the peppers are tender.

Transfer to a large bowl. Stir in cooked rice or quinoa. Add salt to taste, lime juice, and fresh cilantro. Set aside.
Assembly
Fill each burrito with 1/2-2/3 cup of burrito filling. Spoon desired amount of salsa on top. You could also add plant based cheese if desired. Fold and wrap burrito.

For advanced meal preparation I like to wrap the burritos in foil and store in the freezer.

Burritos can be reheated in microwave or browned in a pan on the stove.

Serve with a side of salsa, guacamole, and chips. These make great lunches to take to work or school!
Notes
*This recipe for salsa yields 6-7 cups. Use leftovers to serve with burritos and chips!
*This is a great recipe to use leftover grains. To save time, use microwavable rice or quinoa packets.
**I use Chimayo Spice Bend form Charleston Spice Company but feel free to substitute your favorite taco seasoning or try this combination:

1/2 tsp cumin, 1/2 tsp minced garlic, 1/2 tsp oregano, 1/2 tsp chili powder, pinch of cayenne pepper to taste.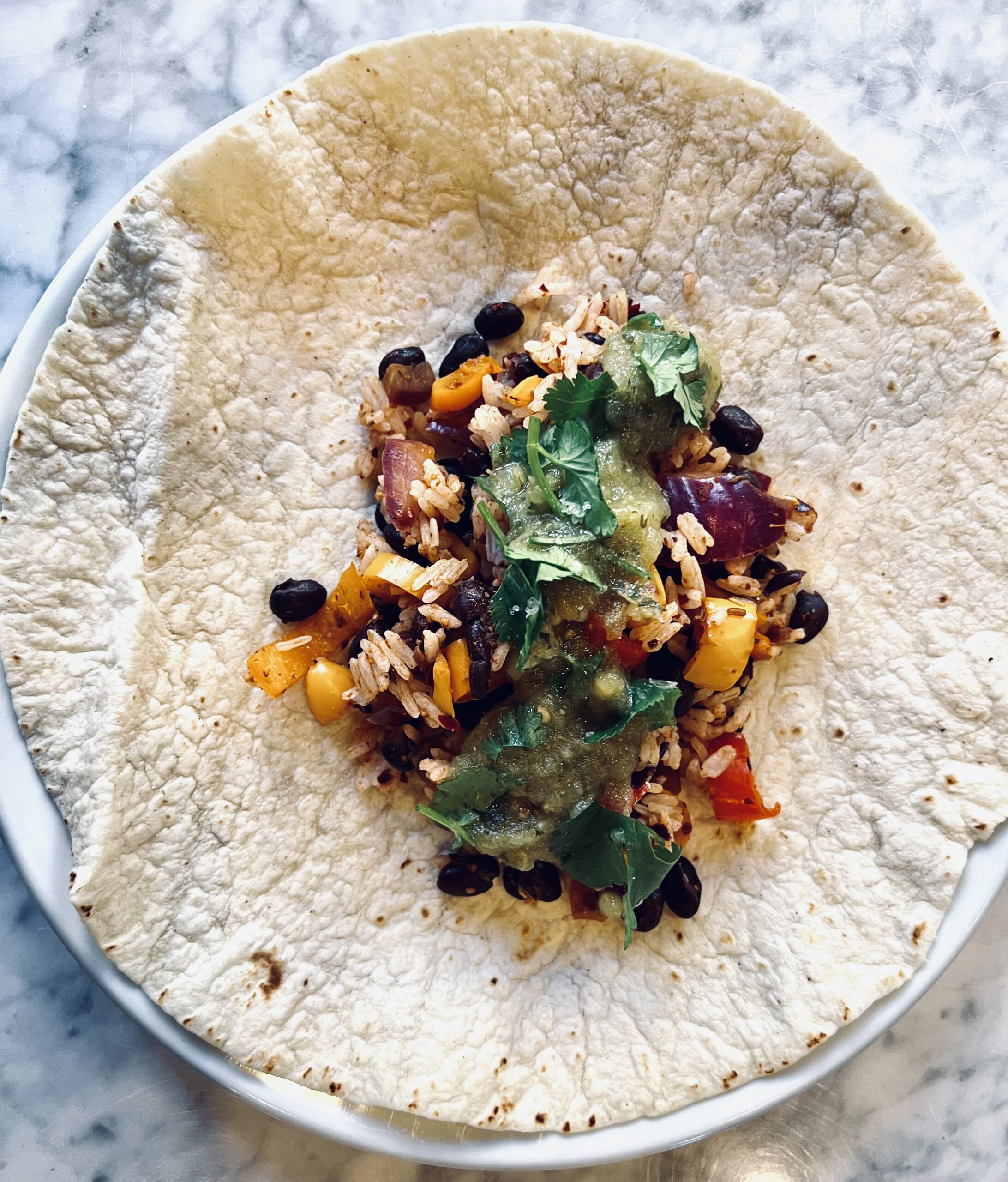 Looking for other great salsa or taco night recipes? Try these Ultratruffle favorites: