A Bit of History
I always know the holidays are fast approaching when the supermarkets stack boxes of candy canes in the entryways and Starbucks whips out their red cups. It is a time when my family and I long for the combination of peppermint and chocolate. These No-Bake Peppermint Mocha Granola Bars certainly satisfy our cravings! While holiday coffee cups are relatively new, peppermint has long been used as a digestive aid even in Ancient Egypt! Despite the debate among historians, my favorite tale of the origins of candy canes dates back to the late 1600s in Cologne, Germany.
According to the folk story, a choirmaster at Cologne Cathedral needed to keep the children quiet during the long Christmas ceremonies. The choirmaster persuaded a local confectioner to craft some bent sugar sticks for the children to enjoy during mass. This legend supports the theory that the shape of the candy cane represents a shepherd's staff. While the story, cannot be proven, I must assume that the children appreciated the choirmaster's efforts!
About the Recipe: No-Bake Peppermint Mocha Granola Bars
I love making my own granola bars – they are so easy, fast, and customizable. This particular recipe requires one bowl for mixing and a microwave safe vessel. Tahini and nut butter combined with cocoa powder and maple syrup provide the glue to hold the oats together. Adding in chocolate chips and crushed candy canes make these a seasonal hit and a healthier option to store-bought holiday treats.
Kids love assembling these granola bars because you get to jump on them! Yes, you read that correctly! After combining the ingredients, simply, line a metal baking dish with parchment paper. Next, evenly spread the oat-chocolate mixture and top with crushed candy canes. Then place a second piece of parchment paper over the top of the candy cane layer. Set a heavy cookbook on top and let the kids jump and stand on the book to flatten the granola bars.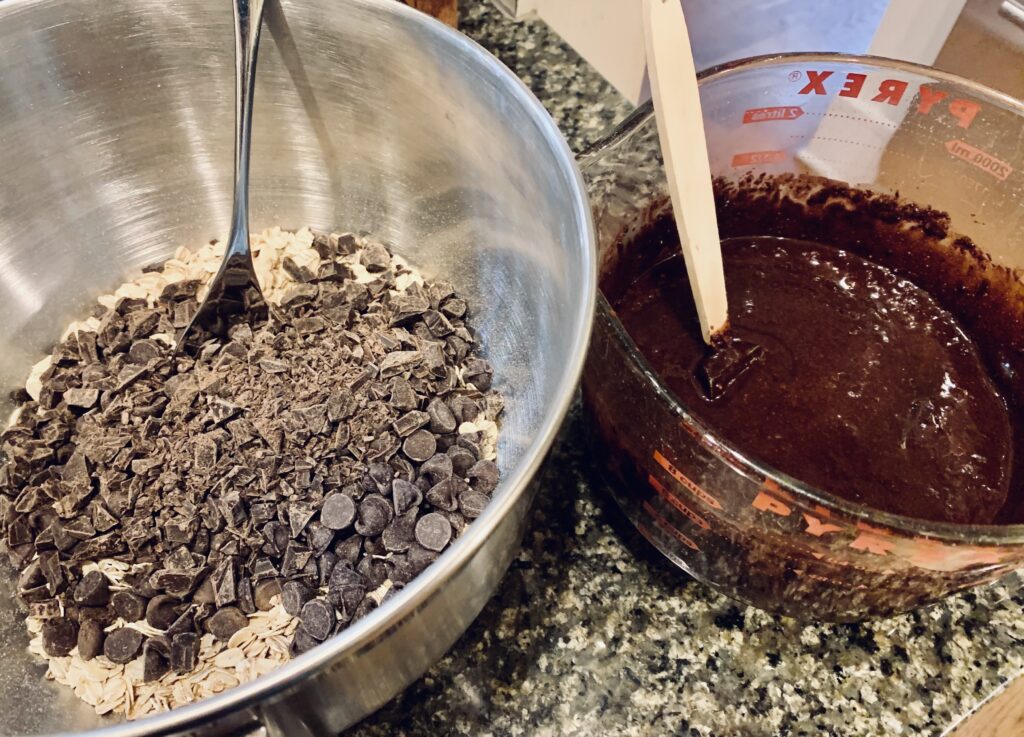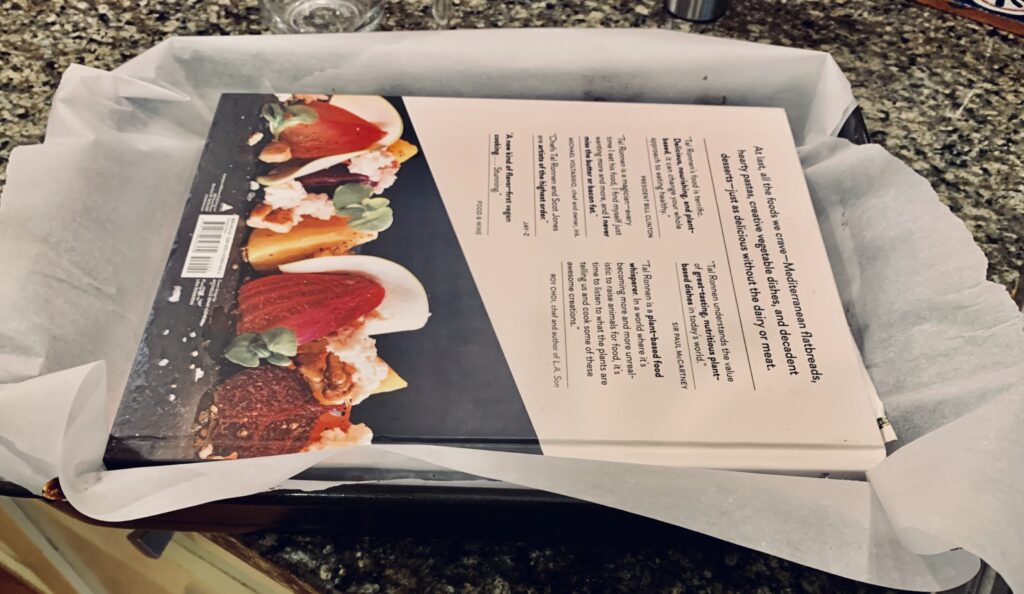 Place the whole tray in the freezer for 30 minutes before slicing into bars. We like to wrap the cut bars individually and store in an air-tight container in the freezer until ready to enjoy!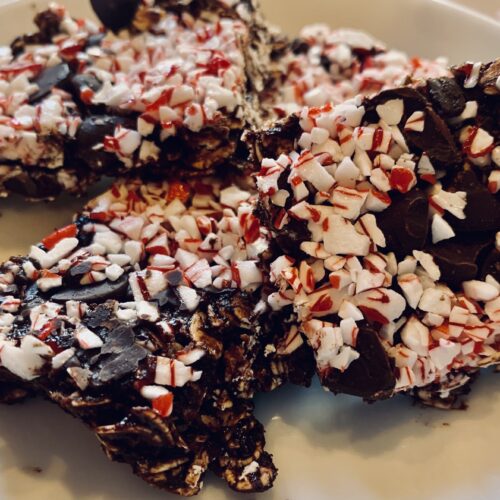 Peppermint Mocha No-Bake Granola Bars
No-bake peppermint mocha granola bars. A seasonal, healthier granola bar that is perfect for school parties or an afternoon snack! Easily made gluten free and nut free. Cocoa powder, whole grain oats, nut or sun butter, and topped with crushed candy canes.
Ingredients
2

cups

old-fashioned oats (use gluten-free if desired)

1/2

tsp

salt

1/4

cup

nut butter of choice

1/4

cup

tahini

1/3

cup

dutch processed cocoa powder

1/2

cup

maple syrup

1

tsp

vanilla

1/3

cup

almond or other non-dairy milk

1

oz

brewed espresso or coffee (optional to enhance flavor of cocoa)

1

cup

chopped or mini chocolate chips

1/2

cup

crushed candy cane pieces
Instructions
Measure oats and salt and place in a large bowl.

In a microwave safe vessel combine nut butter, tahini, cocoa powder, maple syrup, vanilla, milk, and espresso.

Heat in 15 to 30 seconds intervals, stirring after each interval until ingredients are combined.

Pour chocolate mixture into the bowl with the oats and salt. Stir to combine.

Add chocolate chips and stir.

Line a metal baking dish either 8×8 or 8×12 with parchment paper. Spread batter evenly in pan, pushing down with your hands.

Sprinkle candy cane pieces on top. Then place a second sheet of parchment paper on top. Press down firmly to flatten the batter. (I like to place a heavy cookbook on the top piece of parchment paper and stand on it.).

Place baking dish in the freezer for 30 minutes. Remove from freezer and lift out of baking dish. Remove parchment paper. Use a serrated knife to cut into 16 bars. Store in freezer until ready to eat.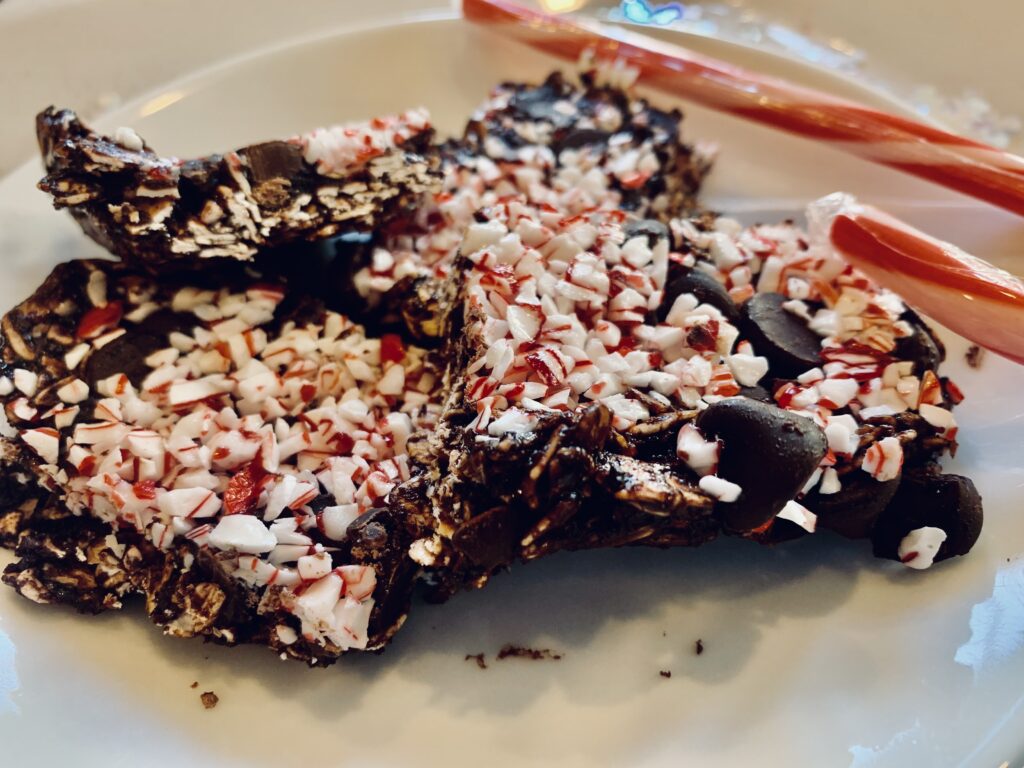 Need some other healthier snack options? Try these Ultratruffle favorites: One-Bowl Pumpkin Nut Breakfast Cookies or Chocolate Hummus!