A Bit of History
The phrase "Life is Good" might just sound like "Life is Gourd" with a mouthful of these delicious Pumpkin Nut Breakfast Cookies. I look forward to the influx of pumpkin and fall foods in the grocery stores and autumn vegetables and fruits in my CSA box. I have even been known on occasion to call Trader Joe's inquiring when they expect their fall items to arrive.
Pumpkins happen to be one of the older domesticated plants dating back to 7500 -5000 years BCE. While they are native to North America, pumpkins are enjoyed and cultivated worldwide. In fact, my home state of Illinois, grows the most US pumpkins. Morton, IL claims the title of the "Pumpkin Capital of the World" and is home to Libby's pumpkin factory. Pumpkins take their name from the Greek word, pepon, which means a large melon. Over time, the word evolved into pompions and finally pumpkin.
Today after Labor Day, the stores and coffee shops explode with pumpkin pie spice containing items. Upon entering, the warm, autumn aroma of spice permeates the store. Pumpkin pie spice, typically a mixture of cinnamon, nutmeg, cloves, mace, and ginger, but sometimes contains cardamon or white pepper. The origins of pumpkin pie spice mixture date back to the Dutch East India Company, when spices from Southeast Asia began to be imported to Europe. Like most cooks, I love adding these spices to baked goods!
About the Recipe: Pumpkin Nut Breakfast Cookies
This recipe is packed with whole grain rolled outs, pecans, walnuts, pumpkin puree, dried currants, spices, and sweetened with just enough brown sugar. Breakfast cookies provide a convenient solution for those rushed mornings or a perfect after school snack. Adding chocolate chips definitely elevates these to dessert level. We love to serve these cookies warm with a drizzle of maple cream or honey. The best part, aside from eating them, is that the recipe comes together in one bowl and cooks in 18 minutes!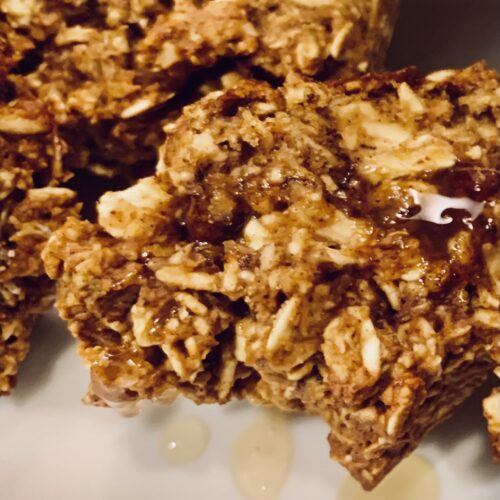 Pumpkin Nut Breakfast Cookies
The perfect cookie for a quick grab and go breakfast or snack. Made with rolled oats, pumpkin puree, pecans, walnuts, and wonderful fall spices. One-bowl recipe!
Ingredients
3

cups

rolled old fashioned oats

1

cup

flour

2/3

cup

pumpkin puree (either canned or homemade)

2

tbsp

almond butter or substitute apple sauce

1/2

cup

brown sugar

3

tbsp

honey or maple syrup

3/4

tsp

salt

1 1/2

tsp

baking soda

1/2

cup

chopped walnuts

1/2

cup

chopped pecans

1

tbsp

cinnamon

1/4

tsp

cloves

1 1/2

cup

chocolate chips or dried currants or a combination of both
Instructions
Preheat oven to 350 degrees F.

Combine all ingredients into the bowl of a stand mixer. Mix until a wet dough forms. Stir in chocolate chips if desired.

Transfer cookie dough to the refrigerator for 15 minutes. This will allow the dough to set.

Using an ice cream scooper, form cookies and place on a lined baking sheet.

Bake in oven at 350 degrees F for approximately 18 minutes. (I like to start checking the cookies at 15 minutes). Allow to cool for 10-15 minutes before enjoying.

Best served warm with a drizzle of honey, maple syrup, or apple butter.
Looking for some breakfast ideas? Try these other Ultratruffle favorites:
Citrus Raspberry Poppyseed Muffins in only 27 minutes!
Cherry "Almond Joy" Baked Oatmeal Cups
10 Minute Multi-Grain Waffles or Pancakes