A Bit of History
My curiosity peaked, while developing this recipe for Lion's Mane Buffalo Burgers, as to how buffalo sauce acquired its name. Evidently, the name has absolutely nothing to do with buffalo or bison meat of any sort. The sauce made its debut at the Anchor Bar in Buffalo, NY in 1964. According to the story, Terressa Bellissimo cooked leftover chicken wings in hot sauce and served them to her son and friends. A huge hit, they featured on the menu the next day. Buffalo sauce and its classic peppery, rich taste provides the perfect flavor profile for my mushroom buffalo burgers. Lion's Mane mushrooms sport a strange appearance; however their taste and texture are wonderful. Texturally, lion's mane mushrooms are sturdy enough to replace meat or seafood in a recipe and have a distinct seafood taste.
About the Recipe: Lion's Mane Buffalo Burgers
We have been scarfing down these delicious burgers all week at my house. They are easy to make, and leftovers freeze extremely well and can be reheated on the grill, stovetop, oven, microwave, or even the air fryer. To prepare my mushroom buffalo burgers, simply cook mushrooms in a bit of oil with scallions and garlic, blend, and bake. That's it! Cooked rice and panko bind the burgers together. A combination of hot sauce, tahini, miso, and Worcestershire sauce create the buffalo sauce flavor. I hope your family loves these easy, healthy, burgers as much as we do!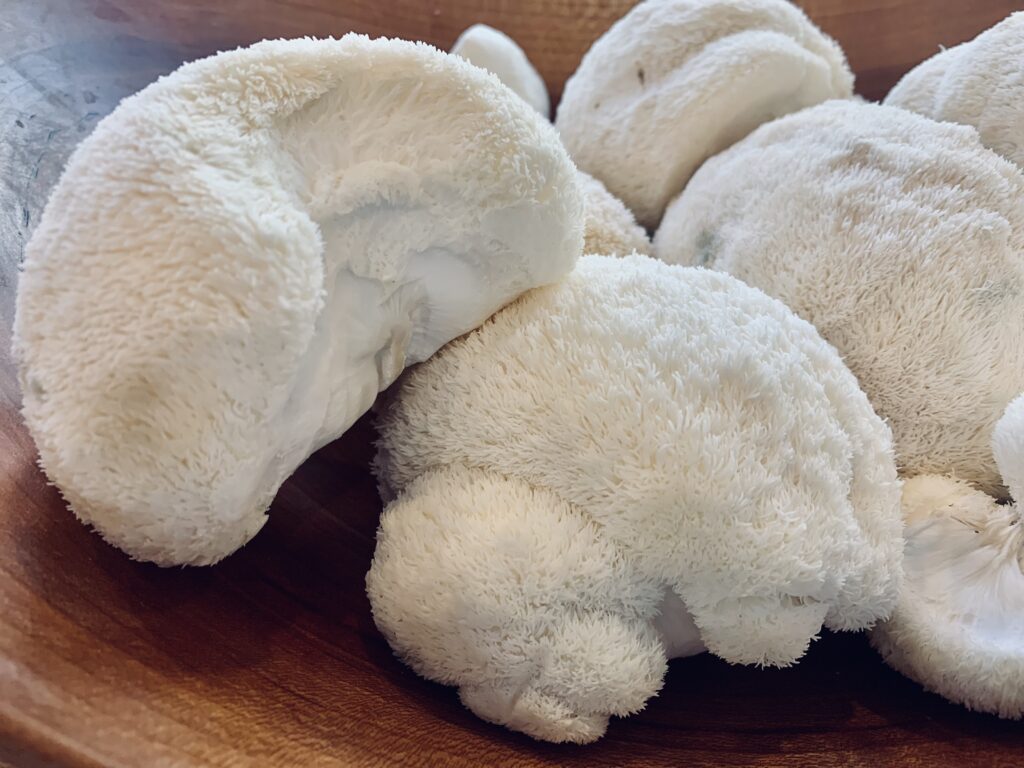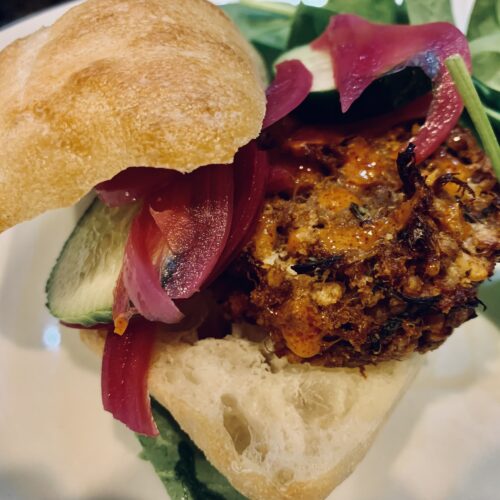 Lion's Mane Mushroom Buffalo Burgers
The perfect vegan burger with lions mane mushrooms! All the great taste and spices of buffalo sauce without the guilt. Easy to assemble and bake. Burgers freeze well IF there are any leftovers and can be reheated on grill, air fryer, stove, or oven.
Ingredients
12

oz

lion's mane mushrooms, sliced

1

tbsp

soy sauce or tamari

1

tsp

olive oil

1

bunch

scallions minced

2

tbsp

miso paste

1

tbsp

tahini

1/3

cup

hot sauce of choice

1

tbsp

worcestershire sauce of choice

1

tbsp

apple cider or rice vinegar

1

cup

fresh cilantro

1

bunch

chives

5

cloves

garlic peeled

1 3/4

cup

cooked white or brown short grain rice

1

cup

panko

salt and pepper to taste

pinch of hot paprika or red pepper flakes (optional)
Instructions
Heat 1 tsp of olive oil in the bottom of a large shallow pan. Add the mushrooms and cook 3 minutes. Flip mushrooms over and cook 2 minutes. Add garlic, scallions and soy sauce and cook 1-2 minutes.

Transfer mushroom mixture to a blender.

Add all remaining ingredients EXCEPT PANKO and RICE.

Pulse mixture until it comes together but do not puree. It should still be chunky.

Transfer blended mixture to a large bowl. Stir in panko and rice.

Coat a 1/3 cup measuring cup with olive spray. Use the measuring cup to scoop mixture. Place each scoop on a lined baking tray. Flatten each scoop gently with the palm of your hand to form the burgers.

Bake 15 minutes at 375 degrees F. Flip burgers over and bake an additional 15 minutes. The outside should be brown and a bit crispy.

Servings suggestions: We like to sautee or air fry the burgers for a minute or two before serving. Top with your favorite buffalo sauce or horseradish cashew cream sauce, pickled onion, and spicy arugula.
In the mood for sandwiches? Try crafting some of these ultratruffle favorites: mushroom pastrami, a big fat Greek sandwich, or beet falafel.