Beets have their origins in the Mediterranean region and ancient peoples prized beets for their leafy greens. Despite only growing well during the fall and spring, the Greeks and Romans enjoyed beet leaves so much they invented cultivation methods to grow them year round. People either love or hate beets due to a chemical called geosmin, which is responsible for the flavorful earthy undertones. Some folks are more sensitive to geosmin than others. Thankfully, I love the taste of beets and the fact that they contain antioxidants. These beautiful roots also contain tryptophan and betain which may enhance a sense of feeling well and boron which is believed to help regulate testosterone and estrogen hormones in humans. Maybe the early Greeks and Romans were on to something as they considered beets to be an aphrodisiac. Aphrodite, goddess of love, is said to have consumed beets and images of beets decorate the walls of early brothels in Pompeii.
If you try to this recipe, I can't promise anything in the love department, but I do know that you will eat a very delicious and healthy veggie burger. In this sandwich I combine fava beans and beets complemented by spices typically found in falafel, especially cumin, coriander, paprika, and Aleppo pepper. Very often falafel type sandwiches are fried. In this case, I opted to bake these delicious burgers and then toss them in the air fryer for an extra crispy exterior. After a quick bake in the oven, they would be fabulous to throw on the grill. Leftover patties freeze and reheat well too. Serve with a side of my homemade roasted pepper ketchup and parsley mint coleslaw for a fabulous meal.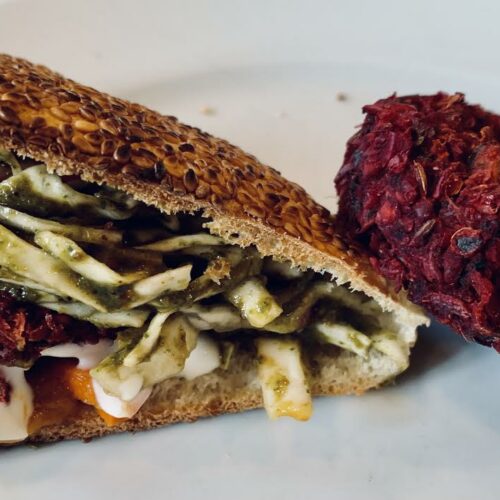 Falafel Beet Veggie Burgers
The ultratruffle twist on falafel! Fava beans, roasted beets, leeks, cilantro and parsley with the addition of wonderful falafel spices make the perfect, healthy, plant-based burger. Recipe can easily be made gluten free.
Ingredients
1 1/2

cups

cooked fava beans*

1

cup

purple roasted beet**

1

large leek roughly chopped (or substitute 1 bunch of scallions)

6

cloves

garlic peeled

1

packed cup

fresh parsley leaves

1

packed cup

fresh cilantro leaves

1

lemon juiced

2

tbsp

Aleppo pepper

2

tbsp

cumin seed

1

tbsp

coriander seed

1/4

tsp

hot paprika (optional but really good!)

1

tsp

sumac (optional)

1

tsp

baking powder

salt to taste

4-5

tbsp

panko (use gluten free breadcrumbs if desired)
Instructions
Heat oven to 350 degrees F. Line a baking sheet with a silicone mat or parchment paper and lightly spray with olive oil.

Combine all ingredients in a blender EXCEPT panko. Pulse until combined but not pureed. Taste and adjust seasonings.

Transfer blended mixture to a bowl and stir in panko.

Use a 1/4 cup measuring device to scoop batter onto baking sheet then flatten slightly with the palm of your hand.

Bake 15-20 minutes then flip burgers and bake an additional 20-25 minutes. If desired you can pan fry or air fry the patties after they have cooked in the oven to increase crispiness. Refrigerate or freeze leftovers.
Serving Suggestions:
Top with parsley mint lemon coleslaw, ultratruffle roasted pepper ketchup, hummus, or tzatziki. Serve in a warm pita with crisp cucumber slices.
Notes
*I like to use dried fava beans that I soak and cook myself. Simply measure 1 cup of dried fava beans into a large container. Cover with cold water (at least 3 inches above beans). Soak in the refrigerator overnight. I use my multi-purpose Instapot to quickly cook the beans the next day. I have not tried this recipe yet with canned beans, but it should work!
** To roast beets: Remove ends from beets. Wrap beet in foil. Place in oven at 450 degrees F for 45-60 minutes until tender but not falling apart. Remove from oven and let cool. For faster veggie burger preparation, pre-cooked beets can be purchased at the grocery store.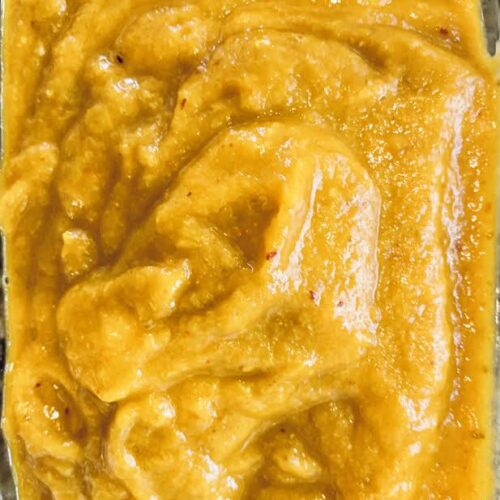 Ultratruffle Roasted Pepper Ketchup
Roasted hot and baby bell peppers, green tomatoes, onions with Aleppo pepper and sumac.
Ingredients
1

medium

onion (yellow, white, or red)

1

large hot pepper

10-12

baby bell peppers or 2 large

1

tsp

cumin seed

2

medium green tomatoes

1

tsp

coriander seed

1

tsp

paprika

1

tsp

Aleppo pepper

1

tsp

sumac (optional)

1

lemon juiced

salt to taste
Instructions
Heat oven to 350 degrees F.

Slice peppers in half and remove seeds. Place on lined baking tray.

Peel and quarter the onion and add to tray.

Slice tomatoes in half and add to tray.

Roast vegetables for 20-30 minutes until lightly charred.

Transfer roasted vegetables to a blender. Add remaining ingredients. Process until smooth. Taste and additional seasonings if desired.