A Bit of History
Amarena cherries grow in Modena and Bologna Italy and have a beautiful dark color. Due to its sour taste, Amarena cherries are cooked in sugar and bottled in syrup. Around the turn of the century in 1905, the Fabbri company began selling and producing liquors and spirits using a general store in Portomaggiore as their base. Gennaro Fabbri's wife, Rachele, plucked cherries from a nearby wild orchard and cooked them with sugar. According to the story, Gennaro purchased a ceramic blue and white jar from local artist Riccardo Gatti. Over 100 years later, the Fabbri company still uses the signature blue and white jars to bottle and sell their various cherry products.
When you make these amazing Cherry "Almond Joy" Baked Oatmeal cups, don't use Maraschino cherries from your local grocery store! You might think that Amarena cherries and Maraschino cherries from the supermarket are the same, but don't be fooled. Maraschino cherries from the supermarket are highly processed, soaked in brine, and infused with red food dye and corn syrup.
About the Recipe
I always like to make a special breakfast for Christmas morning. However, I do not want to take away time from enjoying the festivities and playing with new toys with my daughters. Therefore, I love using a recipe that I can assemble the day before and just pop in the oven in the morning. Thankfully, this recipe for Cherry "Almond Joy" Baked Oatmeal Cups checks all the boxes! You can assemble and even bake it in advance. It only takes 5 minutes to mix the batter and 30 minutes to bake. Also, you can enjoy the amazing taste of sweet Amarena cherries, coconut, chocolate, and toasted almonds without the guilt of a candy bar! This is also a great choice to take to a holiday brunch and it can be crafted gluten-free and vegan!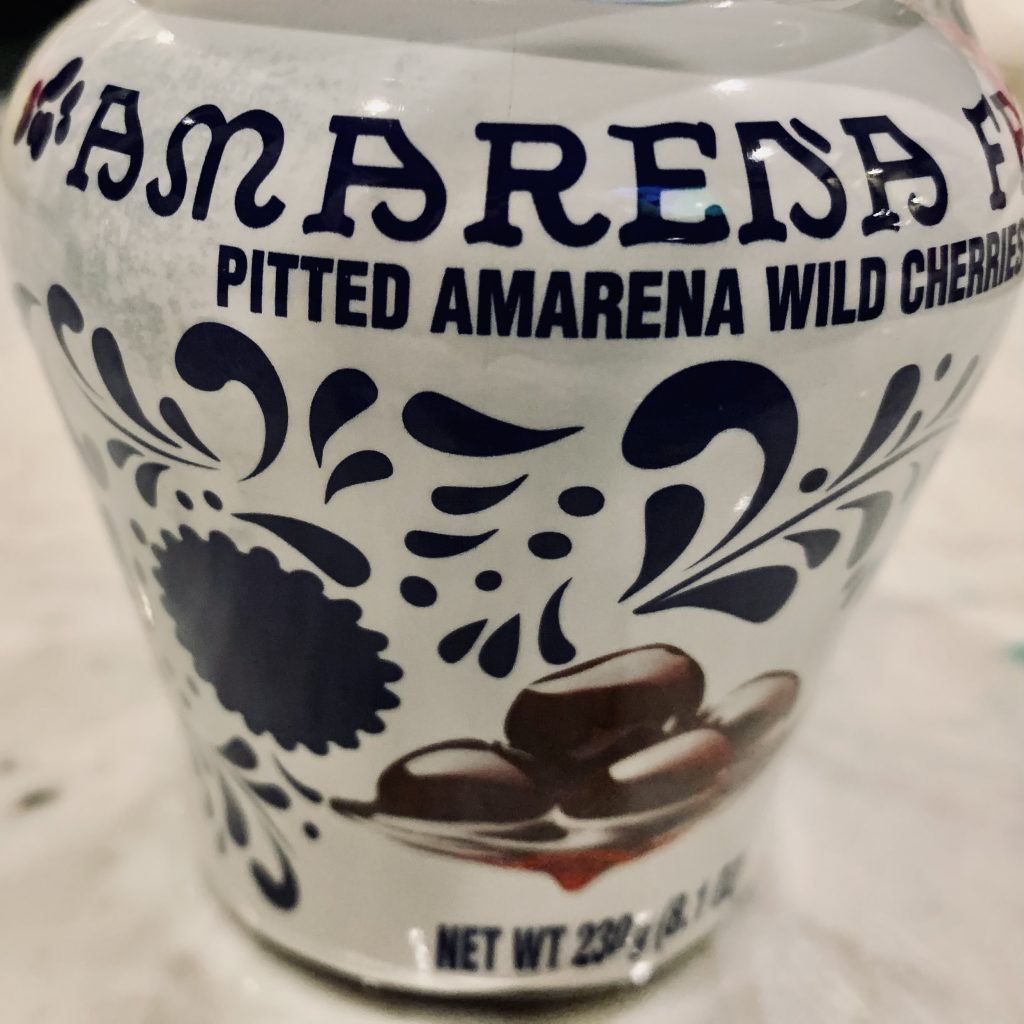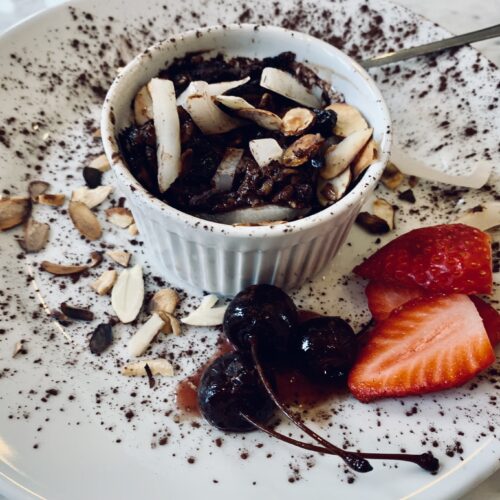 Cherry "Almond Joy" Baked Oatmeal Cups
A decadent breakfast treat without the guilt! Featuring Amarena cherries, coconut, coca powder, oats, and shaved almonds. Easy 35 minute elegant recipe that can be made in advance. Perfect for a special brunch or meal prep for the week.
Equipment
Nine 1/2 cup sized ramekins or one larger baking dish
Ingredients
1/4

cup

Dutch processed cocoa powder (such as Droste)

2 1/4

cup

old fashioned oats (use gluten free if needed)

1

tsp

baking soda

1/2

tsp

salt

1

tbsp

ground flax (plus 3 tbsp of water to make vegan egg)

1 3/4

cup

oat milk

2

tsp

apple cider vinegar

1

heaping cup

Amarena cherries with syrup (not maraschino cherries)

1/2

cup

dried cherries

1/2

cup

shredded coconut
Toppings
1/2

cup

toasted shaved almonds

1/2

cup

Amarena cherries

1/2

cup

toasted coconut strips
Instructions
Mix ground flax and water and let stand 5 minutes.

In a separate vessel, mix vinegar and milk and let stand 5 minutes.

Combine flax mixture, milk mixture and all remaining ingredients EXCEPT toppings in a large bowl. Stir to combine.

Ladle mixture into 9 (1/2 cup sized) ramekins or other oven safe baking dish.

Bake at 375 for approximately 30 minutes. As ovens vary, I like to start checking mine at about 22 minutes.

Remove from oven and garnish each cup with toasted almonds and coconut strips, and 1-2 cherries if desired.
Toasting Almonds and Coconut
Add almonds and coconut to a small fry pan. Dry toast over low-medium heat for 3-5 minutes until lightly golden brown. Remove from heat and set aside until ready to use.
Looking for some breakfast ideas? Try these other Ultratruffle favorites:
Pine Nut Crepes with figs and dates,
Roasted Grape Wheat Berry Bowl,
Buckwheat Waffles with Raspberry Syrup, or
Orange Infused Sesame Semolina Pancakes.
Helpful Tools & Ingredients
Fabbri Amarena Cherries