–For Jana and Tom
A Bit of History:
One of the things I miss during this pandemic is eating at my favorite Charleston area restaurant, the Obstinate Daughter. Their menu is wonderful and it is always my first recommendation for out of town guests and family alike. Each time we have the pleasure of dining there we try a number of dishes, but the one we always order with no exceptions is the farro dish (actually we order two so we don't have to share!). Since we cannot eat out at the moment, due to Covid, we have attempted to make this dish at home, using local ingredients to provide the essential flavors. While it can never replace the original, our version of Farro with Charred Brussel Sprouts and Black Truffle is plant-based and delicious.
---
About the Recipe: Farro with Charred Brussel Sprouts
This is truly a spectacular dish even for someone (like me) who very rarely bothers with brussels sprouts! The combination of charred brussels sprouts, shallots, roasted garlic, black truffle oil, aged balsamic vinegar, and peanuts is magical.
Of all the ancient grains, farro is my favorite. I love the nutty flavor and slightly chewy texture. Its origins can be traced back to the Fertile Crescent and it was a staple in the ancient Roman diet. Farro refers to three types of wheat: emmer, einkorn, and spelt. Emmer, the most widely grown variety in the Tuscan region of Italy, is my personal preference.
You can prepare cooked farro in about 30 minutes. Farro functions as a great base for grain bowls, in soups (stay tuned!), or even as a risotto. Do not skip the Black Truffle Garlic Oil from LowCountry Olive Oil in this recipe, it is the key component that ties the flavors together and elevates the dish. I also prefer to use their 18 year Aged Traditional Balsamic Vinegar.
We cooked our brussels sprouts and shallots in our Ooni pizza oven. Roasting them in the oven, followed by 1-2 minutes under the broiler at the end works great too!
Prepared brussels sprouts and shallots, view from inside the Ooni pizza oven, charred brussels sprouts and shallots.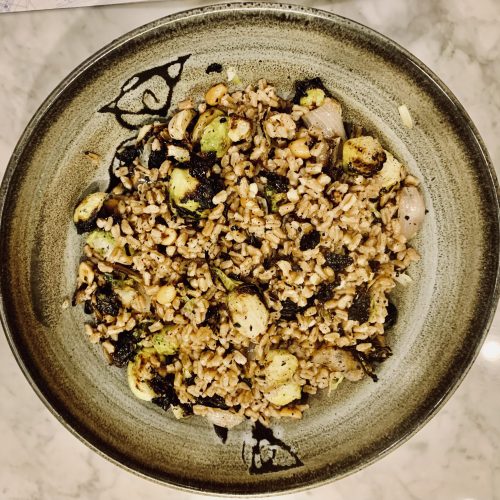 Farro with Charred Brussels Sprouts, Shallots, Roasted Garlic, Peanuts, Black Truffle Oil
A savory grain bowl with charred sprouts and shallots, roasted garlic, salted peanuts, black truffle oil, balsamic vinegar over farro.
Ingredients
1

cup

dry farro

1 1/2

cups

trimmed brussels sprouts cut in half lengthwise

2

shallots peeled and quartered

6

cloves

garlic in their skin and wrapped in foil

1/4

cup

high quality dark balsamic vinegar

2

tbsp

black truffle oil

1/4

cup

salted peanuts

pinch

salt and black pepper to taste

A few

sprays

olive oil to prepare brussels sprouts
Instructions
Heat oven to 400 degrees.

Fill a large pot with salted water and bring to a boil.

Toss trimmed brussels sprouts and peeled shallots with olive oil and a generous pinch of salt. Place prepared brussels sprouts (cut side down) and shallots on a baking sheet.

Wrap 6 cloves of garlic with skin on in foil and place on baking sheet with the brussels sprouts and shallots.

Roast in oven for about 35-40 minutes.

Remove garlic after about 30-35 minutes.

For charred brussels sprouts, use the broil setting for 1-2 minutes at the end of the roasting time. (Don't forget to remove the garlic packet before broiling).

I like to dry toast my farro in a shallow pan for 3 minutes before adding to the boiling water. This enhances the nutty flavor.

Cook the farro according to the package directions while vegetables are roasting. The variety I use takes approximately 30 minutes.

Drain cooked farro and add to a serving bowl.

Squeeze the roasted garlic from the skins and add to the serving bowl with the cooked farro, brussels sprouts, shallots, and peanuts*. Toss with truffle oil and balsamic vinegar. Adjust salt and pepper to taste.
Notes
*Don't skip the peanuts-they are a key ingredient.
Looking for other great farro dishes? Try these other Ultratruffle favorites:
Farro Minestrone with Calabrian Chilis
Ancient Grain Greek Salad Bowl