A Bit of History
Approximately 12,000 years ago, humans began to shift from a mainly hunter-gather existence to early farming. Historians refer to this transitional era as the Neolithic Revolution or the first Agricultural Revolution. Even though history books will not record this recipe, my ancient grain Greek salad bowl will definitely revolutionize your weekly meal preparation!
Several groups of humans developed early farming and crop domestication around the same time, especially in the Fertile Crescent area. Some of the first crops domesticated include what we now know as ancient grains. Ancient grains have not been significantly altered over time through selective breeding. While the exact list of ancient grains is up for debate, most scientists agree on several wheat types (spelt, Kamut, einkorn, and emmer). Also included in the list are millet, barley, oats, teff, sorghum, quinoa, amaranth, buckwheat, and chia seeds.
About the Recipe: Ancient Grain Greek Salad Bowl
This recipe is easy to assemble and customize. Simply add your favorite cooked ancient grains (farro, quinoa, kamut, work very well) and ingredients you have on hand. Right now, tasty fresh tomatoes are not in peak season where I live. Adding sun-dried tomatoes gives the dish a boost of umami. Some of my other favorite ingredients include olives, diced red onion, pepperoncini, cucumber, and roasted red pepper. Simply season with oregano and basil or try za'tar and sumac. Serve over your favorite lettuce greens!
Lately, we have been making a big batch on the weekends and packing individual portions for a quick, healthy, weekday lunch.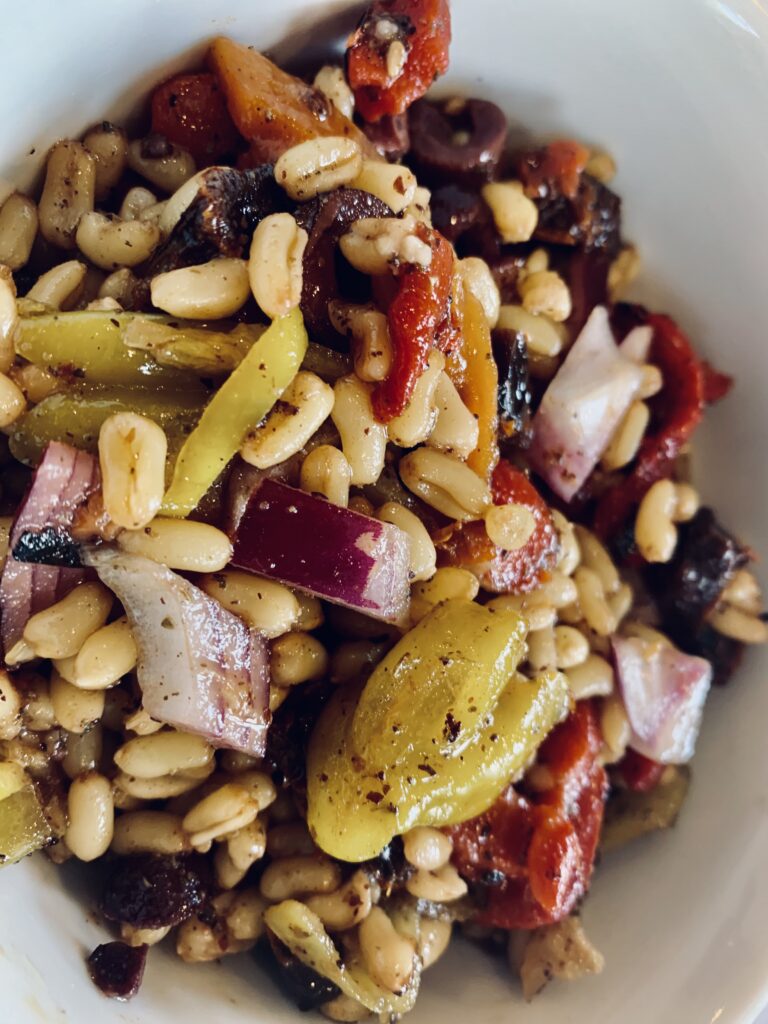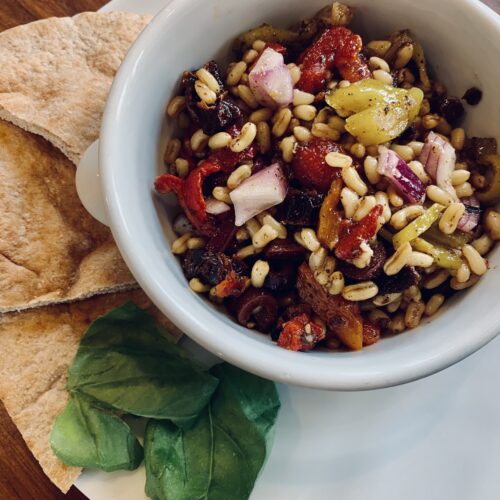 Ancient Grains Greek Salad Bowl
A savory Greek salad bowl for easy meal preparation. Customize with your favorite Mediterranean ingredients. Perfect for school/work lunches or side dish! Ancient grains, greek spices, cucumber, onion, and pickled vegetables.
Ingredients
1 1/2

cups

cooked whole grains (kamut, farro, quinoa, bulgar, chickpea pasta)

3

tbsp

white or red wine vinegar

4

tsp

olive oil

2-3

tbsp

spicy pepperoncini chopped

4

tbsp

mixed chopped olives

1/2

cup

roasted red peppers chopped

1/2

cup

diced cucumber

1/3

cup

diced red onion

10

sun-dried tomatoes (soaked in hot water for 5 minutes, drained, and chopped)

1 1/2

tsp

za'tar

1 1/2

tsp

ground sumac

salt and pepper to taste

3

cups

arugula or spinach for serving (optional)
Instructions
Cook your favorite ancient or gluten free grains according to the instructions.

Soak sun-dried tomatoes in hot water for 5 minutes. Drain and chop.

Mix together cooked grains and all ingredients. Allow to marinate overnight in the refrigerator.

Serve with chopped fresh vegetables or hummus and pita for a easy, make ahead weekday lunch.
Looking for more easy meal prep ideas. Try some of these Ultratruffle favorites; mason jar salad, farmer's market fattoush salad, or greek sandwich/wrap.