Introduction:
Eating local, seasonly available items always has a special appeal to me, partly because it is how my ancestors in Italy and Greece ate. Before the days of globalization and widespread availability of speciality food items in many countries, people only had access to what was grown seasonally from local farmers. You definitely did not have fresh berries for the winter holidays in North America! I find that eating with the seasons allows the fresh taste of vegetables to really shine especially in this Spring Vegetable Stir-Fry tossed with Wasabi Sauce.
About the Recipe: Spring Vegetable Stir-Fry with Wasabi Sauce
Below is a dish that I created from spring vegetables purchased from local farmers. It is a simple, fast stir-fry recipe that really highlights the flavor of just harvested vegetables. The recipe features baby broccoli and leeks, asparagus, sweet harukei turnips, radishes, and fresh sugar snap peas tossed in a light wasabi miso soy sauce and served over rice or soba noodles. This is a fast, easy, weeknight dinner that is very versatile. Simply, substitute your favorite local vegetables. If you make this, please share your hometown edition!
One of the items I used in this dish are garlic scapes. Before last summer, I had never even heard of them! Garlic scapes come from the hardneck garlic plant, which is native to North America. The stems and bulbs are harvested in early spring. Garlic scapes taste like a combination of garlic and green onion, definitely not as strong as garlic cloves. You simply trim off the ends, dice the tender part of the stem and the bulb, and use as you would a green onion or a traditional garlic clove.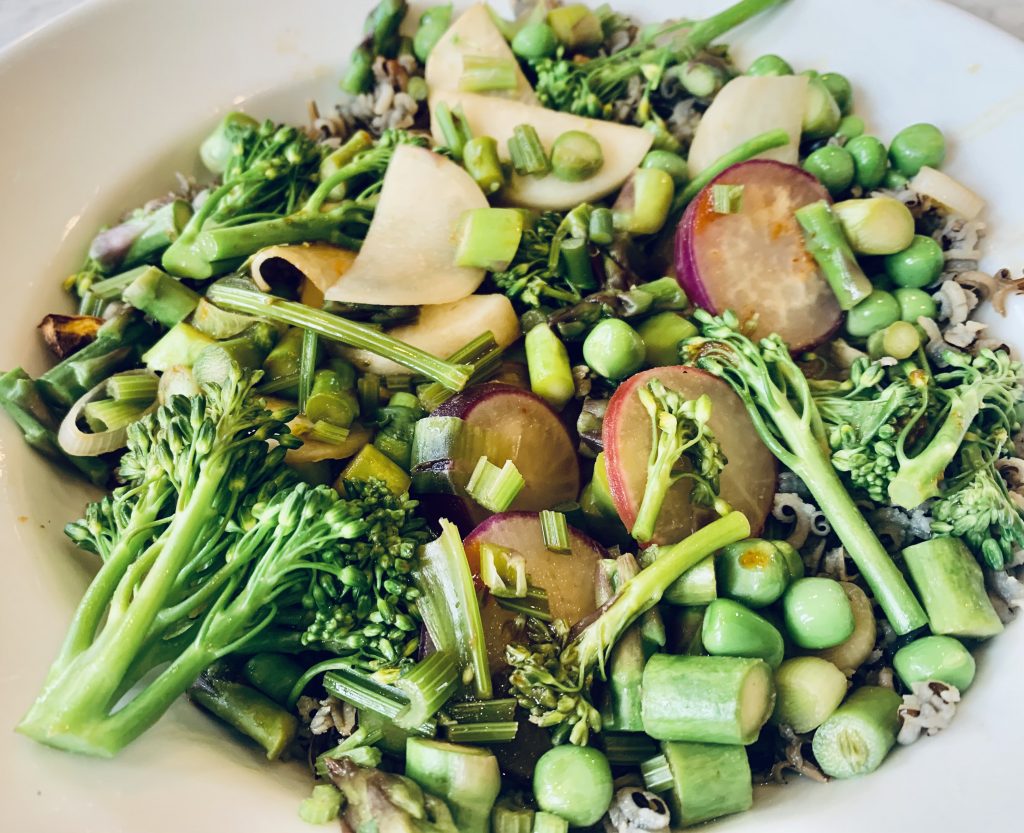 ---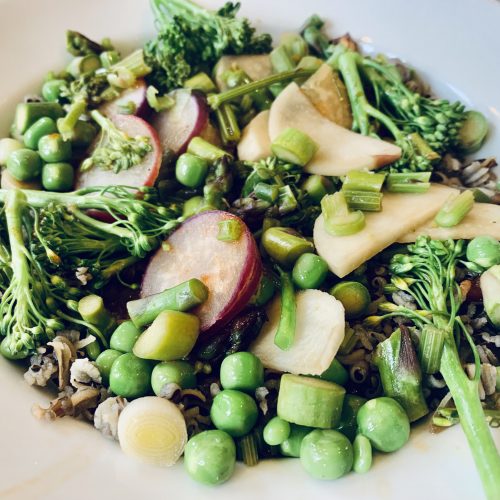 Spring Vegetable Stir-fry with Wasabi Miso Soy Sauce
A beautiful array of your favorite local vegetables tossed in a wasabi miso soy sauce and served over rice or soba noodles.
Ingredients
Wasabi Miso Soy Sauce
2

tbsp

rice vinegar

1/4

cup

water

1

tbsp

miso paste (I use red miso)

1

tbsp

wasabi paste

2

tbsp

low sodium soy sauce

red pepper flakes to taste (optional)
Vegetable Suggestions
1

tbsp

vegetable broth or oil to cook vegetables

1 1/2

cups

sugar snap peas blanched

1

bunch

baby broccoli

2

harukei turnips thinly sliced

3

radish thinly sliced

8

asparagus spears diced

3

baby leeks (or 1 large) diced

4

garlic scapes buds and stalks diced*

3

stalks

celery diced
Instructions
Wasabi Miso Soy Sauce
Blend all ingredients together except the optional red pepper flakes. Taste and adjust any seasonings or add water if sauce too thick.
Snap Peas
Remove the strings and ends from the snap peas.

Prepare a medium sized bowl filled with ice water.

Bring a small pot of water to a boil. Cook the snap peas for 90 seconds.

Drain snap peas and transfer to ice water bowl for 2 minutes. Drain and set aside.
Vegetables
Add vegetable broth or oil to a large pan, pot, or wok. Heat over medium high.

Add all prepared vegetables except for the snap peas to the pan.

Add sauce mixture and cook an additional 2 minutes.

Serve vegetables over rice or soba noodles and top with peas.
Notes
*If you cannot find garlic scapes, substitute 2 cloves of minced garlic.
Looking for some other great stir-fry recipes? Try these Ultratruffle favorites:
Roasted Radishes with Wasabi Sauce
Crisp Broccoli Wraps with Spicy Peanut Sauce