Roasted Radishes, Rainbow Carrots, Murasaki Sweet Potatoes, Peas, and Scallions with a Cashew Wasabi Miso-Soy Sauce
---
Introduction:
I love picking up a CSA box! Sometimes, the ingredients are a complete surprise and other times I know a day or two in advance what to expect. Either way, I like to imagine I am a contestant on a cooking show with a mystery box of ingredients and a mission to create something tasty. Today, my tasty mission involved Roasted Radish and a Wasabi Sauce.
My latest venture was a beautiful assortment of goodies from GrowFood Carolina. In order to protect small, family farms, the Conservation League began a Food and Agriculture program, assisting smaller rural farms with distribution, marketing, and other resources. In addition, this program benefits the community by land preservation and economically. For me personally, I love discovering new fruits, vegetables and grains from our local farms. In this dish, I utilized red radishes, murasaki sweet potatoes, scallions, and Charleston Aromatic Gold Rice, all from my GrowFood Carolina box.
About that Title…
A doppelganger is defined as a biologically un-related look-a-like. From a biology standpoint, I would say radishes and scallops definitely qualify. After switching to a plant-focused diet, I have encountered so many interesting ways to prepare vegetables and have tasted many that I had never even heard of.  Radishes, in my mind, had always been associated as an afterthought to top a sad-looking salad. What else could you do with them right? Why, roast them of course! Roasting radishes allows their underlying sweetness to shine. My first experience with a roasted radish and the inspiration for this dish (that I really thought was a scallop) is from the Fancy Radish in Washington DC. My husband and I had the pleasure of dining there before running the Marine Corp Marathon and it is a phenomenal plant-focused restaurant.
---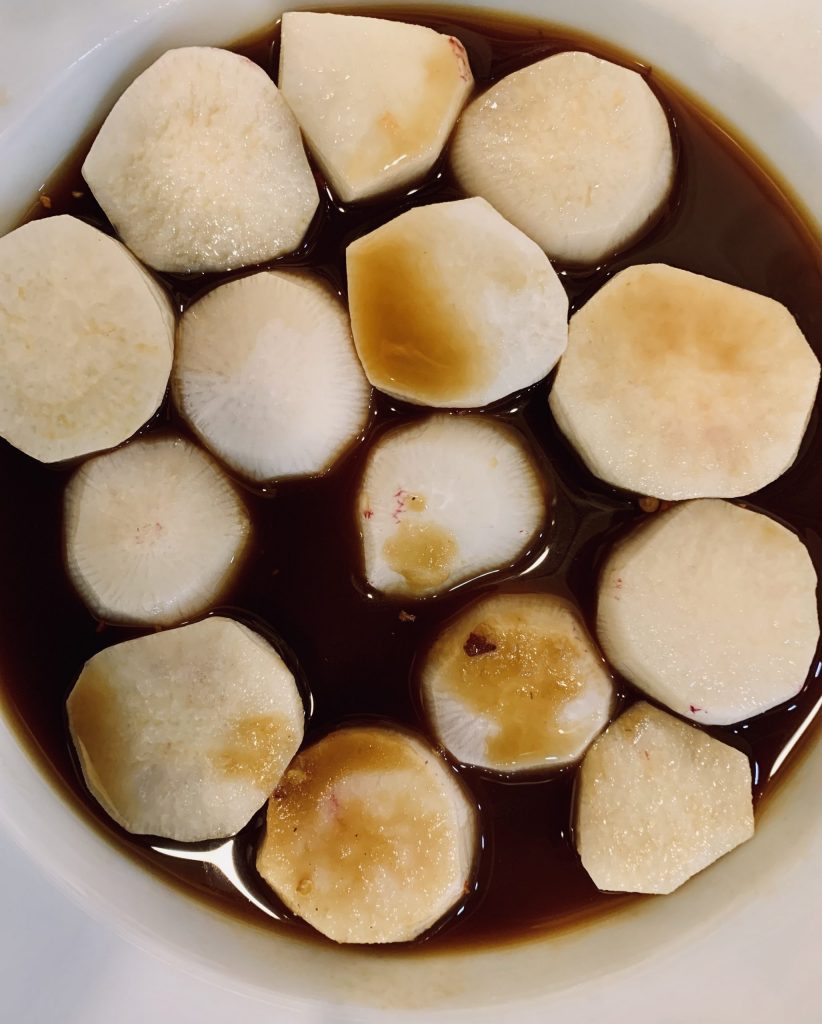 ---
The Recipe: Roasted Radish with Wasabi Miso Sauce
Here is how I like to tackle this recipe. For quicker options, make the sauce the day before and store in the refrigerator. You can also use microwavable rice to save time.
Steps to Assemble this Recipe
Soak cashews.
Prepare vegetables.
Blend Sauce.
Marinate radishes.
Start roasting sweet potatoes in oven while radishes marinate.
Add radishes to oven.
Cook rice.
Just before serving saute remaining vegetables for 5 minutes.
---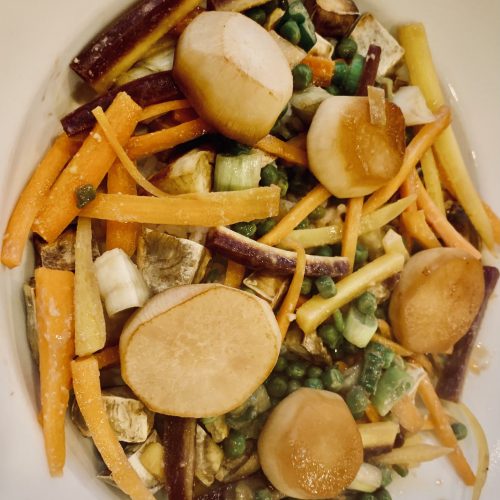 Wasabi Miso Soy Sauce
A slightly spicy miso soy sauce perfect for stir fry, rice dishes, or topping vegetables.
Ingredients
1/4

cup

raw cashews

2 heaping

tbsp

wasabi paste

4

tsp

red miso paste

2

tbsp

low sodium soy sauce or tamari

1-2

tsp

mirin (can substitute with 1/2 tsp of honey or other sweetener if desired)

1

pinch

red pepper flakes (optional)

1/3-1/2

cup

water as needed to thin sauce
Instructions
Soak cashews in hot water for 1 hour then drain.

Add drained cashews, wasabi paste, miso paste, soy sauce, mirin, and red pepper flakes if using to a blender.

Add 1/3 cup of water and blend until smooth.

Taste and adjust seasonings if necessary. Add water 1 tbsp at a time if needed to thin sauce.
---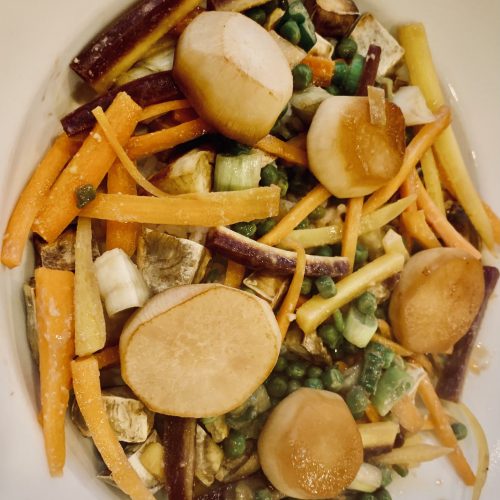 An Unlikely Doppelganger: A Roasted Radish Dish
Roasted radish, rainbow carrots, Murasaki sweet potatoes, peas, scallions with wasabi miso-soy sauce.
Ingredients
10-12

red radishes

2

murasaki sweet potatoes

3

cups

rainbow carrots

1

bunch

scallions

1

cup

frozen peas thawed

1

tbsp

wasabi paste

2

tbsp

soy sauce or tamari

1

pinch

red pepper flakes (optional)

steamed rice or cooked rice noodles for serving
Instructions
Vegetable Preparation and Cooking: Sweet potatoes
Peel and cube the Murasaki sweet potatoes.

Spray with olive oil and roast at 400 degrees F for approximately 45 minutes.
Vegetable Preparation and Cooking: Radish
Using a serrated knife carefully remove the red peel from the radishes and trim into a "scallop" shape.

Marinate the radishes for 25 minutes in a shallow dish with 1 tbsp of wasabi paste, 2 tbsp of soy sauce, 1/4 cup of water and a pinch of red pepper flakes if using. (I like to marinate the radishes while the sweet potatoes are roasting.)

Remove the radishes from the marinade.

Add to the oven with the sweet potatoes for 20 minutes.
Vegetable Preparation: Carrots, Peas, Scallions
Peel and slice the rainbow carrots into thin strips. Set aside.

Finely dice the scallions and set aside.
Sautee Instructions
Just before serving, heat 1 tbsp of vegetable broth or oil in a pan.

Add carrots and cook 2 minutes.

Add 1/4 to 1/3 cup of wasabi miso soy sauce and stir.

Add peas and scallions and cook 2 minutes.

Remove from heat and adjust seasonings if necessary.
Bowl Assembly
Assemble each bowl with rice or rice noodles, roasted sweet potatoes, carrot pea mixture, and top with roasted radishes. Drizzle with additional sauce if desired.
Looking for some other great stir fry recipes? Try these Ultratruffle favorites:
Spring Vegetable Stir Fry with Wasabi Miso Soy Sauce
Crisp Broccoli Wraps with Spicy Peanut Sauce