Introduction:
My latest CSA box contained a few heads of broccoli that I promptly stuffed in the back of my refrigerator. Broccoli is not one of the most sought after vegetables in my house. Pretty soon, ideas for the unused broccoli began percolating in the back of my mind. However, after I surprised my family with this 20 minute wonder of Crisp Broccoli Wraps with a spicy peanut sauce, broccoli suddenly became popular again.
On the other hand, peanut butter seems to fly off the shelf in my home. Therefore, we typically have a huge stockpile on hand.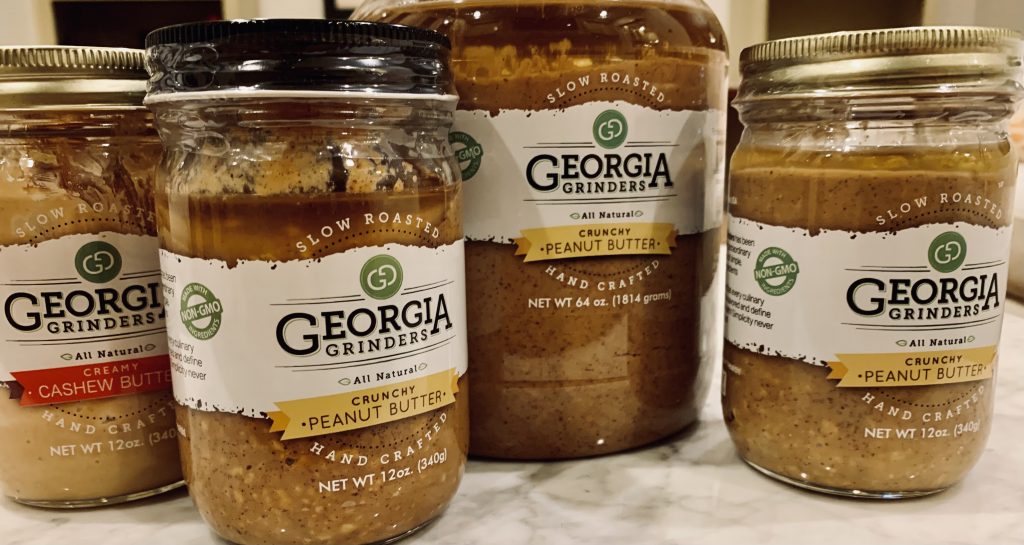 I also enjoy presenting vegetables, especially new ones in interesting ways to my kids. Sometimes, a picture or in this case the plating is worth a thousand bites! My latest CSA box from Spade and Clover gardens contained a bamboo shoot. I have to be honest when I opened the box, I didn't even know what it was let alone what to do with it. It turns out, it was really easy and tasty! You simply slice the shoot lengthwise, remove the wrapper, and boil it salted water for 20 minutes. I then added the bamboo to my stir fry vegetables. The farmer hit the nail on the head, it reminded me a lot of artichoke hearts!
About the Recipe: Crisp Broccoli Wraps
---
The pairing of my favorite peanut butter from Georgia Grinders (made from all natural ingredients in small batches), with fresh crisp broccoli, spring onions, rainbow carrots, peppers, asparagus, miso and sriracha was perfect. The kids enjoyed the fun, colorful wraps (I ordered these on Amazon, but any wrap or tortilla will work perfectly. The dish can also be served over rice or quinoa without the wrap). If you are using a very thin wrap (as pictured); it easily slices into sushi style rolls. Leftover wraps are wonderful to pack for lunch.
---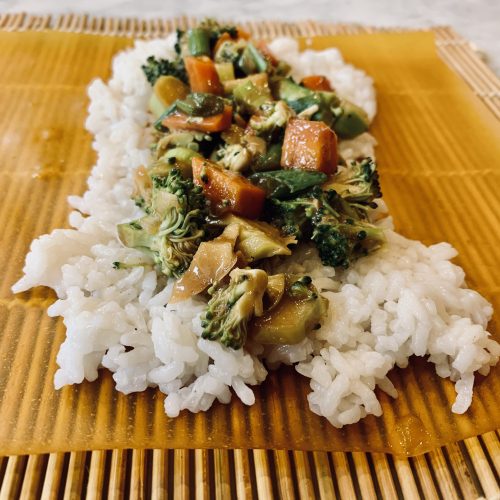 Crisp Broccoli Wraps with a Spicy Peanut Sauce
Broccoli, Carrots, and Spring Onions tossed with a peanut butter, miso, soy, chili sauce and rolled up in the perfect package.
Ingredients
4

cups

broccoli crowns and stems chopped

4-6

scallions or spring onions finely diced

2-3

rainbow carrots finely diced

4

cloves

garlic minced

8

spears

asparagus diced

3

mini

sweet bell peppers diced
Spicy Peanut Sauce
3

tbsp

peanut butter or PB2

1/4

cup

low sodium soy sauce or tamari

1

tbsp

red miso paste

1/3

cup

hot water

2

tbsp

lime juice

1-2

tbsp

sriracha to taste*
For Serving
4

wraps or tortillas of choice

4

servings

cooked rice or quinoa**
Instructions
Sauce
Whisk peanut butter, soy sauce, miso, hot water, lime juice, and sriracha if using in a bowl.

Place mixture in a blender and process until smooth.
Vegetables
Heat 1 tsp of olive oil, sesame oil, or vegetable broth in a large frying pan.

Add chopped vegetables and cook approximately 2 minutes.

Add the sauce to the vegetables and cook an additional 2-3 minutes. You want the vegetables to still be a bit crunchy. Remove from heat.
Serving
Fill each wrap with rice or quinoa and top with a large spoonful of the vegetable mixture. Roll wrap and slice sushi style if desired. You could also serve over rice or quinoa without the wraps.
Notes
*if serving to children you may want to leave the sriracha out of the sauce mixture and only add it to individual wraps if desired.
**to speed up dinner preparation use microwavable rice
***feel free to substitute whatever fresh veggies you have on hand: peas, cauliflower, bamboo, mushrooms, or green beans would all work well too
Looking for some other great broccoli recipes? Try these Ultratruffle favorites:
Easy Mediterranean Broccoli Salad
Spring Veggie Stir Fry with Miso Wasabi Sauce
Grilled Veggies with Peach Chipotle BBQ Sauce