A Bit of History
China boasts the first cultivation of persimmons over 2000 years ago and today is responsible for approximately 75% of the world's persimmons. This deliciously sweet and tangy fruit symbolizes many things in Chinese culture. Due to its smooth skin and Chinese pronunciation shi (a homophone for the word things), persimmons can mean "things go smoothly." Texturally persimmons are very much like an apricot with a taste similar to honey. However, you may have a long wait. While persimmons trees can grow to heights of 70 feet they take 7 years to produce fruit. Thankfully, my Persimmons Grape Compote recipe comes together in a snap.
Concord grapes arrived on the fruit scene much later when compared to persimmons. Boston native, Ephraim Wales Bull, attempted to breed a hardy grape that could stand up to the harsh Northeastern winters. In 1849, after six years and over 20,000 seedlings, he created the beloved tangy fruit, which he named the Concord grape. Within four years, grape sales began at $5 per vine.
About the Recipe: Persimmons Grape Compote Recipe
On a recent trip to North Carolina, we stopped at the Happy Berry Farm. I was able to purchase some wonderful, freshly harvested persimmons. Walker, the kind owner, treated us to samples of local grapes. Sadly, my favorite variety, had reached the end of its season, but its taste reminded me very much of Concord grapes. I couldn't wait for the persimmons to finish ripening as I planned on creating a delicious compote to top my whole grain and gluten free waffles. The sweet and tangy flavors of both the persimmons and grapes pair beautifully. A bit of orange juice and zest adds the zing for this easy 30-minute compote. This recipe will definitely elevate your weekday breakfast to a brunch worthy delicacy.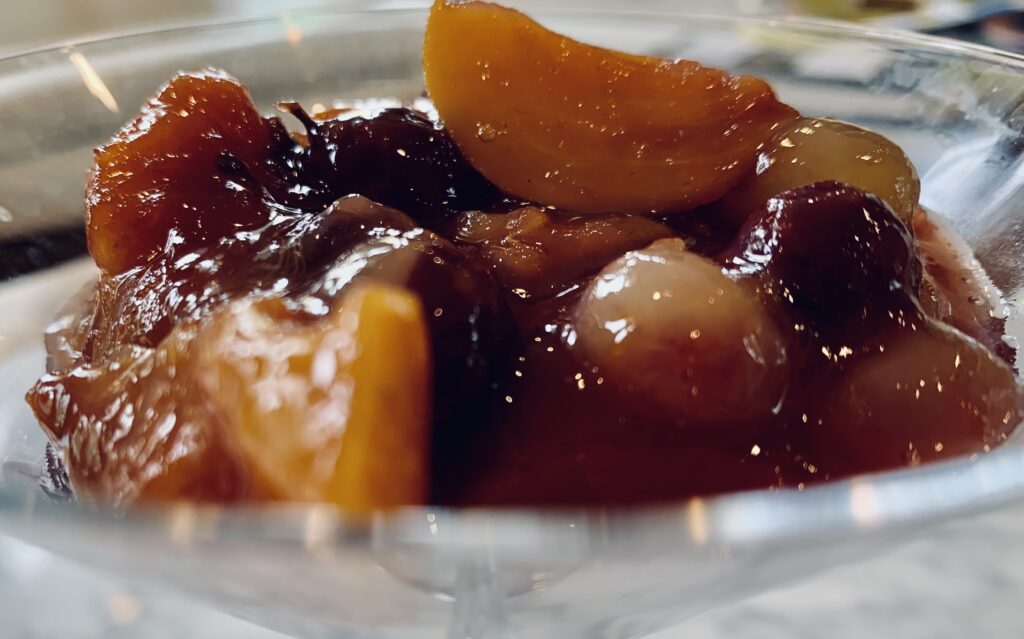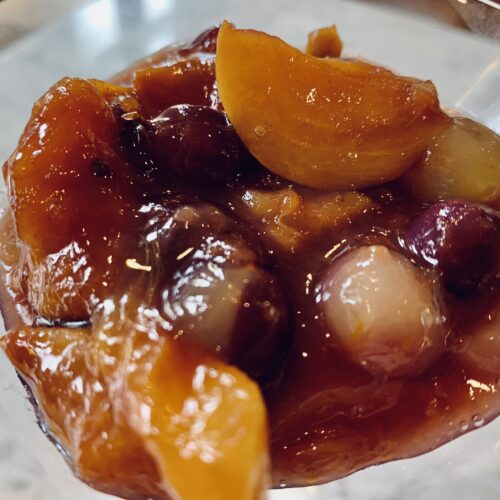 Persimmons Compote with Concord Grape & Orange
Embrace some of the most wonderful fall/winter fruits with sweet persimmons and tangy concord grapes. Easy 30 minute recipe! Top waffles, pancakes, and toast to elevate your breakfast to brunch level.
Ingredients
8

ripe

fuyu persimmons

1/2-2/3

cup

honey (Amount will be depend on how ripe and sweet your persimmons are.)

1

orange zested and juiced

1

lb

Concord grapes

1/2-1

tsp

anise (optional)
Instructions
Slice and peel persimmons and place in a medium saucepan.

Add 1/2 cup of honey (or sweetener of choice if vegan), orange juice, and zest. Add anise if using.

Bring to a low simmer and cook approximately 25-30 minutes until persimmons are soft and liquid has reduced.

Add grapes and cook an additional 3 minutes. Taste and add more honey if desired. Remove from heat and cool. Store in the refrigerator until ready to use.
You may enjoy this wonderful compote as a topping for sesame semolina pancakes, gluten-free whole grain waffles, or buckwheat waffles.