A Bit of History:
Did you ever wonder why American cooks bake zucchini into bread? It seems strange to cook an apple cinnamon squash quick bread recipe. Nevertheless, in the Middle Ages cooks routinely baked root vegetables like zucchini, sweet potatoes, and carrots into a pudding-like dessert. Hundreds of years later, two important historical events occurred that launched zucchini bread into mainstream American cooking. In 1740, a housewife discovered pearlash, a chemical leavening agent. She added ashes containing pearlash (potassium carbonate) to her dough and noted how it lifted and lightened the batter. Prior to this event, cooks relied on yeast for baked items. Pearlash forms by soaking plant or wood ashes from the fireplace in water and baking in a kiln to remove impurities. The residual white powder is potassium carbonate, which allows dough to rise without waiting hours for yeast activation. Cooks could now craft quick breads!
During WWII, people expressed their patriotism by planting victory gardens. Popular choices included zucchini and squash, which grew well in American gardens. Squash plants thrived and cooks searched for creative recipes to utilize a plentiful harvest. Zucchini bread seemed to be the answer and coincidentally, the same reason why I came up with this version of a healthy squash quick bread!
About the Recipe: Squash Quick Bread Recipe
My latest CSA box from Legare Farms contained a large spaghetti squash. Unfortunately in my family, I am the only one who will eat pasta crafted from spaghetti squash. Like most mothers, I am constantly searching for ways to increase my children's vegetable variety intake, especially if they don't even realize it. Since, spaghetti squash provides a great source of fiber, vitamin C, manganese, and vitamin B6, it became the perfect choice to incorporate into my apple cinnamon spaghetti squash quick bread.
Thankfully, spaghetti squash does not require peeling simply roast and shred. A whole spaghetti squash will yield enough strands for approximately 3-4 bread loaves. This easy, healthy recipe quickly comes together in four steps; roast and shred, whisk, blend, and bake!
---
Left: whole spaghetti squash before roasting. Right: after roasting scoop out seeds and shred interior with a fork.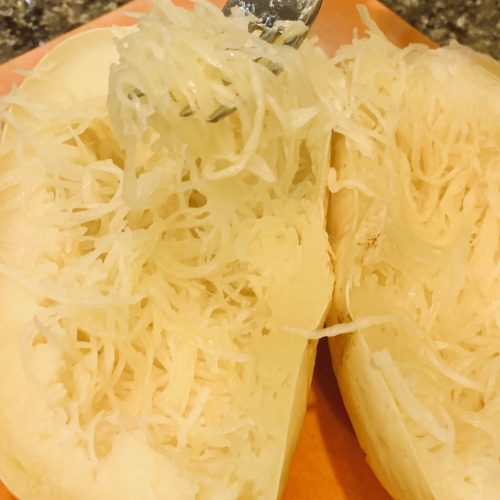 Roasted Whole Spaghetti Squash
The easy way to roast a whole spaghetti squash.
Instructions
Heat oven to 375 degrees F.

Using a serrated knife, carefully poke 12-15 holes all around the spaghetti squash. This will prevent it from exploding in your oven while roasting.

Place whole spaghetti squash on a tray or baking dish and roast in the oven for 45 minutes-1 hour. I like to rotate the squash once about half way through the roasting time. The squash is cooked when you can easily pierce it with a fork.

Remove from oven and carefully slice in half lengthwise.

Once cool enough to handle, scoop out the seeds and discard or save for another use.

Use a fork to shred the inside of the squash to spaghetti like strands.

Store the "spaghetti" in refrigerator if not using right away.
Dry Ingredients, Wet Ingredients, Bread Pan with batter, Baked Spaghetti Squash Quick Bread
---
Whisk dry ingredients together in one bowl and process wet ingredients in a blender. Combine wet and dry mixtures, pour into bread or muffin pans, and bake. My family loves to drizzle whipped maple syrup on top. Other serving suggestions include; honey, butter, apple butter, or pear butter. This recipe also works well as muffins by reducing bake time to 15-18 minutes.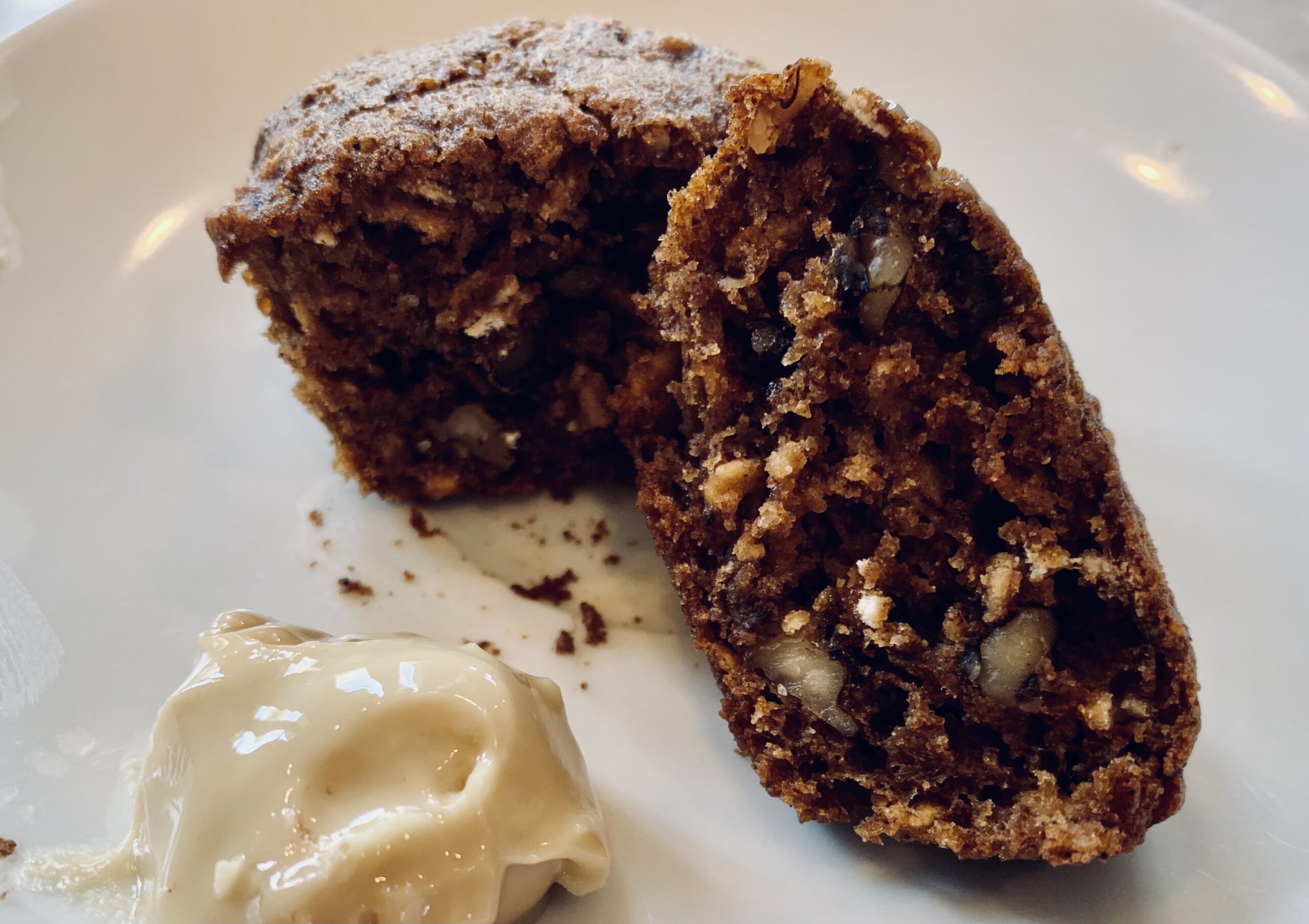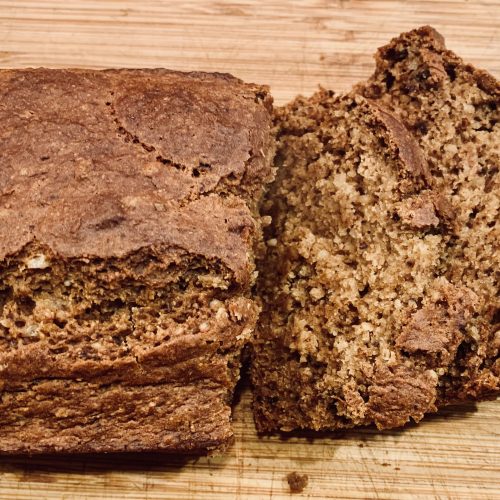 Apple Cinnamon Spaghetti Squash Quick Bread
A delicious twist on a breakfast favorite. Apples, cinnamon, cloves, walnuts, maple syrup and spaghetti squash blend together for a sweet, healthy, kid approved bread. Perfect for breakfast and snacks. Freezes well.
Ingredients
Wet Ingredients
1/3

cup

apple sauce or apple butter

1/2

cup

oat milk or non-dairy milk of choice

1 1/2

cups

cooked spaghetti squash*

1/4

cup

maple syrup
Dry Ingredients
1

cup

flour

1/2

cup

rolled oats

1

tsp

baking soda

1/2

tsp

baking powder

1/2

tsp

salt

1

tbsp

cinnamon

1/2

tsp

ground cloves

1/4

tsp

nutmeg

2/3

cup

brown sugar

2/3

cup

chopped walnuts or pecans divided
Instructions
Wet Ingredients
Blend all wet ingredients together until smooth.
Dry Ingredients
Whisk together all dry ingredients, reserving 1/3 cup chopped walnuts to sprinkle on top.

Pour wet ingredients into bowl with dry ingredients and stir to combine.

Lightly spray a bread pan with olive oil.

Pour batter into bread pan.

Sprinkle remaining 1/3 cup of chopped walnuts on top.

Bake at 375 degrees F for approximately 55-60 minutes.
Notes
*See my recipe for how to bake spaghetti squash