My friend Jana very kindly gave me their air fryer while in the process of converting to a different unit. At first, I thought I would just play around with it. But, I have discovered that we use it on almost a daily basis. It is such an easy way to crisp vegetables like sweet potatoes or cauliflower and to make croutons and crackers. My favorite part is you do not need to drench everything in oil and therefore can create healthier dishes.
When you order 5 lb of oyster mushrooms you have more than enough for a few meals, even if they are the best locally cultivated mushrooms from Rebecca Farms that you have ever tasted. My latest air fryer adventure involved a bit of a ruse. I wanted both my children to taste the mushrooms. My older daughter will happily consume them over pasta, but Katie was a bit skeptical. I wondered if I could make them appear nugget like and entice her with a bit of ketchup. My quest turned into a delectable appetizer enjoyed by the whole family!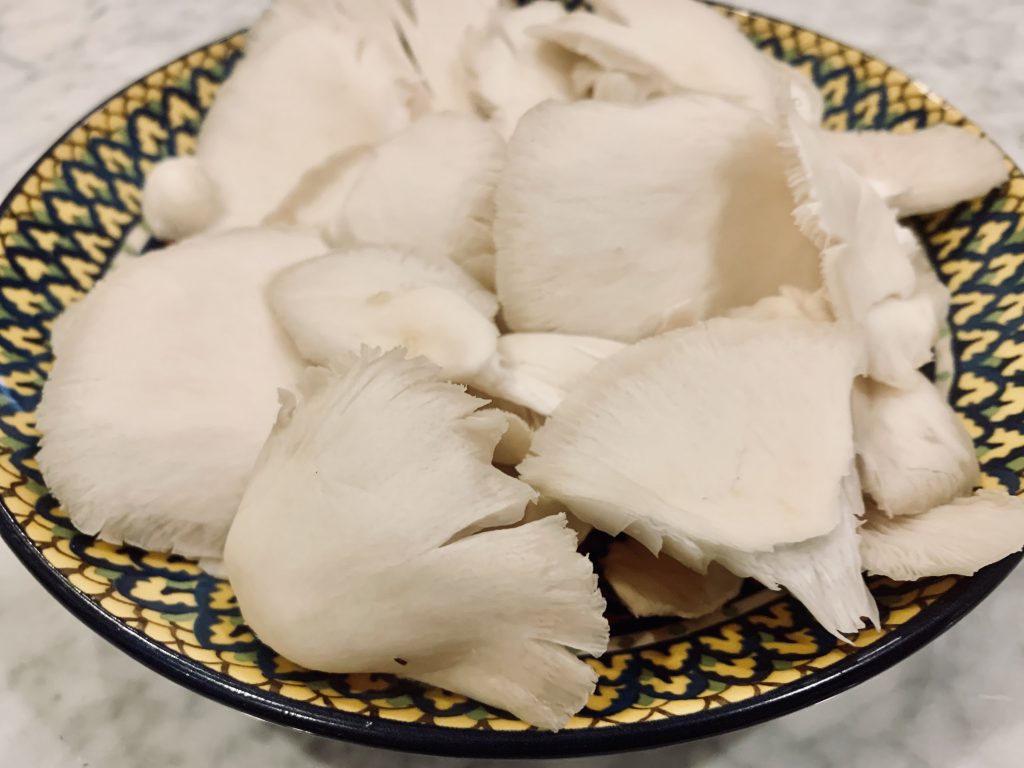 ---
One of the fun parts of making this recipe is you can easily vary the spices. My husband and I enjoyed hot Hungarian paprika with ours while the kids preferred salt and pepper and a bit of oregano. You can also have fun with the dipping sauces from ketchup and mustard to hot chili sauces or marinara.
---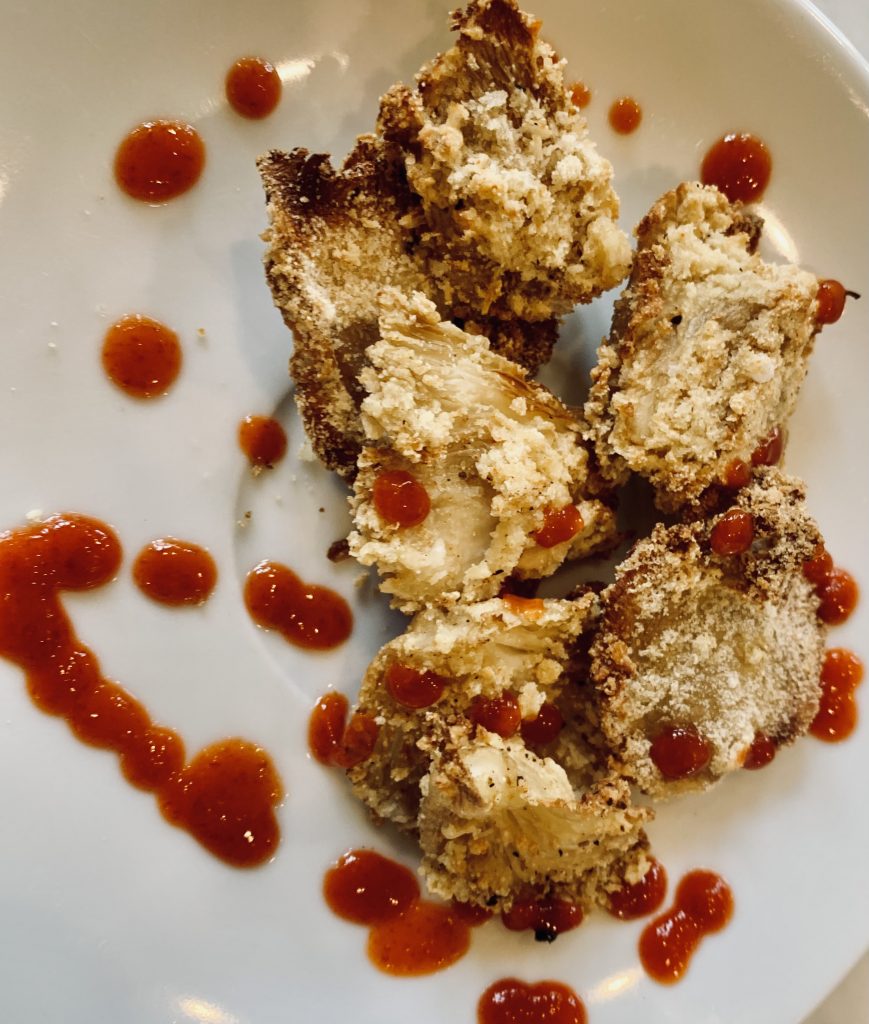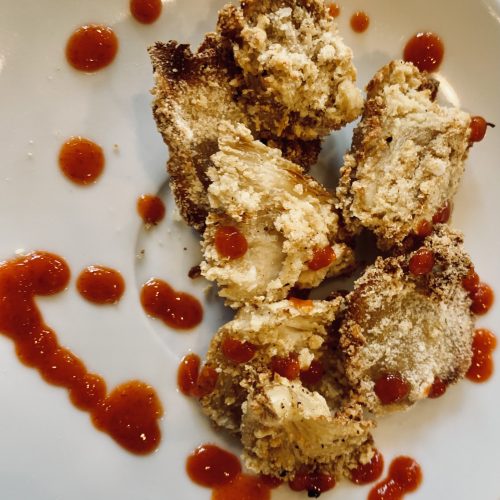 Crispy Oyster Mushrooms
A healthy spin on a fried favorite. Oyster mushrooms air fried to crispy perfection. Serve with your favorite dipping sauce.
Ingredients
4

cups

cleaned and shredded oyster mushrooms

1/2

cup

semolina flour

1/2

cup

panko plus a bit extra

1

cup

unsweetened almond milk or unflavored non-dairy milk of choice

1

tsp

minced dried garlic

1/2

tsp

hot Hungarian paprika*

salt, pepper to taste
Dipping Sauce Ideas: Sriracha, Roasted Garlic Marinara Sauce, Cocktail Sauce, Horseradish Sauce, Spicy Mustard, Ketchup
Instructions
Clean Mushrooms
Gently wipe away any dirt with a paper towel. Do not wet them. Remove stems and shred the tops into appropriate sized appetizer pieces.
Batter
Combine semolina flour, panko, and any seasonings in a large shallow bowl. Place the unsweetened non-dairy milk into a separate shallow bowl.

Dip each mushroom into the milk and then dredge into the batter mixture. Place in the air fryer.

Working in batches, fry the mushrooms until they are golden brown. I like to check mine every 5 minutes.
Notes
*You can use any type of spices. Oregano, basil, and parsley would work well.
---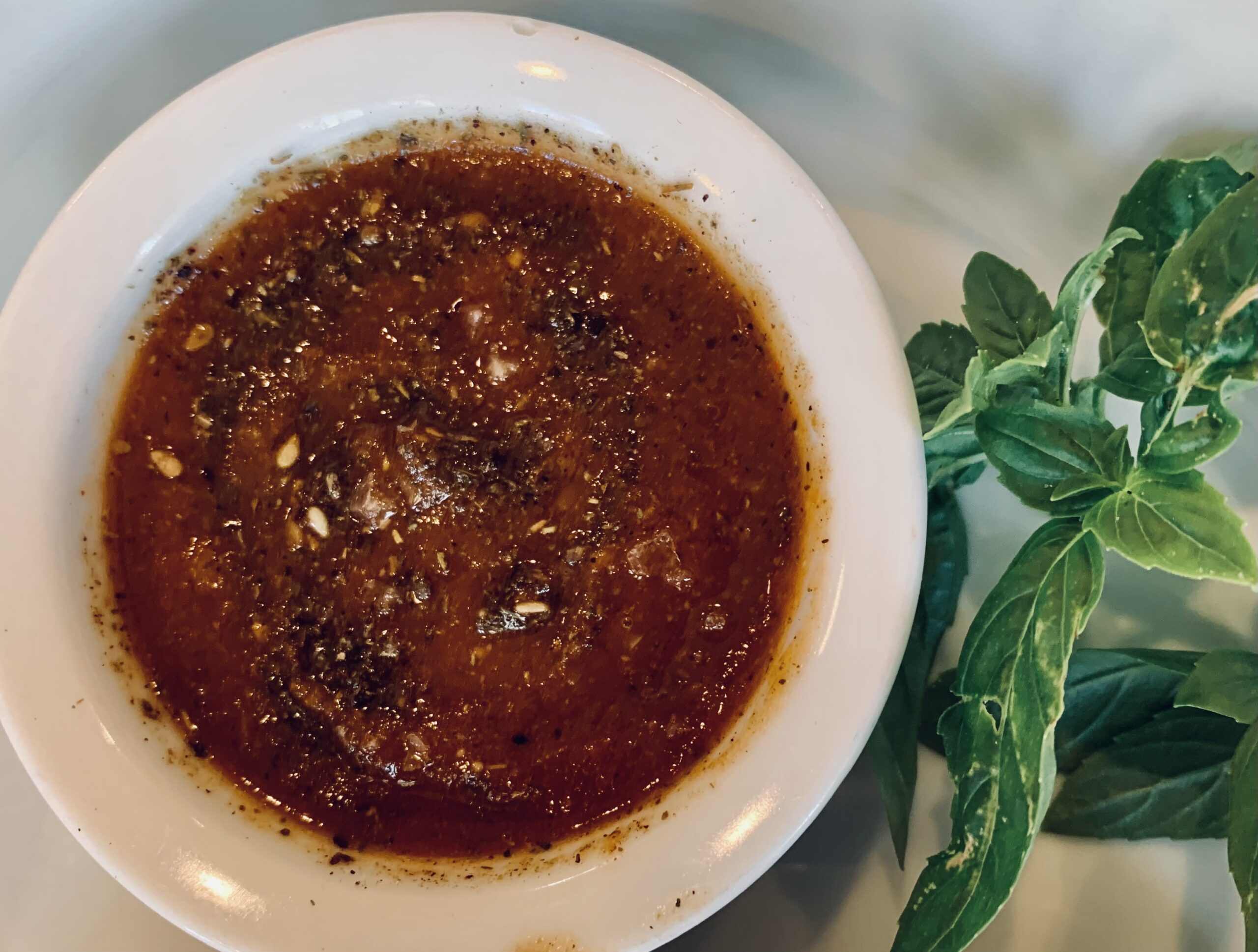 Homemade Tomato Ketchup with Za'tar
A sweet and savory ketchup made with fresh midnight roma tomatoes and seasoned with Aleppo pepper and Za'tar. The perfect condiment for all of your dipping adventures!
Ingredients
3

lb

fresh roma tomatoes (I used midnight roma tomatoes for a more intense flavor).

2/3

cup

honey (substitute sweetener of choice if vegan)

1

cup

apple cider vinegar

1/2

cup

yellow onion

1/4

cup

za'tar

6

cloves

garlic

1 1/2

tsp

salt

1

tbsp

Aleppo pepper
Instructions
Add all ingredients to a large saucepan. Simmer 35 minutes until tomatoes are broken down and liquid has reduced.

Let mixture cool for a bit and then blend until smooth.