A Bit of History:
Whenever I hear the word "chalice," I envision Harrison Ford portraying Indiana Jones. In The Last Crusade, Indy must correctly choose the Holy Grail from an assortment of cups and chalices. After a suspenseful moment, the guardian knight announces, "you have chosen wisely." Foraging mushrooms is exactly like this scene. An educated, wise decision leads to a delicious meal, while a rash decision could spell death. Coincidently, the words chanterelle, chalice, and tankard all derive their meaning from the Greek word for a drinking cup: "kantharos." Thus far, mycologists have identified over 40 varieties of chanterelle mushrooms in various colors including, golden, orange, cinnabar-red, blue, black, and white. However, chanterelles may be confused by the poisonous look-a-like jack-o-lantern mushrooms. Unfortunately, they cannot be cultivated and must be foraged. For today's chanterelle mushrooms with an easy 30 minute sauce, I let someone else make that crucial decision.
After a long day, I was craving a pasta meal that was not going to require very much time. I started reminiscing about some of the sauces I sampled while touring Italy. One of my favorites is a simple red sauce with a few anchovy filets, garlic, and tomatoes. Anchovies are sometimes known as "Gentleman's Relish, a British anchovy paste made with butter and herbs, marketed in the 19th century to gentlemen of good standing.
About the Recipe: Chanterelle Mushrooms with Easy 30 minute Sauce
I opted to skip the butter and used olive oil, leeks, and fresh Sun-gold tomatoes (canned tomatoes also work great). The sauce quickly comes together in under 30 minutes. Melting anchovy filets with garlic in olive oil quickly develops amazing flavor. While the sauce simmers, boil water for your favorite dried pasta and cook the chanterelles in a separate pan. Serve pasta with a scoop of sauce and top with mushrooms or stir mushrooms into the sauce just prior to plating. Either way you crafted a delicious meal in 30 minutes!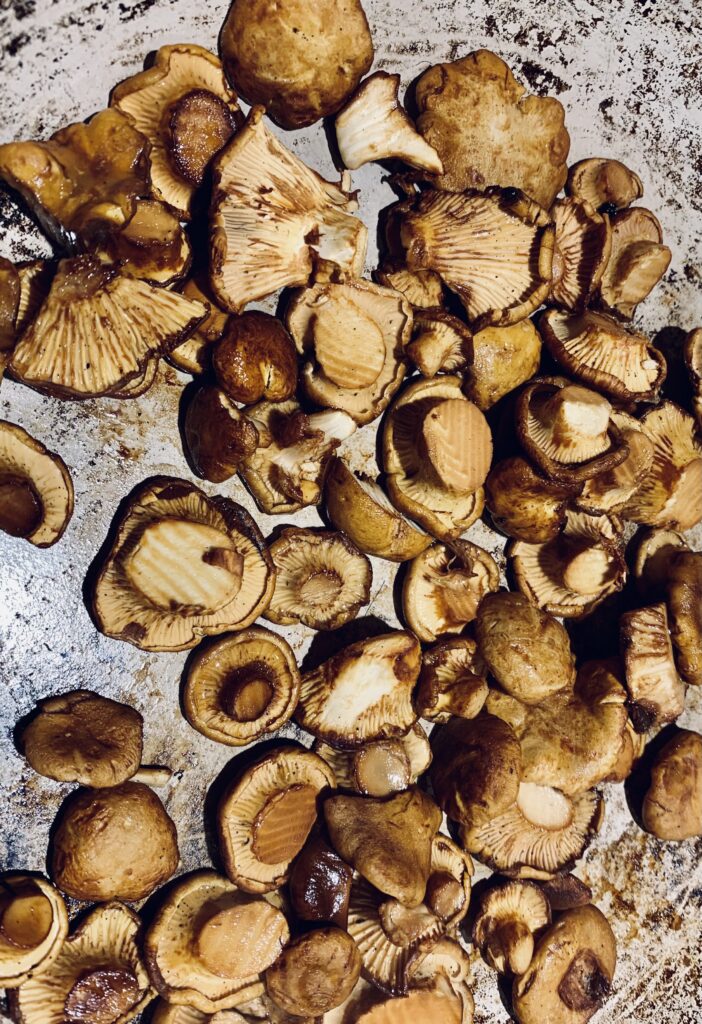 Cooked chanterelles, sauce simmering, finished dish!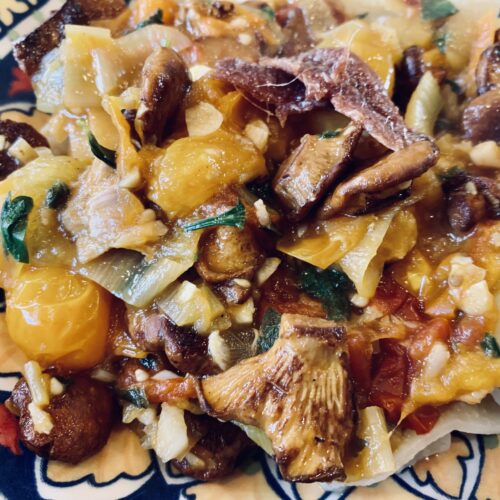 Chanterelles with Sun-Gold Cherry Tomato Anchovy Sauce
A umami packed homemade under 30 minute tomato sauce with fresh chanterelle mushrooms served over pasta. Easy weeknight meal that taste like you spent hours crafting dinner.
Ingredients
8

oz

fresh chanterelle mushrooms cleaned and stems removed

2-4

tbsp

olive oil or vegetable broth (I typically use a bit of oil and mostly broth)

1 1/2

cups

sliced leeks

6

cloves

garlic minced

3

cups

fresh sun gold tomatoes

4

anchovy fillets in oil

1/2

cup

fresh parsley chopped

pasta of choice for serving
Instructions
Sun-gold Tomato Anchovy Sauce
Add 1 tbsp of olive oil or vegetable broth to a dutch oven pot. Heat over medium.

Add garlic and anchovy fillets. Cook slowly, stirring often, until anchovy fillets melt. Add more oil or broth if needed.

Add more broth or oil if needed.

Add leeks and cook 5 minutes. Stir frequently.

Add tomatoes and stir. Bring to a very low simmer and cook (about 20 minutes) until tomatoes burst and thick sauce forms.

Stir in parsley. Remove from heat and cover.
Mushrooms
In a sautee pan cook mushrooms in 1 tbsp of oil for 4-5 minutes per side. Do not stir until you flip them.

When mushrooms are cook add them to the sauce.
Looking for more simple mushroom recipes? Try some of these other ultratruffle favorites including oyster mushrooms over linguini, crispy air fried mushrooms, creamy sun-dried tomato sauce, mushroom pastrami on rye sandwiches, and lentil shiitake soup.