For Lisa..
A Bit of History:
As a college student, my dormitory mates and I always looked forward to Thursday night TV. On Thursdays, new episodes of Friends, Seinfeld, and ER would air. We would all gather in Lisa's room to enjoy our favorite episodes of "shows about nothing." While working on this recipe and post, I remembered a Seinfeld episode, where George tries to combine his love of food with his love life. His girlfriend breaks up with him after he is caught eating a pastrami sandwich from the nightstand during an intimate moment. This recipe for Mushroom Pastrami Sandwiches on Rye, inspired by a classic, is definitely nightstand worthy. But, don't get caught!
Sussman Volk is credited with the first pastrami sandwich on rye, in 1888, which was served at his deli in New York City. Legend has it that Mr. Volk allowed a Romanian immigrant and friend to store meat in his freezer. His thankful friend graced him with the recipe, which Volk began to serve at his deli. This classic sandwich would come to define a typical New York deli. Traditionally, pastrami sandwiches are seasoned beef served on rye bread with mustard accompanied by a pickle.
About the Recipe: Mushroom Pastrami Sandwiches on Rye
For this Ultratruffle dish, I veered from the traditional ingredients by substituting shiitake mushrooms for the beef and crafting my own pastrami-like seasoning. The spice mixture comes together in 5 minutes in the blender. Simply cook the seasoned mushrooms in some olive oil and build your own masterpiece. Slather some toasted rye with mustard and top mushrooms with pickled red onion, sauerkraut, and peppery arugula greens.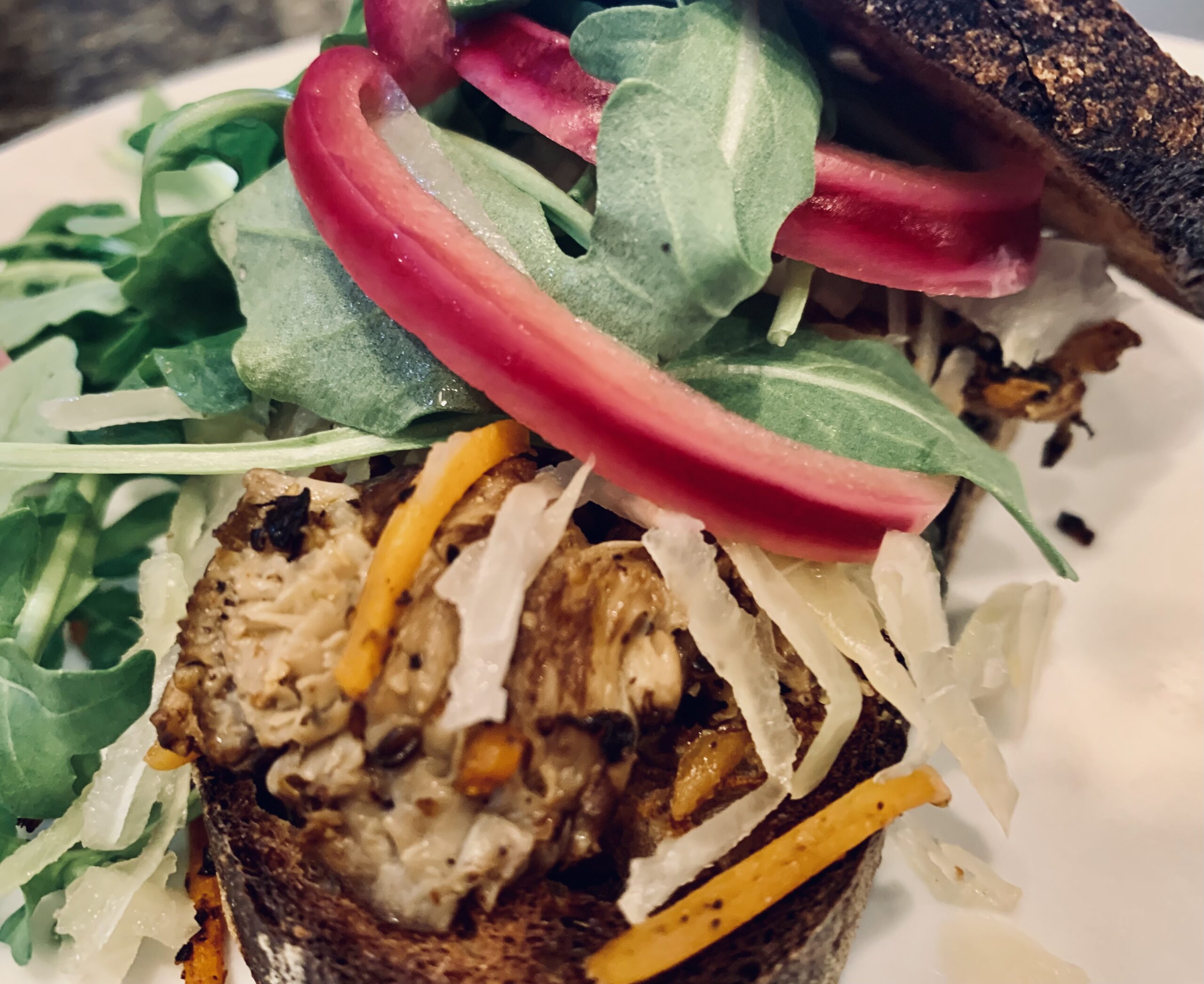 Shiitake Mushroom Pastrami Sandwiches on Rye
A flavorful and spicy pastrami seasoning perfect for shiitake mushroom sandwiches.
Ingredients
Pastrami Seasoning (makes enough for 4 batches of mushrooms)
3

tbsp

whole black peppercorns

2

tbsp

corainder seeds

2

tbsp

yellow mustard seeds

1

tsp

carraway seeds

1

tbsp

dry mustard

1/4

tsp

hot smoked paprika

1/2

tsp

paprika

1

tsp

salt

1

tsp

minced garlic

1

tsp

minced onion

1/2

tsp

brown sugar
Sandwich Ingredients (4 sandwiches)
2 1/2

tbsp

pastrami seasoning

8

slices

rye bread

1

cup

sauerkraut

3

cups

sliced fresh shiitake mushrooms

1-2

tbsp

olive oil for cooking mushrooms

1

tbsp

vegetable broth

2

tbsp

mustard

1

cup

arugula (optional)

1/4

cup

pickled red onion (optional)
Instructions
Pastrami Seasoning
Combine all spices in a blender cup and process until smooth. Transfer to a glass jar for storage. Recipe will make extra seasoning for future use.
Sandwiches
Toss prepared mushrooms with 1 tbsp of vegetable broth and 2 1/2 tbsp of pastrami seasoning.

Heat 1 tbsp of olive oil in a shallow pan over medium heat. Add mushrooms and cook without stirring for 4-5 minutes. Flip mushrooms over and cook another 3-5 minutes adding more oil if needed.

Transfer the mushrooms to a bowl. Either toast bread in a conventional toaster and slather with mustard and toppings or follow directions below.

Slather bread slices with mustard.

Add a bit more oil to the mushroom sautee pan if needed. Add bread slices and cook for 2 minutes. Remove bread slices.

Top bread slices with cooked mushrooms, sauerkraut, arugula, and pickled onions.
Looking for some other great sandwich ideas? Try these Ultratruffle favorites:
Stir Fry Veggie Wraps with Spicy Peanut Sauce