About the Recipe: Parsley Lemon Thyme Vinaigrette
While crafting this recipe, I could not stop thinking of the Simon & Garfunkel 1966 album Parsley, Sage, Rosemary and Thyme. Popular in folk music in the 1960s and with my parents, who I think owned every record! While this tangy, wonderful Parsley Lemon Thyme Vinaigrette doesn't feature all of the herbs mentioned in the album, it is very tasty. Inspiration for this dish stems from some fresh thyme in my refrigerator and a fabulous meal we enjoyed at a local restaurant Sorghum & Salt. We enjoyed our experience at the chef's counter and I cannot wait to go back.
A Bit of History:
I definitely could not conclude this post without at least one historical fun fact. While researching, I learned that the Greeks believed thyme conveyed strength and courage. Alas, you do not need to be brave to attempt this recipe, it comes together in a flash and the Parsley Lemon Thyme Vinaigrette complements a variety of roasted and pickled vegetables and grains. It would also be a fabulous salad dressing. For this particular dish, I roasted some golden beets, rainbow carrots, & cauliflower. Adding a pickled component, such as pickled sweet onions and pickled fennel provided a wonderful acidity to balance the dish. I happened to have Kamut, an ancient type of wheat grain that is similar to farro on hand to round out the dish for a complete meal! This is a great recipe to use as a starting point and create your own spectacular version.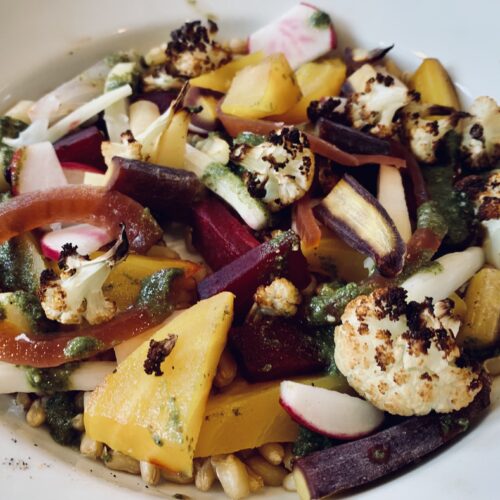 Parsley Lemon Thyme Vinaigrette
A tangy, vibrant vinaigrette drizzled over a medley of roasted beets, cauliflower and pickled fennel and onion and kamut. A versatile, easy, and healthy vinaigrette that pairs well with a variety of vegetables and grains.
Ingredients
1/3

cup

fresh parsley

4

sprigs

fresh thyme

1

tbsp

mustard

1

lemon

juiced

1

tsp

honey (substitute sweetener of choice if vegan)

salt and pepper to taste
Instructions
Add all ingredients to the blender and process until smooth. Store in refrigerator until ready to use.
Looking for other great vinaigrettes? Try these Ultratruffle favorites:
Strawberry Toasted Hazelnut Salad with Basil, Mint, Cucumber Vinaigrette
Orange, Ginger, Pomegranate Vinaigrette
Balsamic Horseradish Root Vinaigrette