A Bit of History
Currently, my girls love The Last of the Olympians series by Rick Riordan and the Greeking Out podcast by National Geographic Kids. Coincidentally, this recipe for Orange Ginger Pomegranate Vinaigrette over a fennel salad relates to the Promethium Greek myth.
According to Greek mythology, Zeus, in a moment of anger, withdrew his gift of fire to punish mankind. Always willing to assist humans, Prometheus devised a clever way to reclaim the fire. Using a hollowed out stalk of fennel, Prometheus stole the fire and escaped Mount Olympus. However, his luck did not hold. Zeus discovered his treachery and tortured Prometheus severely. Prometheus ended up chained to a rock for eternity, while an eagle endlessly feasted on his liver. Today, Greek islanders still use fennel stalks to transport light. Some historians even believe that fennel may have been used as the first Olympic torch.
About the Recipe: Orange Ginger Pomegranate Vinaigrette
Inspired by the beautiful yellow ginger at my local farmers market and fresh pomegranates, I concocted a fabulous winter salad. This colorfully stunning dish definitely brightens a holiday table or is a perfect side dish to bring to a party. Ginger adds a wonderful tangy element to balance the sweetness of the pomegranate and balsamic vinegar. Be sure to use a high quality balsamic vinegar! It should be thick and viscous like syrup.
Amazingly, you can craft this salad easily and quickly. Blend the vinaigrette in only 5 minutes. Next, simply slice fresh watermelon radish and crisp fennel bulbs. Then, garnish mixed greens with chopped vegetables, orange slices, and pomegranate arils. Finally, drizzle the vinaigrette on top and enjoy your masterpiece!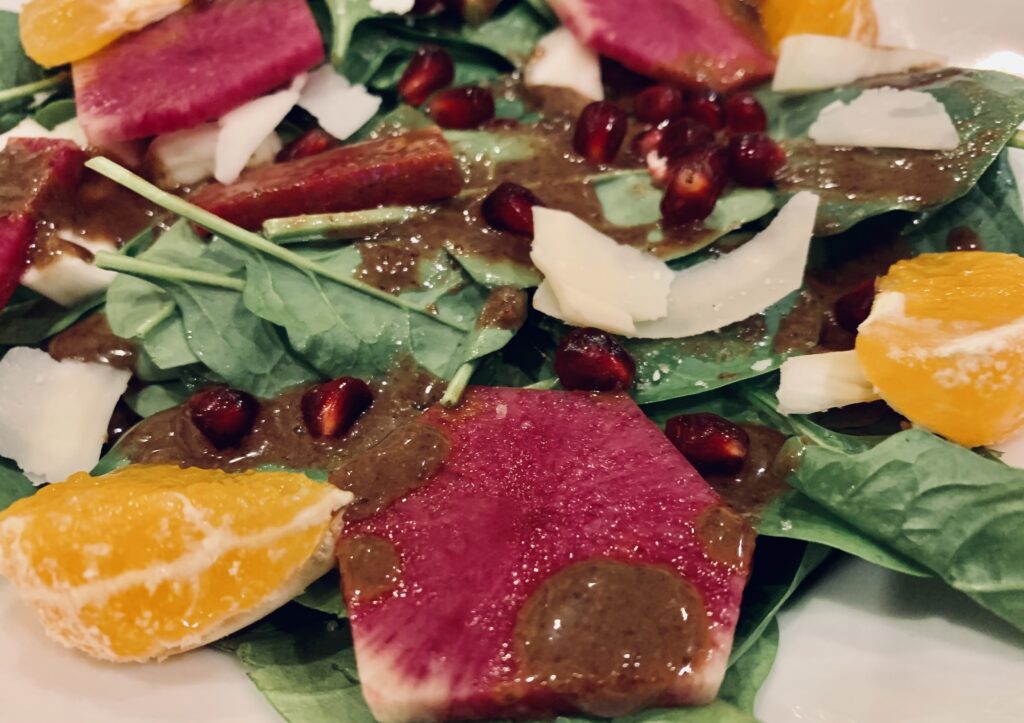 Helpful Tools & Ingredients
Pomegranate Molasses:
I love the taste of this particular brand of pomegranate molasses, it does not have any added sugar and is organically produced in California.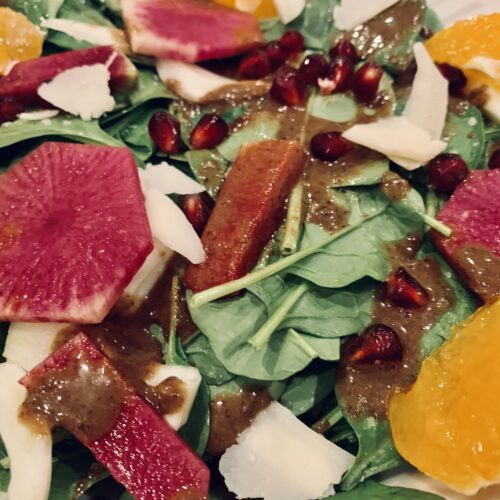 Orange, Ginger, Pomegranate Vinaigrette with Winter Fennel Salad
A refreshing, vibrant winter salad with a tangy ginger orange pomegranate vinaigrette, fennel, mixed greens and watermelon radish.
Ingredients
Vinaigrette
1

orange juiced and zested

1-2

inches

fresh ginger root peeled

2

tbsp

Dijon mustard

2

tbsp

pomegranate molasses

1/3

cup

balsamic vinegar*

1/3

cup

water

1

tsp

tahini

salt and pepper to taste
Salad Assembly: serves 6
12

cups

mixed greens

2

bulbs

fennel diced (2 small-medium bulbs or 1 extra large)

4

medium

watermelon radishes sliced

1/2

cup

pomegranate arils

vinaigrette to taste

1

orange peeled into segments for garnish
Instructions
Vinaigrette
Combine all ingredients in blender and process until smooth. Taste and adjust seasonings.

Store in refrigerator until ready to use.
Salad Assembly
Combine all ingredients in a large bowl and toss with desired amount of vinaigrette. Season with salt and pepper to taste. Top with orange slices.
Notes
*My favorite balsamic vinegar is LowCountry Olive Oil 18 year aged dark balsamic vinegar.
Need to brighten up your table? Try these other Ultratruffle favorite recipes; Over the rainbow grain bowl, Mason jar salad, Dill mint pistachio pesto salad, or Greek salad with Kalamata olive dressing.