During summertime, I am always reminded of one of my dad's favorite songs; Otis Redding's Sitting on the Dock of the Bay. My brother and I probably heard that song at least one hundred times every summer and my dad would always sing along. My family and I adore lazy summer days sitting by the water, enjoying the pool or beach, or boating. This easy, summertime meal comes together in a snap, so that we have more time to play and enjoy all the fun summertime activities!
This salad recipe is one of the summertime classics. If you google strawberry salad, you will discover thousands of slightly different combinations. In the recipe listed below, I describe my favorite variation. Whenever I have fresh herbs on hand (or a mom whose mint plant is growing like crazy), I like to make a basil, mint cucumber dressing. Adding a touch of avocado, gives it a rich creamy texture. It is perfect to toss with mixed greens and top with fresh strawberries (or peaches) and toasted hazelnuts. If you add your favorite grain, you will have a complete meal ready in just a few minutes.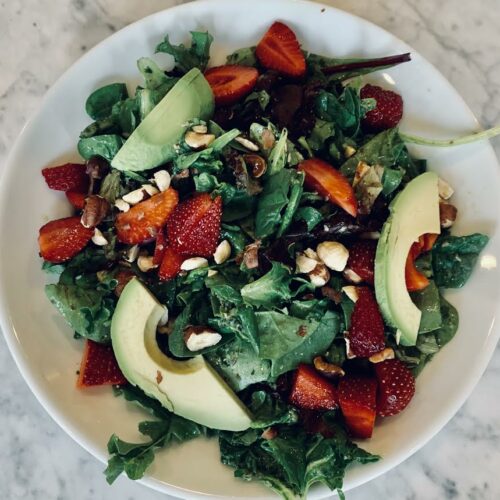 Strawberry-Toasted Hazelnut Salad with Basil, Mint, Cucumber Dressing
A refreshing, healthy, summer salad featuring mixed greens, strawberries, toasted hazenuts, cucumber, avocado, radish and fresh basil and mint.
Ingredients
2

cups

packed fresh basil leaves

1/2

cup

packed fresh mint leaves

1

cup

cucumber

1/4

of an avocado

1

lemon juiced

2

cloves

garlic

2

tbsp

dijon mustard

salt and pepper to taste

water or olive oil to thin if needed
Instructions
Combine all ingredients in a blender and process until smooth.

Taste and add salt and pepper accordingly. If dressing is too thick, thin with a bit of water or olive oil. If dressing is too thin add a bit more avocado or basil until you reach desired consistency.