A Bit of History:
When I walked into my local Trader Joes's last week, my eyes delighted in the array of pumpkin products on display. I cheerfully tossed some of my favorite fall items into my cart and began to ponder different dishes. Whenever the weather cools, or if I start thinking about the mountains, I crave warm, flavorful stew recipes. And thus begins my dalliance, or casual affair, with an Indian inspired stew featuring pumpkin.
Dal, which is derivation of an ancient Sanskrit word, simply means "to split." In the modern sense, it refers to pulse crops such as peas, lentils, or beans that are split and do not require soaking before you cook them. The term dal also refers to stews prepared from these crops. Dal, a versatile comfort food, is prepared in an infinite number of ways throughout Southeast Asia, especially India. Dal may contain a variety of spices, vegetables, meats and is most often eaten with rice or naan bread. The recipe listed below describes my most recent venture with a curried pumpkin dal.
About the Recipe: Curried Pumpkin Dal with Lentils
Fear not, you do not have to peel, chop, or cook a fresh pumpkin (unless you so desire) to achieve a delectably creamy dal. Using canned pumpkin puree delivers wonderful flavor and depth to the dish without adding saturated fats from coconut milk or ghee. Even better, dal is an easy one-pot meal that you can prepare in advance and warm up for those crazy, hectic weeknights. It tastes incredible the next day! Serve over rice (use frozen microwavable rice for an additional time saver) or naan bread and you have a complete, kid-approved meal.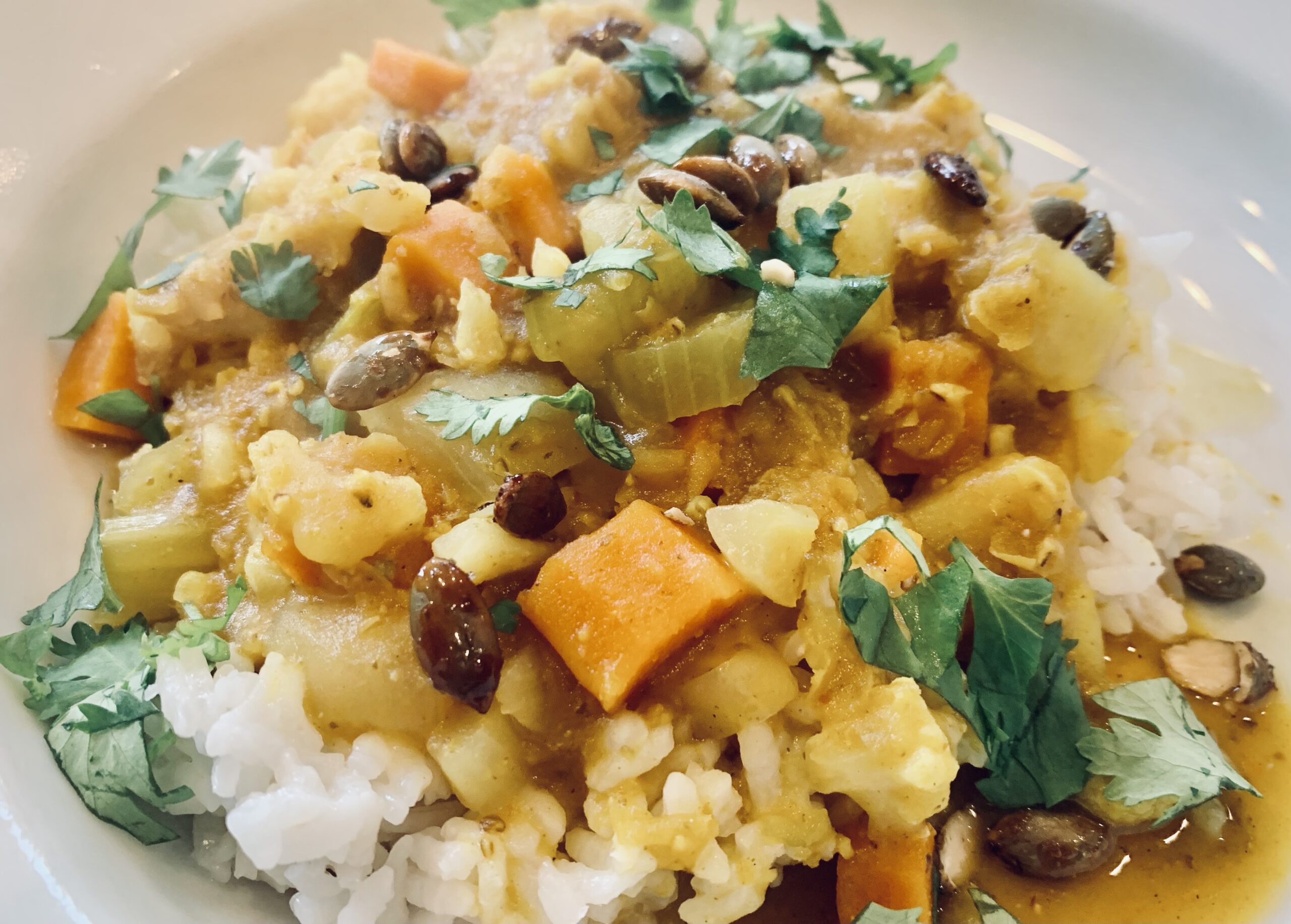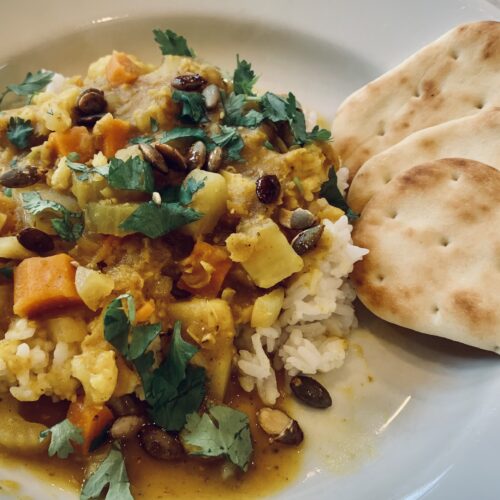 Curried Pumpkin Dal with Lentils and Autumn Vegetables
A warm, lentil stew with pumpkin, white sweet potatoes, cauliflower, carrots, onion, garlic, fresh ginger and a curry blend of spices including cumin, coriander, fennel, mustard seeds, pepper, and chilis.
Ingredients
6

cloves

garlic minced

1

tbsp

ginger root peeled and minced

1

yellow onion diced

1

can

pumpkin puree (not pumpkin pie filling) or substitute 1 1/2 cups cubed fresh pumpkin

1 1/2

cups

chopped murasaki (white sweet potato) or substitute baby potatoes

2

cups

celery diced

2

cups

carrots diced

2

cups

cauliflower florets cut into bite sized pieces

1

serrano pepper (seeds removed) minced

3-4

tbsp

curry powder*

3/4

cup

yellow lentils

5

cups

vegetable broth

1

lemon juiced

salt to taste

1

cup

fresh cilantro for serving

1/2

cup

toasted pepitas for serving
Instructions
Heat a bit of olive oil or vegetable broth in a large dutch oven pot over medium heat.

Sautee garlic, ginger, onion, potatoes, celery, carrots, cauliflower, serrano pepper, 3 tbsp of curry powder and a pinch of salt for 10 minutes.

Add pumpkin puree and cook for 1 minute.

Add lentils and vegetable stock.

Bring pot to a low simmer and cook for 30 minutes. Add lemon juice.

Taste and adjust seasonings.
Serving Suggestions
Lentil Dal is wonderful on its own as a soup, served over rice, or with naan bread. Top each bowl with fresh cilantro and some toasted pepitas.
Notes
*I like to start with lower end of the curry powder range. You can either use curry powder from the store or make your own blend with spices you have on hand at home. My favorite homemade blend is from the Daring Gourmet.
Looking for other weeknight dinners? Try these Ultratruffle favorites:
Parsley Lemon Thyme Vinaigrette with Roasted Vegetables
Kabocha Squash Lemongrass Soup with Quinoa