Sometimes Shiitake happens; mushrooms that is and life. However, in this case it was both wonderful and horrible. I happened to purchase a good amount of locally cultivated shiitake mushrooms (this was the wonderful part). Unfortunately, I was having just an awful week between my car and bike breaking down and just the general state of the world. I always remember that as a child whenever I was sick or we were having a rough time, soup was on the dinner menu. And this week was definitely soup worthy with my recipe for Shiitake Mushroom Lentil Soup with fresh herbs.
A Bit of History
Shiitake mushrooms are native to the mountain regions of East Asia growing on the rotting wood of desciduous trees. In fact, their name is derived from the Japanese words for the shii tree, where the mushrooms are found and the Japanese word for mushroom. These delectable fungi are not found in the wild anywhere else in the world. According to historical records, the first written account of shiitake cultivation occurred in China in 1209 and today they are the second most widely cultivated mushroom comprising 25% of the world's cultivated mushrooms. However, scientists believe that shiitake mushrooms may be over 100 million years old!
About the Recipe: Shiitake Mushroom Lentil Soup
This dish is an umami powerhouse, drawing flavor from fresh shiitake mushrooms, leeks, carrots, garlic, and a variety of fresh herbs. I like to use French green lentils in this soup as they retain their shape and texture very well while cooking. In contrast, yellow and red lentils tend to break down and blend into the soup base. If you have any homemade vegetable stock on hand, this is definitely the recipe to use it. Homemade stock is incredibly easy to make. In case you missed it, here is the link to my post for homemade broth.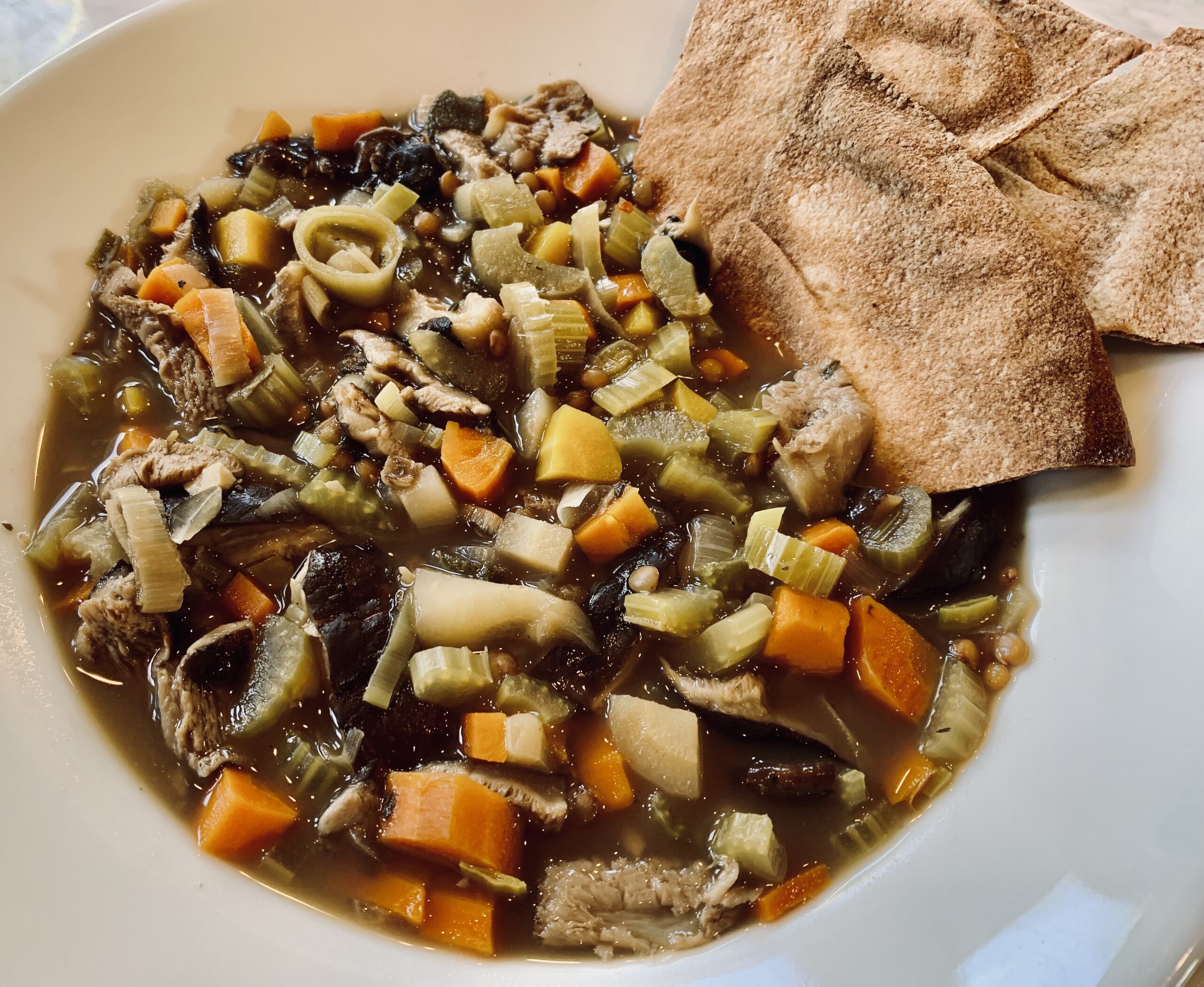 Shiitake Mushroom Lentil Soup
Packed with umami! Healthy vegetable soup with shiitake mushrooms, leeks, carrots, celery and lentils.
Ingredients
4

cups

fresh shiitake mushrooms, sliced

2

cups

carrots, diced

2

cups

celery, diced

1/2

cup

leek, diced

1/2

cup

onion, diced

6

cloves

garlic, minced

3/4

cup

French green lentils

1/4

cup

nutritional yeast

7

cups

vegetable stock (see recipe for homemade stock)

8

fresh

sage leaves

2

dried

bay leaves

1

tbsp

fresh rosemary, minced

1

tbsp

fresh thyme, minced

1

tbsp

fresh oregano, minced

1

tbsp

fresh parsley, minced

1

lemon

juiced

1

tbsp

olive oil

salt to taste

red pepper flakes (optional to taste)
Instructions
Heat olive oil over medium heat. Add mushrooms, leek, onion, carrots, celery, and garlic. Add a pinch of salt. Cook for 8 minutes.

Add herbs, bay leaves, broth, lentils, nutritional yeast and lemon juice. Bring to a simmer and cook 45 minutes until lentils are tender. Taste and adjust seasonings.

Serve with fresh pita bread, toasted baguettes or your favorite crackers.
Looking for more soup recipes? Try these other Ultratruffle favorites:
Silky Kabocha Squash Lemongrass Soup with Ginger & Quinoa
Chipotle Chili with Chocolate Coffee Bourbon Stout
Fava Bean Soup with Garlic, Leeks, & Fennel