Traces in the fossil record from the Mediterranean indicate that the olive tree is at least 20-40 million years old. Cultivation of the olive fruit began about 7000 years ago. Many reports of the uses of olives and olive oil can be found across many cultures, religions and myths. I gathered a few of the facts that I found the most interesting to share with you!
In Greek mythology, Athena is favored by Zeus for bestowing the gift of the olive tree. Historical records demonstrate that olives were a significant export commodity from ancient Crete (Food in History by Reay Tannahill). The ancient Egyptians imported olives from Crete and Greece, olive branches were even found in the tomb of King Tut. Olive oil has been used to anoint kings in many cultures and the branches grace Olympic champions.
Olive trees are a symbol of endurance, eternity, and peace. They have an incredible ability to adapt to a multitude of environments; including temperature fluctuations, soil changes, and salt water. In fact, the oldest known olive tree that still bears fruit is over 3000 years old and can be found on the isle of Crete. Today there are over 500 different types of olive trees and a whopping 800 million olive trees growing!
My family enjoys olives prepared in many ways. Below is a recipe that is one of our favorites. We love this tapenade as an appetizer, a topping for grains/pasta, as a dip for raw vegetables, or as part of a baguette sandwich night. It can be prepared in minutes! We enjoy adding a bit of diced green garlic to the top.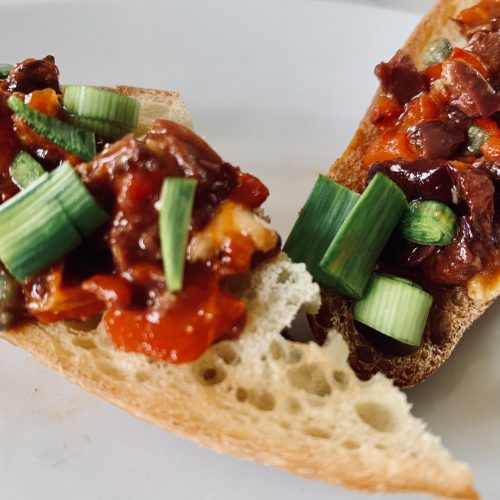 Olive Tapenade
A savory blend of olives, capers, sun dried tomatoes, green garlic, roasted red peppers, and Calabrian chilis. A perfect pairing with baguettes, pasta, grains, or sandwiches. An easy appetizer that can be prepared in minutes.
Ingredients
2

cups

pitted mixed olives

1/3

cup

sun dried tomatoes in oil

1

lemon juiced

1

jar

roasted red peppers

2

tbsp

capers

1

tbsp

Calabrian chili peppers (or less if sensitive to spice)

6

cloves

garlic peeled
Instructions
Add all ingredients to a blender and pulse until desired consistency is obtained. Taste and add additional chili peppers if desired.
Serving Suggestions
Serve as a topping for baguettes, crostini, grains, pasta, and cucumber slices.
---