About the Recipe: Easy Vegan Tzatziki Sauce
Growing up, my dad loved to grill food outside on our deck, especially burgers. In my mind, you cannot serve a burger without the appropriate sides, which for me typically include some kind of sauce, potato, and vegetables. I love the combination of salty, apple cider vinegar potato chips with the cooling flavors of tzatziki sauce. You can find hundreds of different ways to prepare tzatziki sauce and listed below is my favorite preparation. My family and I prefer less olive oil than most recipes call for, but we add lots of cucumbers and dill. Feel free to adjust the recipe according to your tastes! This Easy Vegan Tzatziki Sauce is also a great topping for my beet falafel veggie burgers if you decide to skip the roasted pepper ketchup.
About the Recipe: Cabbage & Carrot Slaw with Parsley Mint Dressing
Cabbage and carrot coleslaw with a tangy, slightly spicy, parsley mint dressing is also a wonderful pairing for veggie burgers. It is a great side dish and perfect for stuffing inside your pita bread with your burger! In this particular recipe I used a purple cabbage (the colors were just gorgeous) but you could easily substitute green cabbage. Also, make sure you use fresh herbs and lemon to make the parsley mint dressing, it won't taste the same with dried and bottled ingredients!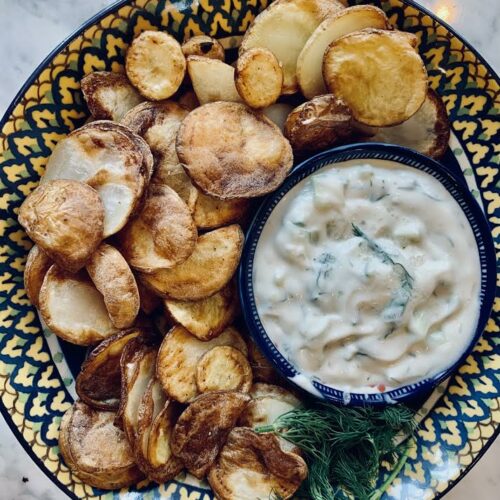 Vegan Tzatziki Sauce for Ultratruffle Chips and Dip
A mild, yogurt, dill, and cucumber, dip that is divine with crisp potato chips, pita bread, veggie burgers, and falafel. Easy and quick preparation.
Ingredients
Tzatziki Sauce
16

oz

container of non-dairy unsweetened yogurt. (I use Kite Hill Almond Milk yogurt)

1 1/2

cups

minced cucumber (seedless or seeds removed)

3

cloves

garlic minced

3

tbsp

finely minced fresh dill*

1

tbsp

apple cider vinegar

1

tbsp

olive oil (more for garnishing if desired)

salt to taste
Potato Chips
12

baby potatoes sliced very thin

olive oil for drizzling

1

tbsp

apple cider vinegar

salt to taste
Instructions
Tzatziki Sauce
Combine all ingredients in a large bowl. Refrigerate until ready to use.
Potato Chips
Toss prepared potatoes with olive oil and a pinch of salt.

Using either a conventional oven heated to 450 degrees F or an air fryer, roast potatoes until lightly golden brown.

Remove from heat and toss with apple cider vinegar and additional salt. Return to oven or air fryer for a few minutes until crispy and golden brown.
Notes
* If you substitute dried dill, start with 1 tsp and add more to taste.
---
Ultratruffle Cabbage & Carrot Slaw with Parsley Mint Lemon Dressing
Fresh carrots and purple cabbage tossed with a slightly spicy parsley mint lemon dressing. The perfect topping for veggie burgers, falafel, or a side dish for your next BBQ!
Ingredients
Parsley Mint Lemon Sauce
1

cup

packed fresh parsley leaves and stems

3

cloves

garlic

12

fresh mint leaves (add more according to your taste)

1

tsp

tahini

1-2

tbsp

Aleppo pepper (start with 1 tbsp then add more for additional heat if desired)

1

lemon juiced

1/3

cup

water

salt to taste
Coleslaw
2

cups

shredded purple/green or a mixture of cabbage

2

cups

shredded carrots

1

tbsp

apple cider vinegar

2

tbsp

water

salt to taste
Instructions
Parsley Mint Lemon Sauce
Blend all ingredients together until smooth. Start with lower end of Aleppo pepper and add more if desired. Taste and add additional salt or mint if desired.
Coleslaw
Combine cabbage, carrots, vinegar, water and a pinch of salt. Toss together.

Add desired amount of parsley mint lemon sauce to coleslaw mixture and toss together. (NOTE: I usually have some parsley mint sauce leftover).

Allow coleslaw to marinate in the refrigerator for at least an hour before serving.
Looking for some other great side dishes? Try these Ultratruffle favorites:
Roasted Carrot Ginger White Bean Dip