A Bit of History
The Guinness world record for the largest serving of hummus, held by Chef Ramzi Choueiri and the students of Al-Kafaat University in Beirut, is 10,452 kg (23,042 lbs. 12 oz). That is definitely enough hummus to stock an all you can eat mezze platter! Hopefully, you won't need to make that much of this Easy Beet Hummus recipe for your next holiday spread.
Hummus derives its name from Arabic meaning chickpeas with tahini. Thus far, historians have traced the first documented recipe for hummus back to the 1200s in Egypt. Today, there are so many different variations of this classic spread. Modern day countries often compete for whose recipe is the best and most authentic.
About the Recipe: Easy Beet Hummus
I love the sweetness of beets combined with the nutty taste of tahini. Purple beets yield the perfect color for holiday mezze platters. Add some beans and spices and you have a wonderful, healthy, protein and fiber filled appetizer or sandwich spread. Customize this hummus recipe to how much time you have for preparation. If you are in a time crunch, simply use canned beans and pre-roasted beets for a simple 5-minute blender recipe. If you are like me and have too many beets on hand, slow roast them in the oven and soak your favorite beans overnight in the refrigerator. I like to cook a large batch of fava beans and use them in hummus and soups throughout the week. Either way you end up with a delicious hummus spread.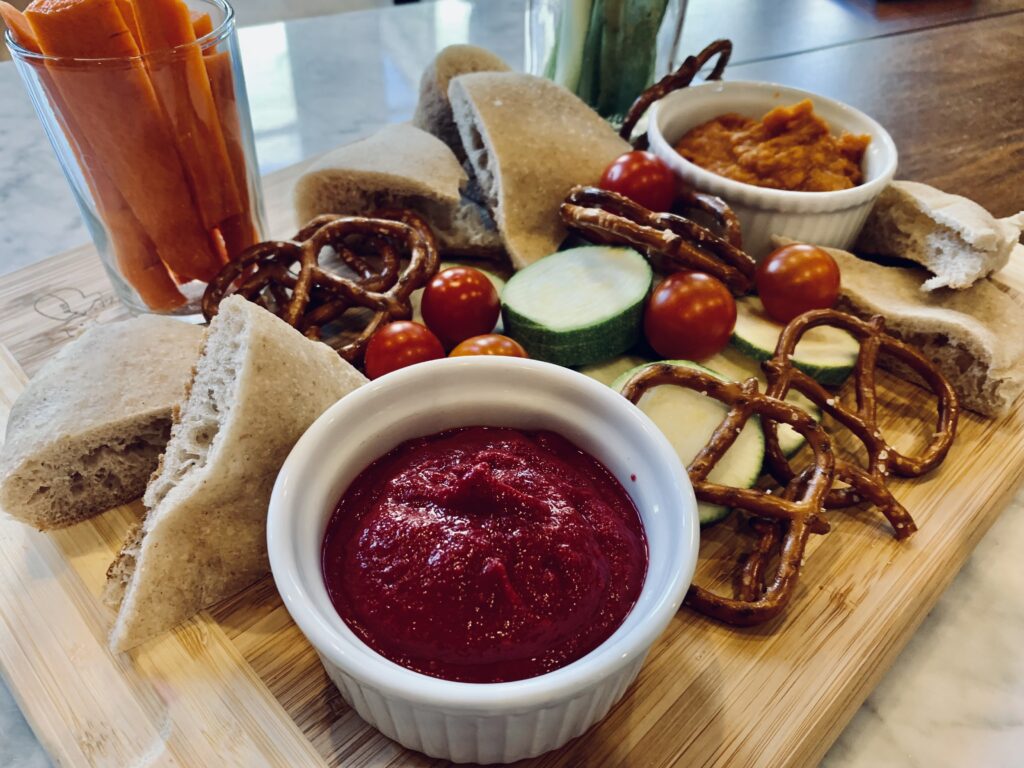 Helpful Tools & Ingredients
This is my favorite Organic, Non-GMO sesame tahini. Its wonderful nutty taste and consistency help create a fabulous hummus.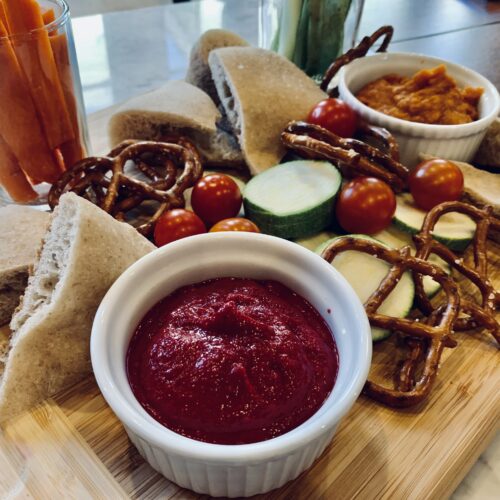 Easy Beet Hummus
A beautiful, vibrant, hummus spread featuring roasted beets, fava beans, sumac, Aleppo pepper, and tahini. An easy recipe to enhance your holiday appetizer tray or perfect to pack for school/work lunches.
Ingredients
1

cup

roasted purple beets*

1

cup

cooked fava beans (or substitute chickpeas)

2

tbsp

tahini

3

cloves

garlic

1

lemon juiced

1

tbsp

cumin seed

1/2

tsp

ground sumac

1/2

tsp

Aleppo pepper

salt to taste

water if needed to get blender moving
Instructions
Roasting Beets
Remove the ends from the beets. Wrap each beet in foil. Roast in oven at 450 degrees F for approximately 60-75 minutes until tender. They should be easy to pierce with a fork. Once cool remove the skin and roughly chop. Store roasted beets in the refrigerator until ready to use.
Hummus
Combine all ingredients in a blender and process until smooth. Add a tablespoon of water if needed to get blender moving. Taste and adjust any seasonings.

Serve with toasted pita, raw vegetables, crackers, or use with your favorite sandwich. Beet hummus makes a perfect addition to a healthy school/work lunch.
Notes
*To save time for this recipe use store purchased pre-roasted beets. If roasting beets at home you can roast them ahead of time and store in refrigerator overnight.
*Canned beans work perfectly well in this recipe or soak fava beans overnight in refrigerator and cook in Instapot (according to instructions) while roasting beets.
Be sure to explore other ultratruffle appetizer spread favorties: Roasted Carrot White Bean Spread, Baba Ganoush, Olive Tapenade, or Roasted Poblano Pepper & Cilantro Hummus.