---
A Bit of History:
In Italian, the word puttana literally means whore. The origins of puttanesca sauce are debatable. Historians cannot quite agree if the sauce had its spicy beginnings in the Spanish brothels (due to its name) or accidentally invented one night at Ischia restaurant in the 1950s. Either way, I like to call my recipe for Easy Puttanesca Sauce a hot mess. It is messy looking, delicious, and spicy. But, the best part: it comes together in only 20-30 minutes.
About the Recipe: Easy Puttanesca Sauce
There are a few basic ingredients common to all the variations of puttanesca; tomatoes, olives, garlic, chili peppers or flakes, and capers. In Lazio, Italy the sauce contains anchovies, in Sicily raisins are sometimes added, and the herbs often vary. When we make puttanesca, we like to add shallots, oregano, and basil to the basic ingredients. I love using fresh cherry tomatoes, but when they are not in season tinned Italian tomatoes are a great substitute. Puttanesca can be served over any type of pasta. Sometimes, we substitute oven roasted baby potatoes for the pasta. (I prefer the baby ones because they don't need to be peeled!) Simply cut the baby potatoes into quarters, toss with olive oil, sea salt, and minced garlic and roast at 400 degrees F while the sauce is simmering.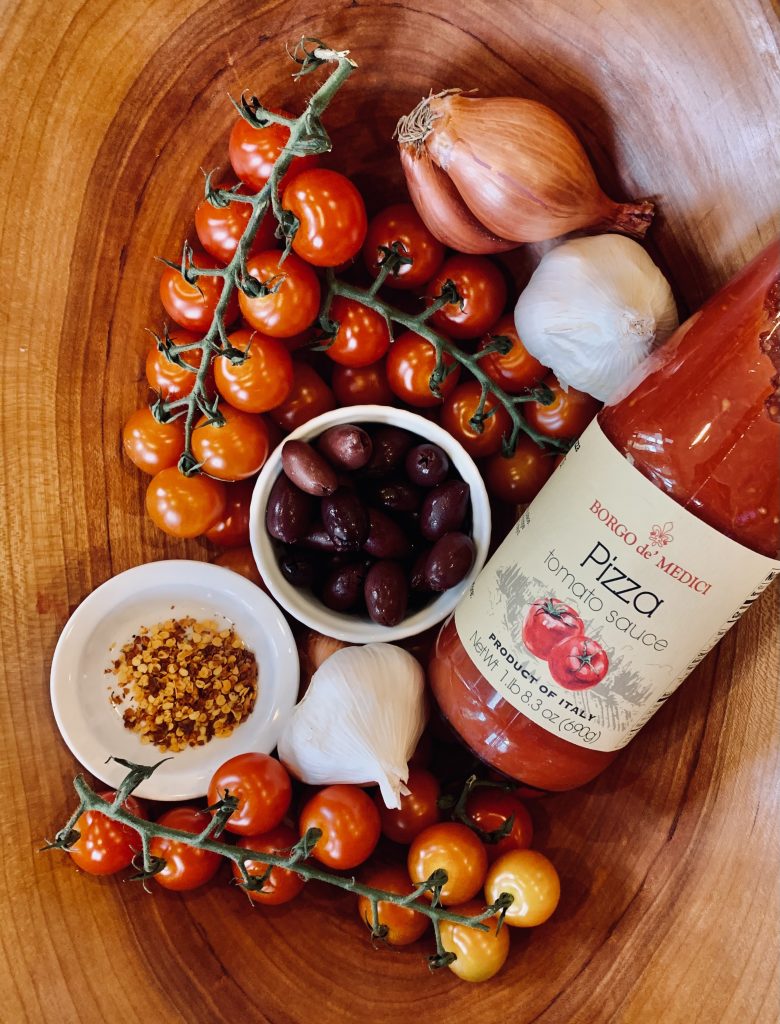 Easy pantry staples create a delicious sauce!
---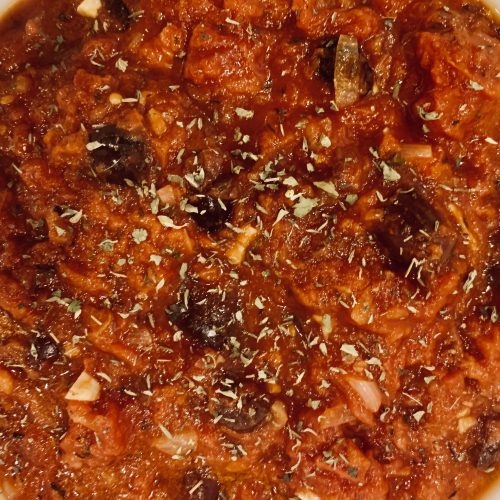 A Hot Mess: Puttanesca Sauce
A hot, spicy, tomato sauce with olives and capers. Perfect for topping roasted potatoes or pasta dishes.
Ingredients
6

cloves

garlic minced

2

shallots

minced

1

tbsp

olive or vegetable broth

1/4-1/2

tsp

salt to taste

1/4-1/2

tsp

red pepper flakes or calabrian chilies to taste

2

cups

fresh cherry tomatoes (or 28 oz canned)

1

700 gram

jar of passata (strained tomatoes or pizza sauce without herbs)

1/2

cup

mixed pitted olives chopped

2

tbsp

capers drained

2

tsp

basil

2

tsp

oregano
Instructions
Heat oil or broth in a large saucepan over medium heat.

Add garlic, shallots, 1/4 tsp of salt, and 1/4 tsp of red pepper flakes. Cook 2 minutes.

Add cherry tomatoes and cook 5 minutes or until they burst.

Add passata, olives, capers, basil, and oregano.

Simmer on low for 15-20 minutes. Taste and adjust seasonings.
Looking for some other great pasta and sauce recipes? Try these Ultratruffle favorites:
Spicy Fig Sauce over Fregola, Cauliflower, & Mushrooms
Oyster Mushrooms with Creamy Sun-Dried Tomato Sauce