About the Recipe: Vegan Garlic-Scape Basil Pesto
Pesto is one of those easy weeknight dinners in my house and is always a big deal! As an added bonus, it is something that the whole family will eat at the same time. I love combining fresh herbs, lemon, and nuts into a delicious plant-based pesto and tossing it with pasta noodles. For pesto, I choose a short curly noodle to ensure that the sauce clings to each noodle. Finally, serve the pasta with a simple tossed salad and toasted bread and dinner is done!
One of my family's favorites is my version of vegan garlic-scape basil pesto. The combination of basil, pine nuts, and the bulbs and tender stems of elephant garlic scapes transforms into a delicious, creamy sauce. Scapes are harvested from the hardneck garlic plant and actually must be removed to ensure the rest of the plant and bulbs grow properly. Thankfully, they taste delicious and not quite as pungent as traditional garlic cloves. If you cannot find garlic scape, simply substitute half the amount of scapes with traditional garlic cloves.
---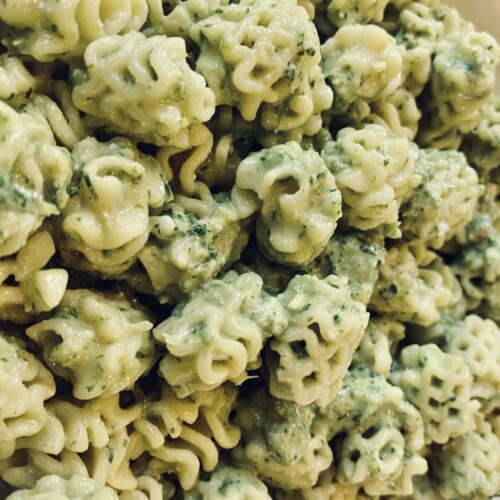 Vegan Garlic-Scape Basil Pesto
Basil, pine nuts, and fresh garlic scapes come together in a creamy delicious pesto that is the perfect topping for pasta or ciabatta sandwiches. Dinner ready in less than 30 minutes!
Ingredients
2

cups

packed fresh basil leaves

1

lemon juiced

1/2

cup

olive oil

1/2

cup

toasted pine nuts

1/2

cup

nutritional yeast

5

garlic scapes (tender stems and bulbs roughly chopped)

salt and pepper to taste
Instructions
Toast pine nuts for 5-7 minutes in oven at 350 degrees. Remove when light golden brown.

Combine all ingredients in a blender and process until smooth. Taste and adjust seasonings.
Looking for other easy pasta sauces? Try these Ultratruffle favorites: