A Bit of History:
Oyster mushrooms were first cultivated in Germany just after World War I, to supplement the meager food supply. Since that time they have become one of the most widely consumed mushrooms. In the wild, they grow on fallen logs or under rotting tree branches. There are multiple varieties including pearl, blue, pink, king, and golden oyster mushrooms. As the name suggests, their appearance recalls to mind the color and shape of a sea oyster. Today, most of the oyster mushrooms we eat are cultivated like the ones I used with my Creamy Sun-Dried Tomato Sauce.
I love incorporating local products into my recipe. For this particular dish, I used mushrooms from Rebecca Farms Lowcountry Mushrooms. I think its brilliant and environmentally conscious the way Rebecca Farms utilize local agricultural waste (the leftovers from oat and wheat harvests) to aid in their farming.
About the Recipe: Creamy Sun-Dried Tomato Sauce with Oyster Mushrooms
A whole cup of oyster mushrooms contain only 65 calories, 10 grams of carbohydrates, less than 1 gram of fat and a whopping 5 grams of protein! I couldn't wait to start cooking these into some savory dishes. One of my favorite ways to eat oyster mushrooms is over pasta. Usually, I simply cook them for a few minutes in either olive oil, white wine, or vegetable broth with some garlic and fresh herbs. However, today I was in the mood to kick it up a bit by adding a creamy vegan sun-dried tomato sauce. There are many variations of this sauce, but this is my favorite version that I love to whip up at home. The whole meal can be completed in 25 minutes or less!
---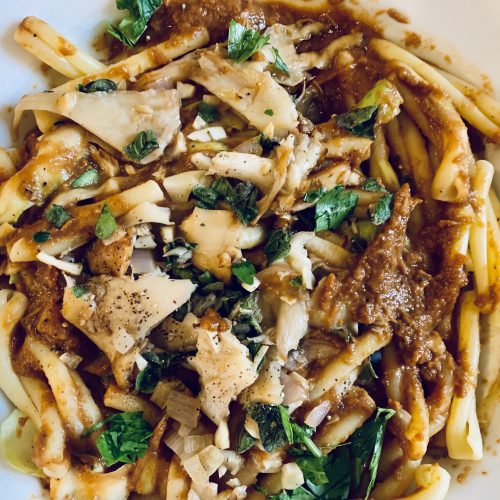 Creamy Sun-Dried Tomato & Oregano Pasta Sauce with Oyster Mushrooms
A healthy & decadent tasting creamy pasta sauce featuring sun-dried tomatoes, garlic, and oregano. A perfect pairing for pasta. Pasta sauce can be whipped up in 20 minutes.
Ingredients
Creamy Sun Dried Tomato Pasta Sauce
75

grams

sun-dried tomatoes (not in oil)

1

cup

hot water

1/4

cup

nutritional yeast

1 1/2

cups

unsweetened plain oat milk

4

tbsp

tomato paste

6

cloves

garlic

1

tbsp

dried oregano

1-2

pinches

red pepper flakes (optional)
Oyster Mushrooms
4

cups

oyster mushrooms (stems removed)

1-2

shallots minced

4-6

cloves

garlic minced

2

tbsp

vegetable broth or olive oil for cooking (more if needed)

1/4

cup

white wine

2

tbsp

fresh oregano chopped

salt and pepper to taste
Pasta
1

package

dried pasta (I like to use a short pasta for this sauce such as cavatelli)
Instructions
Sun Dried Tomato Pasta Sauce
Place sun-dried tomatoes in a 2 cup sized glass measuring container. Add 1 cup of hot water and let soak for 10 minutes.

Add nutritional yeast, peeled whole garlic cloves, tomato paste, oat milk, dried oregano and red pepper flakes if using to a saucepan.

Add the soaked sun-dried tomatoes and 1/2 cup of the soaking liquid to the saucepan.

Bring sauce to a low simmer stirring often. Cook 10 minutes.

Remove from heat and transfer to a blender. Blend until smooth. Taste and add more red pepper if desired. Return to saucepan until ready to serve.
Oyster mushrooms
Heat 2 tbsp of vegetable broth or olive oil in a large shallow pan over medium heat.

Add mushrooms and cook 3 minutes without stirring. Add more broth if needed as they cook.

Add white wine. Stir mushrooms.

Add garlic and shallots. Cook for an additional 3-5 minutes until mushrooms are a golden color.

Stir in fresh oregano and salt and pepper to taste.
Pasta
Cook pasta according to the package directions while mushrooms are cooking.
Serving suggestions
Serve sauce over cooked pasta and top with oyster mushroom mixture and additional fresh oregano.
Looking for some other great pasta dishes? Try these Ultratruffle favorites:
Vegan Garlic-Scape Basil Pesto
Spicy Fig Sauce over Roasted Cauliflower and Fregola