A Bit of History
Wild carrots sport colors of white or yellow, did you ever wonder why we typically consume orange ones? Over thousands of years of domestication, carrots evolved from a bitter, pale, root into a sweeter, orange version with more beta-carotene compared to their wild cousins. This turned out to be a delicious twist of fate for today's recipe of roasted carrot ginger white bean spread!
While researching this post, I did uncover a very interesting historical story. In 1566, the battle for Dutch freedom from imperial Spain began headed by Prince William of Orange. Unfortunately, William died before the Dutch won their freedom 80 years later. However, history honors him with starring role in the quest for independence. Coincidentally, farmers in the Netherlands cultivated an orange variety of carrots around the same time that the independent Dutch Republic formed. Legend has it that the Dutch grew orange carrots specifically to honor the House of Orange. Historians tend to argue that evidence does not exist to support this, but it definitely makes a great story, and it remains part of tourist information today.
About the Recipe: Roasted Carrot Ginger White Bean Spread
My latest CSA box featured baby ginger, which has a much milder and sweeter flavor compared to store bought ginger. Baby ginger also does not require peeling! I happen to love beets and carrots, especially roasted. Combining some of my fall favorites into a healthy sandwich and spread seemed like a perfect trifecta. For this recipe, simply roast the beets and the carrots in the oven while you prepare the spread. I like to soak my beans overnight and then cook, but canned beans will work perfectly as well. Blend together ginger, beans, tahini, roasted carrots, and lemon for a spectacular combination. Top toasted pita or baguette with the spread, roasted baby beets, fresh basil and dill for a wonderful dish. Leftovers store well and can be used for sandwiches or as a healthy hummus all week.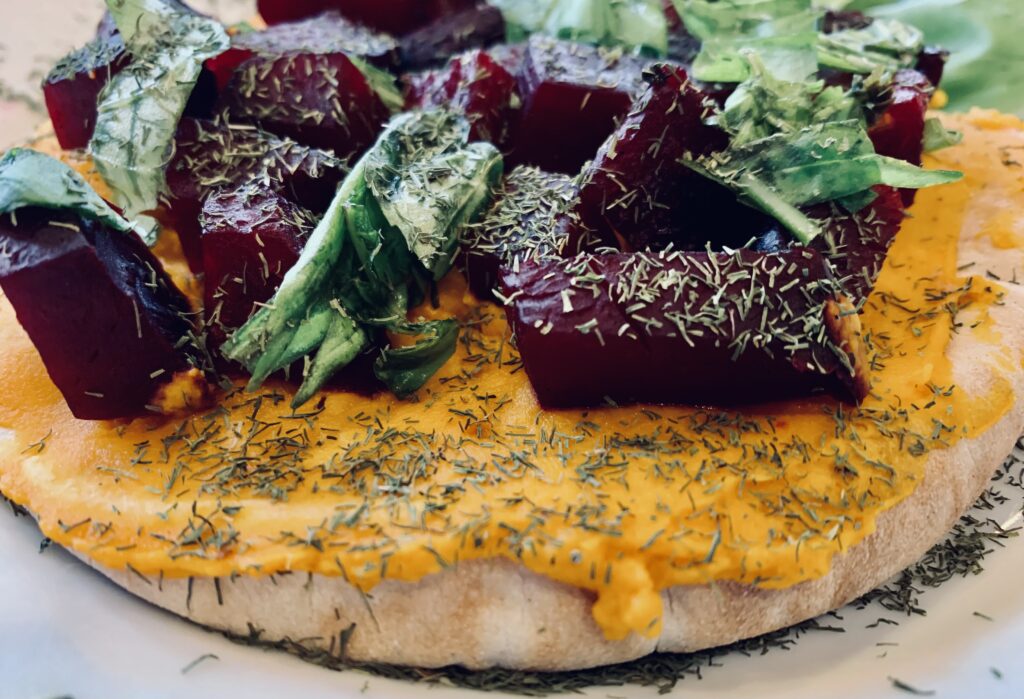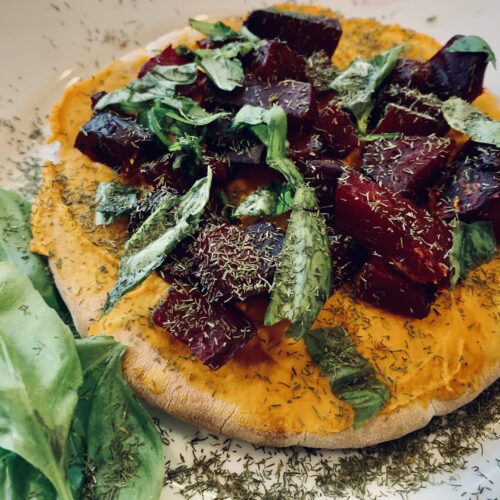 Roasted Carrot-Ginger White Bean Spread with Beets, Dill, & Basil
The perfect blend of sweet carrots, tangy baby ginger, white beans, tahini, and a touch of Calabrian chilis. A wonderful spread for toasted pita with roasted beets or your favorite sandwich.
Ingredients
2

cups

roasted carrots (approximately 8 medium carrots)

1 1/2

cups

cooked Cannellini beans (or use canned)

2

inches

baby ginger* (see note if using regular store bought ginger)

2-3

tsp

tahini

2

tsp

Calabrian chilis (or substitute red pepper flakes)

2

lemons

juiced

1

cup

water as needed to thin

4

ice cubes

salt and black pepper to taste
Instructions
Roasting Carrots
Peel carrots and remove ends. Heat oven to 425 degrees F.

Roast whole carrots for approximately 40 minutes until slightly browned and tender.

Remove from oven and roughly slice for blending.

If preparing roasted beets to serve with the dip: remove ends from beets and wrap each beet in foil. Roast in oven with the carrots. Depending on the size of the beet they could take up to 90 minutes to cook. I like to use baby beets as they cook faster and I find their taste to be sweeter.
Carrot Ginger White Bean Spread
Add carrots, beans, ginger, tahini, chilis or red pepper flakes if using, lemon juice, pinch of salt, and 1/2 cup of water to a blender.

Process until smooth. Add ice cubes and blend again. Taste and add more salt or red pepper. If needed add the remaining 1/2 cup of water to reach desired consistency.
Serving Suggestions
This spread pairs wonderfully with roasted beets and fresh basil and dill. Use on your favorite sandwich or as a dip for assorted vegetables.
Notes
*Baby ginger is harvested earlier than mature ginger that is found in the stores. Baby ginger does not need to be peeled and has a milder flavor. If using mature ginger from the store start with 1/2 inch peeled and add more to taste.
If you love beets or spreads and dips try these other ultratruffle favorties; lemon parsley thyme vinaigrette with roasted veggies, roasted poblano cilantro hummus, beet falafel veggie burgers, or dill mint pistachio pesto with roasted carrots.