A Bit of History:
Sometimes I feel like a mad scientist in the kitchen. Mixing seemingly random ingredients, running the blender until it smokes, dropping things in the oven and then pondering where the burning smell is emanating from. While conducting a bit of research for my version of Grilled Eggplant Dip, the name "mad apple" really resonated.
The origins of eggplant are unclear and are often attributed to India, Africa, or South Asia. Eggplants first appear in Chinese manuscripts around 544 CE. From China, the eggplant slowly made its way to Persia. Writings from Al Raz (854-925 CE) a Persian scholar, describe the clinical symptoms of gum disease as the color of eggplant. This did not bode well for eggplant's reputation. Other Persian documents attribute eggplant as a cause of a whole host of maladies including ulcers, intestinal blockage, and leprosy. From Persia, eggplant traveled westward with the Arabs in the 7th and 8th centuries and spread throughout the Mediterranean. In Italian, the word for eggplant is melanzana. Over time, this word morphed into mela insana, which translates into the "mad apple." This helped fuel the rumor that eggplants could cause insanity.
According to the Culture of Arab Food, in the Middle Eastern Arab countries, over 150 traditional recipes feature eggplant. Although I have not had the pleasure of sampling most of these dishes, baba ganoush is one of my favorite ways to prepare eggplant.
About the Recipe: Grilled Eggplant Dip
I love slowly grilling the eggplant to enhance its smoky flavor. When combined with tahini, lemon juice, garlic, olive oil, and za'tar it makes a wonderful spread for sandwiches or dipping pita and vegetables. The recipe below describes how we make this fabulous dish at my house using the beautiful eggplant varieties from our local farmers. Grilled Eggplant dip takes a bit of time, but very little work! Simply, poke some holes in a whole eggplant and roast, grill, or smoke it for about 40 minutes until charred and beginning to collapse. Next, scrape out the delicious interiors and combine in a blender with the remaining ingredients.
---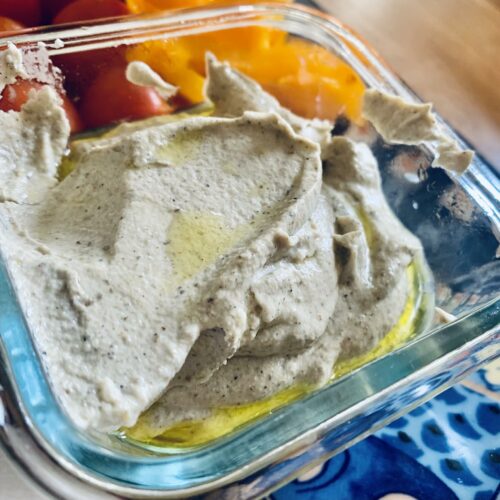 Baba Ganoush (Grilled Eggplant Dip)
Smoky grilled eggplant whipped into a wonderful spread seasoned with za'tar and tahini. The perfect condiment for dipping pita bread, raw vegetables, or a wonderful sandwich spread.
Ingredients
2

eggplants (grilled or roasted in the oven)*

1/4

cup

tahini

1/3

cup

olive oil (plus additional for serving)

1

lemon juiced

2

tbsp

za'tar

4

cloves

garlic

salt and pepper to taste
Instructions
Poke holes in the eggplant with the edge of a sharp knife. (This is to prevent it from exploding in your grill or oven!).

Grill or roast in the oven for approximately 40 minutes or until the eggplant is charred and begins to collapse. On the grill I like to keep the heat on the lower side around 300-350.

Once the eggplant has cooked, remove the top and slice in half lengthwise. Scrape out the inner portions into a blender. Add the remaining ingredients and process until smooth.

Before serving, drizzle with olive oil and top with additional za'tar. Baba Ganoush is wonderful served with toasted pita bread or chips, raw vegetables, or as a sandwich topping.
Notes
*I like to use two small to medium Japanese eggplant or fairytale eggplant. You can substitute one larger traditional eggplant instead.
*If roasting in the oven, cook at 400 degrees for about 45 minutes or until eggplant collapses.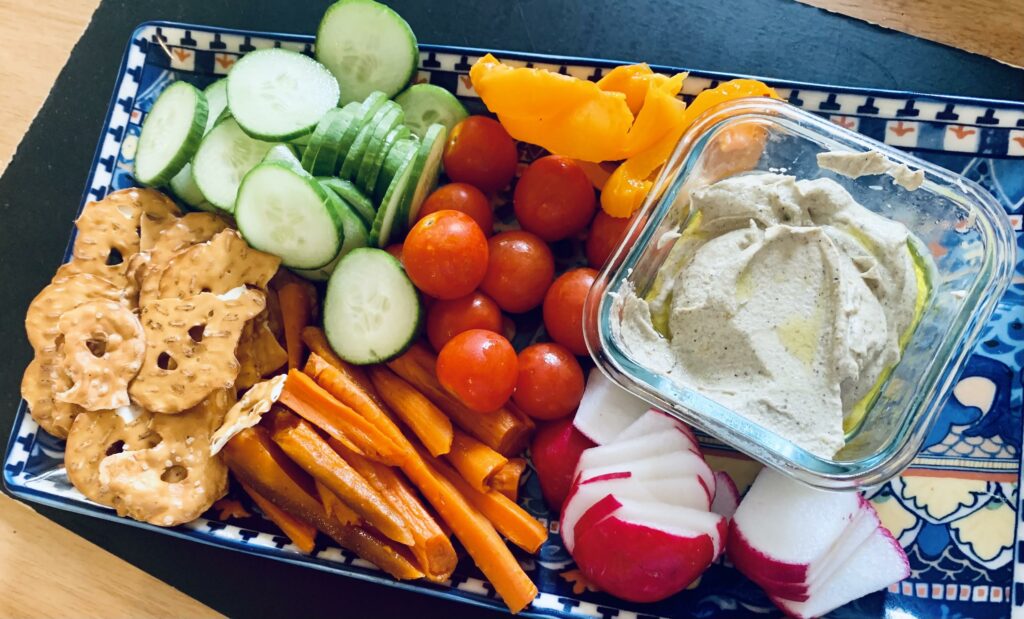 Looking for some other great spreads and dips? Try these Ultratruffle favorites:
Roasted Carrot Ginger White Bean Spread