A Bit of History:
Cilantro is truly a global herb. It is an integral part of cuisine ranging from Mexico, Europe, North Africa, and parts of Asia. Cilantro seeds or coriander have been found in caves in Israel dating back 8,500 to over 10,000 years ago and some of the seeds were located in the burial chambers of King Tut. The herb is known by many names throughout the world, such as Chinese parsley. The oldest known name derives from the Greek word korijadana or koriadnon. In North America, we routinely refer to this delicious herb as Cilantro from its Spanish name. Whatever you like to call it, cilantro grows like crazy in the springtime in SC and is perfect in my Cilantro Poblano Pepper Hummus.
About the Recipe: Cilantro Poblano Pepper Hummus
Towards the end of the week, I usually have a random assortment of leftover vegetables and herbs that are begging to be cooked. This particular week I had a bunch of cilantro, one poblano pepper, one jalopeno pepper, and some leftover cooked fava beans. I decided it was time to try a different twist on hummus. My family and I truly enjoyed this combination! Cilantro Poblano Pepper Hummus makes the perfect condiment for your favorite pita, raw vegetables, or as a spread for vegetable wraps and sandwiches.
---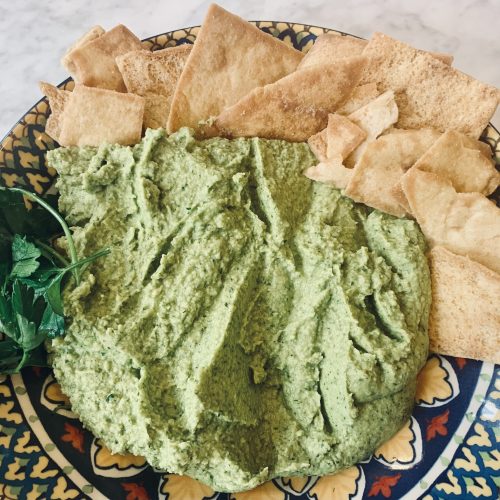 Cilantro Poblano Pepper Hummus
A flavorful hummus featuring cilantro, roasted jalopeno and poblano peppers, fava beans, and tahini. Perfect for snacking and dipping your favorite chips and vegetables.
Ingredients
2

cups

cooked fava beans*

1/2

cup

reserved liquid from cooking beans*

1

bunch

cilantro (including stems)

1

jalopeno pepper, seeds removed

1

large

poblano pepper, seeds removed

1/2

cup

tahini

1

lemon juiced

4

cloves

garlic, peeled

salt to taste
Instructions
Place prepared peppers on a lined baking sheet. Roast in oven at 400 degrees F for 10-15 minutes until slightly charred. (You can also roast them in an air fryer).

Add all ingredients to a blender and process until smooth.

Taste and adjust seasonings. If needed, add additional lemon juice or water.
Notes
*Feel free to substitute canned chickpeas or white beans if you do not have time to cook dried fava beans.
*Reserve the cooking liquid if preparing dried beans or use canned liquid.
Looking for some other great hummus recipes? Try these Ultratruffle favorites:
Roasted Carrot Ginger White Bean Spread