---
A Bit of History:
Throughout history, spices have been valued for cooking, medicinal uses, and religious ceremonies.  The word spice has Latin origins, meaning an item of special value. Since many spices only grew in certain regions, their rarity further increased value. People have been trading spices since 2000 BC! (Read more here from UNESCO.)  Due to the high volume of silk traversing its paths, the series of roads and trade routes became known as the Silk Road. Spices were commonly transported along these roads from Asia and India to the Western markets. The traders faced many obstacles and challenges along the Silk Road including the harsh conditions of the Gobi desert, rocky terrain, and marauding bandits. Thankfully, today it is much easier to obtain my favorite spices for Silky Golden Lentil Soup.
About the Recipe: Silky Golden Lentil Soup
While photographing, I remarked to my daughter how the golden lentils reminded me of mini gold pirate coins. We decided the soup would be a bandit's bounty if they had managed to steal the lentils and spices needed for this recipe!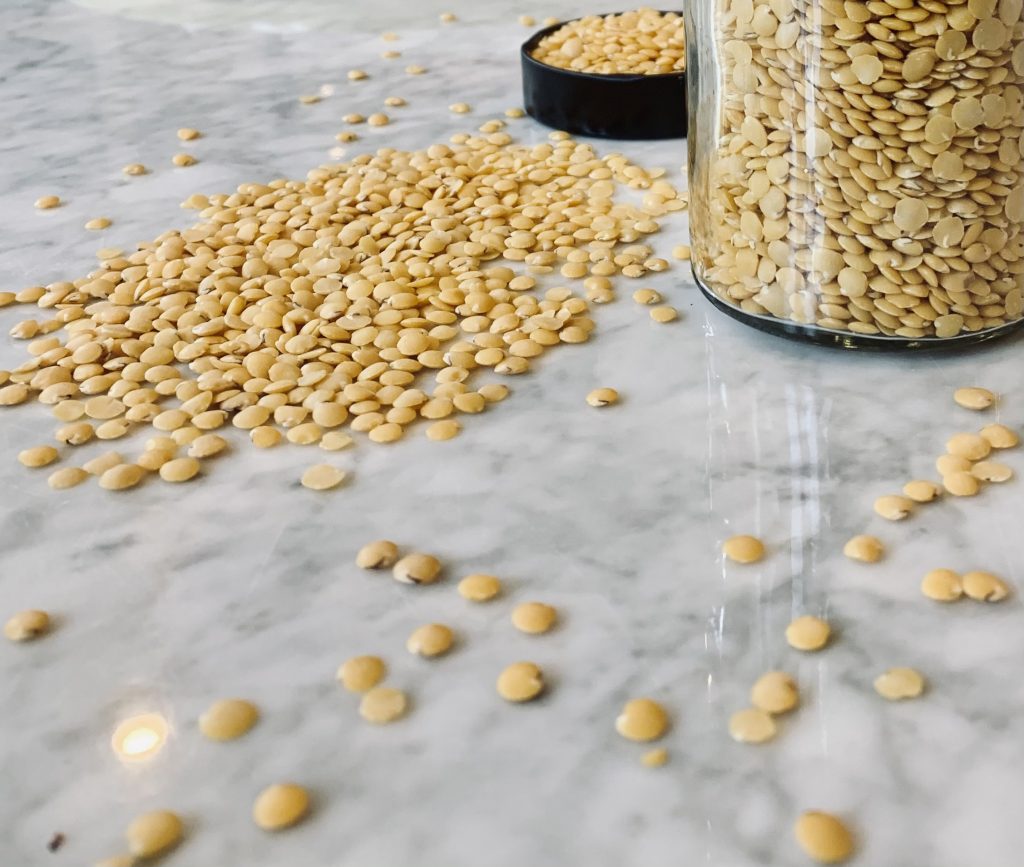 Unfortunately, it has been a very cold and rainy winter season in SC this year. On the bright side, this weather provides the perfect setting for soup. The fragrant spices of cumin, curry, turmeric, mustard seed and fenugreek combined with the beautiful color and texture of golden lentils is my remedy for the lack of golden sunshine! There are many, many recipes for lentil soup. The recipe below describes my favorite preparation using the spices that I normally have on hand. If you don't have mustard seed or fenugreek seed no problem! The cumin, curry and turmeric will make a wonderful combination on their own. Palouse Brand grows my favorite brand of lentils and they are field traceable. Typically, I use in-season root vegetables. Feel free to substitute your favorites and use what you have on hand!
---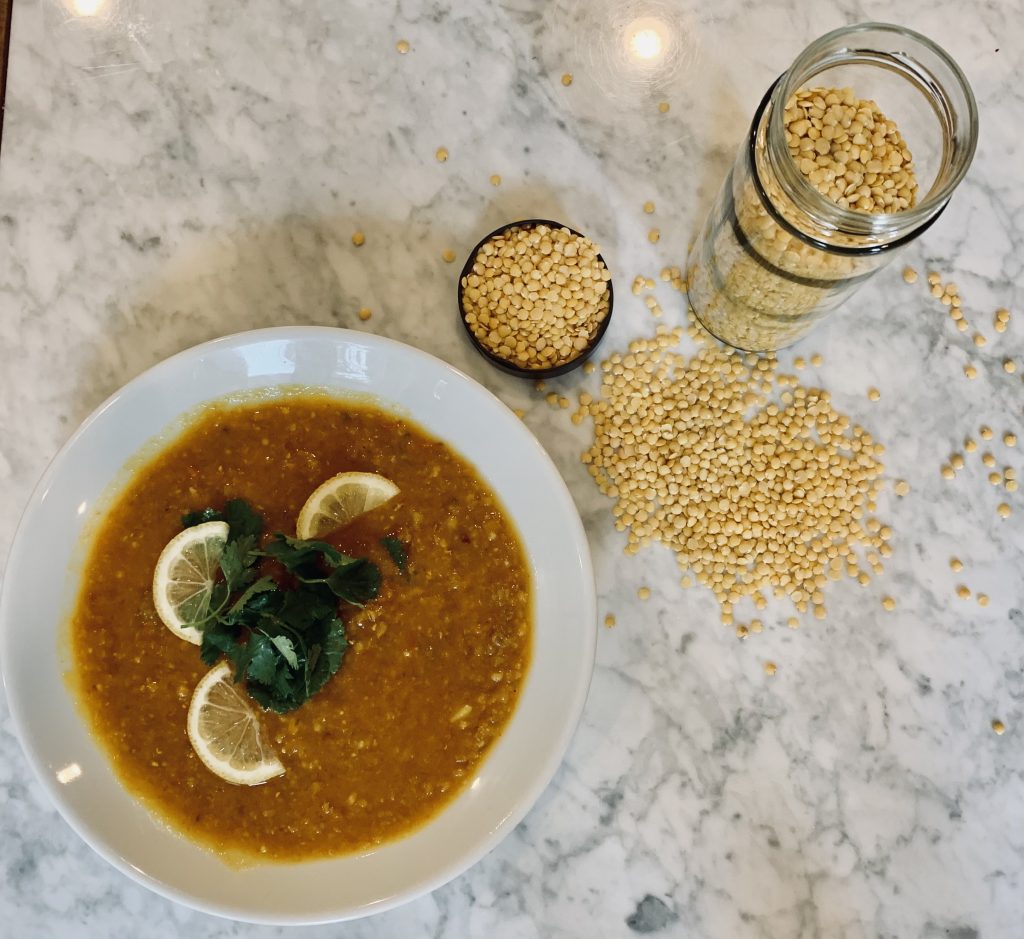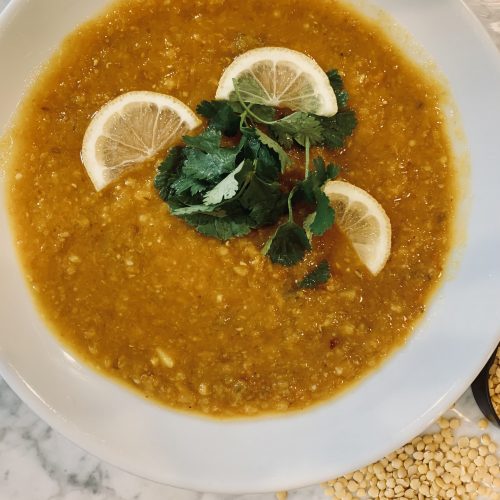 Silky Golden Lentil Soup with Fragrant Spices and Winter Root Vegetables
Silky Golden Lentil Soup with Butternut Squash, Sweet Potato, Carrot, Celery, Turnip, Ginger, & Garlic. A delicious one-pot meal for the whole family.
Ingredients
1

tsp

brown mustard seeds

1

tsp

fenugreek seeds

1

tsp

cumin seeds

1

tbsp

curry powder

1/4-1/2

tsp

red pepper flakes

1

tsp

turmeric

6

cloves

garlic chopped

1

cup

yellow onion chopped

2

cups

butternut squash cubed

1

tbsp

fresh ginger root peeled and chopped

1

15 oz can

cherry tomatoes

1 1/2

cup

murasaki sweet potato chopped

1

cup

celery chopped

1

cup

carrot chopped

1/2

cup

turnip chopped

1/2

cup

dried golden lentils

3

cups

vegetable stock

1-2

cups

water as needed

1/4

cup

fresh cilantro for serving (optional)

1

lemon sliced for serving (optional)
Instructions
Place mustard seeds, fenugreek seeds, and cumin seeds in the bottom of a large stockpot. Dry toast over medium heat for 1 minute until spices are fragrant.

Once spices are fragrant add 2 tbsp of vegetable stock.

Add onion, garlic, butternut squash, ginger, tomatoes, sweet potato, celery, carrots, and turnip. Cook for 5-8 minutes.

Add remaining vegetable stock, lentils, 1 cup of water and 1/4 tsp of red pepper flakes (optional).

Stir to combine. Bring to a simmer and cook for about 40 minutes until lentils are soft and have started to break down.

Remove from heat and transfer to a high speed blender. Working in batches, blend until silky smooth.

Return soup to the pot. Taste and adjust salt, pepper, and red chili flakes. If soup is too thick add more water or stock.
Serving Suggestions
Garnish each bowl with fresh cilantro, lemon slices, and serve with pita or naan bread.
Looking for some other great soup recipes? Try these Ultratruffle favorites: