A Bit of History:
While cooking my Easy Italian Vegetable Soup, I can't stop the 1950s song the Flying Purple People Eater from running through my brain! Especially since my kids started singing a modified version, aptly titled, the Flying Purple Pasta Eaters, after they saw the soup.
The wonderful color stems from anthocyanin, a pigment present in purple carrots. Interestingly, the first cultivated carrots in Afghanistan and Turkey were purple in color not orange. Anthocyanin conveys many health benefits! According to USDA, anthocyanin and the carotene pigments in purple carrots, may help prevent heart disease and strokes, and round up devastating free radicals.
About the Recipe: Easy Italian Vegetable Soup (Purple Pasta Soup)
This recipe turned out to be a happy and fun accident. I completely forgot that the purple hue from the carrots would bleed into the broth and penetrate the pasta. Nevertheless, the soup tasted amazing, comes together easily, and you can customize the recipe to use whatever vegetables you have on hand.
First, chop your assorted vegetables. A mixture of celery, onion, carrots, garlic, potatoes (either regular or sweet), and tomatoes work very well together. Second, cook vegetables with a bit of Calabrian chili peppers for spice, oregano, and thyme. Add your tomatoes and broth and simmer away. Finally, stir in some dried pasta and nutritional yeast. Soon, you will be enjoying a comforting bowl of delicious soup and have a new version of a song (The Flying Purple Pasta Eaters) stuck in your head too!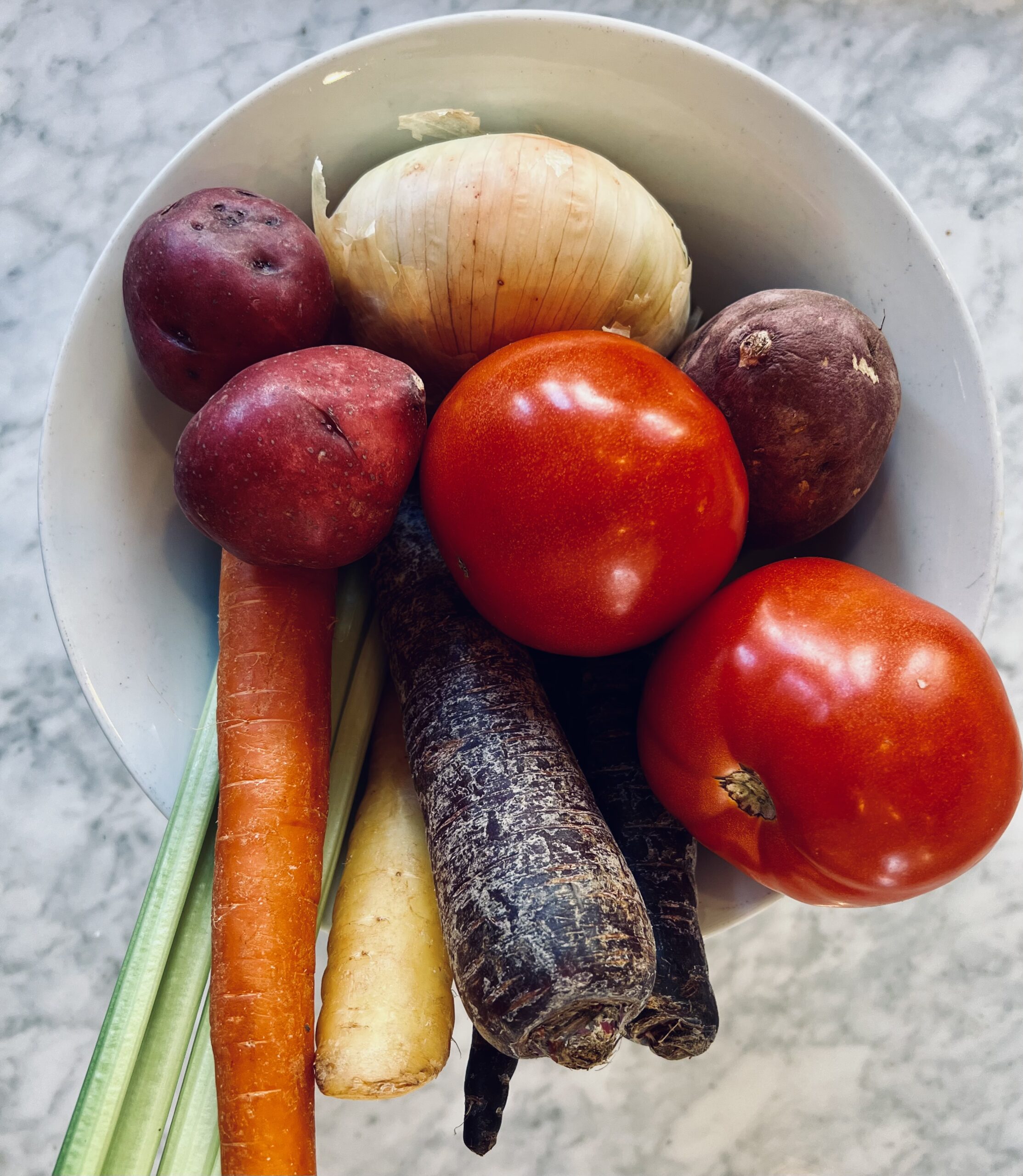 An array of beautiful vegetables, provided by Rainbow Packaging Corporation, found their way into this delicious pot of soup. Freshly selected and delivered to my door the very same day!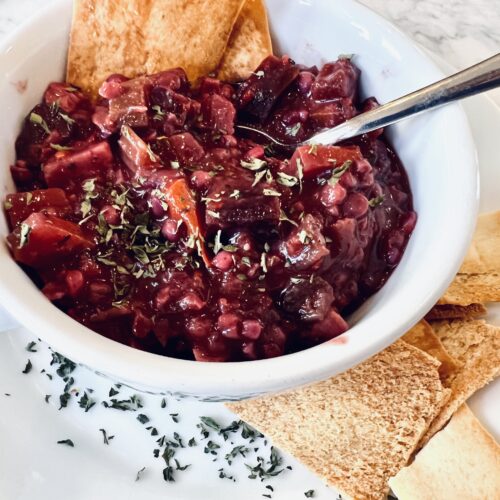 Purple Pasta Soup (Italian Vegetable Soup)
A savory, comforting soup packed with fresh vegetables. Featuring purple carrots, celery, onion, potatoes, tomatoes, garlic, Calabrian chilis, and pasta. Plant-based, vegan, and versatile with a surprise ending for the kids!
Ingredients
8

cloves

garlic, peeled and chopped

1

yellow onion, diced

4

stalks

celery, diced

4

purple

carrots, diced (the purple hue of the carrots will bleed into the broth, turning the pasta purple).

2

potatoes, diced (either Yukon gold, baby red, or Murasaki sweet potatoes work well)

5

Roma tomatoes, chopped (or substitute 28 oz. canned tomatoes)

1-2

tbsp

Calabrian chilies in oil (optional for heat but really good)

2

tbsp

oregano

1

tbsp

thyme

2

tsp

Aleppo pepper (optional for additional spice, or sub a pinch of red pepper flakes)

1/3

cup

nutritional yeast

6-7

cups

vegetable broth

150

grams

dried fregola pasta (or substitute small dried pasta of choice approximately 6 oz dried)

1

lemon

juiced

salt and pepper to taste
Instructions
Heat 1-2 tbsp of broth or olive oil in the bottom of a large dutch oven pot over medium heat. Add Calabrian chilis, garlic, onion, celery, carrots, potatoes, oregano, thyme, and Aleppo pepper. Cook 8 minutes.

Add chopped tomatoes and cook another 5 minutes.

Add broth, nutritional yeast, and bring to a simmer.

Simmer for 20 minutes then add dried pasta. Cook another 10 minutes.

Taste and adjust seasonings. Squeeze in lemon juice.

Serve with crackers, toasted bread, and a salad!
Looking for other soup recipes? Try these Ultratruffle favorites: