A Bit of History
Personally, chestnuts always evoke memories of Florence, Italy for me. In the winter time, the aroma of roasted chestnuts lingers in the air from the many street vendors' carts. It is by far my favorite Italian street food. In my recipe for Smoked Chestnut Soup, the combination of sweet and smoky flavors definitely takes me back to Italy!
The oldest known chestnut tree thrives on the slopes of Mount Etna in Italy. In 1780, the circumference of the tree measured 190 ft and is thought to be between 2,000 and 4,000 years old. Imagine counting the rings on that tree! This particular chestnut tree, the Castagno dei Cento Cavalli, also boasts historical fame. Legend maintains that a Queen of Aragon and her entourage of 100 knights and horses sheltered from a severe thunderstorm under the tree's branches. Ever since, the tree has been known as "Hundred Horse Chestnut Tree" (Castagno dei Cento Cavalli in Italian).
About the Recipe: Smoked Chestnut Soup
I guarantee that your guests will not stop talking about this showstopper of a holiday soup. Simply place your prepared butterkin squash/pumpkin and chestnuts in the smoker or on the grill. I like to set mine at a temperature of 250 degrees F with pecan wood and smoke for about 90 minutes to two hours. The squash should be tender and falling apart and the chestnuts should be roasted but not too crunchy. Both fresh chestnuts and vacuumed sealed (pre cooked) chestnuts work well here.
After the smoking process is complete the soup comes together in a snap. Cook some leeks and garlic in a bit of olive oil with a pinch of Calabrian chilis for heat. Then add broth, beans (you can either cook yourself or use canned), smoked squash and chestnuts. If you are soaking beans and cooking them at home, I highly recommend fava beans for their texture and taste. Also, don't forget to save the cooking liquid and use as your broth. It adds another depth of flavor. Simmer for 10 minutes and then blend to creamy perfection.
Serve as a holiday starter course paired with cranberry sauce topped crostini bites and a sprig of fresh rosemary.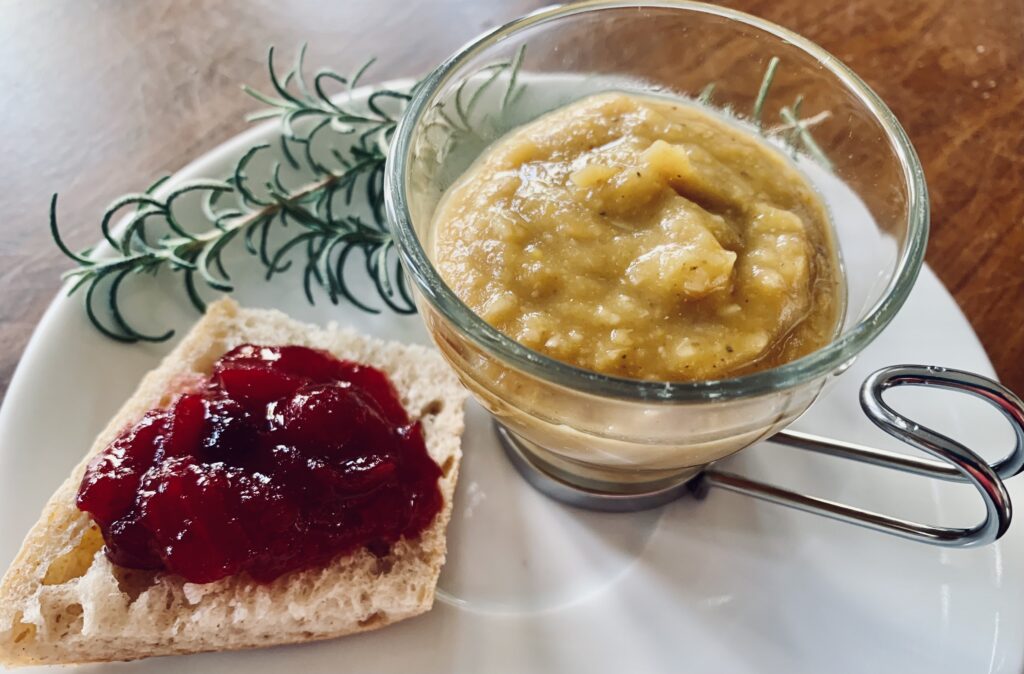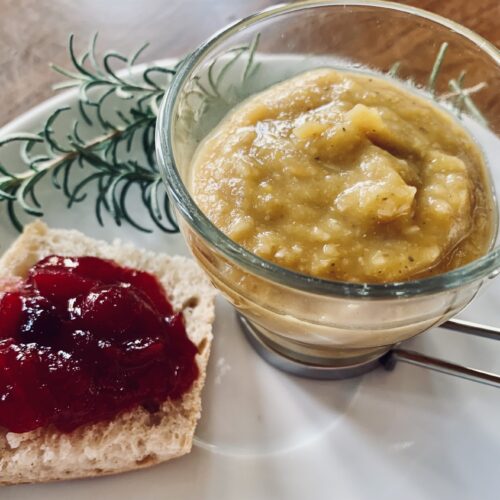 Smoked Chestnut Soup
A holiday showstopper that will stun your guests. A perfect combination of sweet and smoky to kick off a special autumn or winter feast. Featuring smoked chestnuts and smoked pumpkin or butterkin squash with leeks, garlic, and just a touch of spice.
Ingredients
2

tsp

olive oil

5

cups

smoked pumpkin or butterkin squash*

14

oz

smoked chestnuts*

2

cups

leeks chopped

1

tbsp

Calabrian chilis in oil (optional, substitute red pepper flakes)

2

oz

white wine

6

cloves

garlic peeled

1 1/2

cups

cooked fava beans (substitute cannellini beans if needed)

7

cups

vegetable stock (or fava bean stock if cooking beans at home. See note)

2

tsp

thyme

1/4

cup

nutritional yeast

salt and pepper to taste
Instructions
In the bottom of a large pot heat oil over medium.

Add chopped leeks and cook for 3 minutes.

Add garlic and chilis and cook for 2 additional minutes. Add a pinch of salt and pepper.

Add white wine and stir to deglaze the pan. Cook approximately 1 minute until most of the wine evaporates.

Add remaining ingredients and bring to a low simmer. Simmer for 10 minutes.

Remove from heat and transfer to a blender or use an immersion blender. Process until smooth or desired consistency reached.

Taste and add salt and pepper to taste.
Notes
Cooking Fava Beans: I like to use my Instapot to on the soup/broth setting at 10 minutes to cook beans. I use 1 cup of soaked fava beans and 8 cups of water. After beans are cooked, reserve the liquid for soup stock.
Smoked Pumpkin Recipe

Place prepared pumpkin pieces in a baking dish and coat with a bit of olive oil. I like to set my grill at about 250 degrees F and smoke the pumpkins for approximately 90 minutes. 

Smoked Chestnuts: 

Simply smoke the chestnuts with the pumpkins on the grill until browned but not crunchy. 
Smoked Pumpkin Recipe link here.
Try these other Ultratruffle favorties:
No-Bake Peppermint Mocha Granola Bars, Orange Ginger Pomegranate Vinaigrette with Fennel Salad, Baked Cranberry Pecan Oatmeal, or Silky Kabocha Squash Lemongrass Soup with Ginger & Quinoa.