A Bit of History:
A bit of a debate rages about the origins of sausages, which of course are a precursor to processed hot dogs. The National Hot Dog and Sausage Council site credits Homer's Odyssey with mentioning sausages, thus dating them back to the 9th BC. On the other hand, historians credit Roman Emperor Nero and his cook Gaius with the discovery of sausages. Thankfully, everyone agrees that eventually sausages traveled to Europe and became immensely popular in German culture. In fact, German immigrants introduced the sausages to New York City in the 1860s. However, it was Polish immigrant Nathan Handwerker who skyrocketed the hot dog into American culture with his company Nathan's Famous. Despite its interesting and lengthy history, a 2015 World Health Organization report labeled processed meats as a Group 1 carcinogen (cancer causing agent); which is the same category as smoking. Fortunately, my recipe for Easy Carrot Hot Dogs is crafted from whole unprocessed carrots and spices.
About the Recipe: Easy Carrot Hot Dogs
Growing up we often cooked hot dogs and burgers over a hot grill and occasionally my kids ask for a hot dog. I wanted to craft them a healthier, non-carcinogenic meal that still tasted great and just like a hot dog. These Easy Carrot Hot Dogs are just the ticket. Amazingly simple to craft with a 2-minute homemade spice mixture from items in your pantry. After mixing the spices, peel the carrots and slice lengthwise almost all the way in half. Leaving a groove in the carrot dog is crucial for drizzling the secret ingredients and spice mixture into. Finish slicing all the way through once the carrots have roasted in the oven. Add some chopped potatoes or other veggies to your roasting tray and dinner is done. We like to serve our carrot dogs with mustard and sauerkraut, but feel free to add your favorite toppings. If you try this recipe, please leave a comment with your favorite toppings!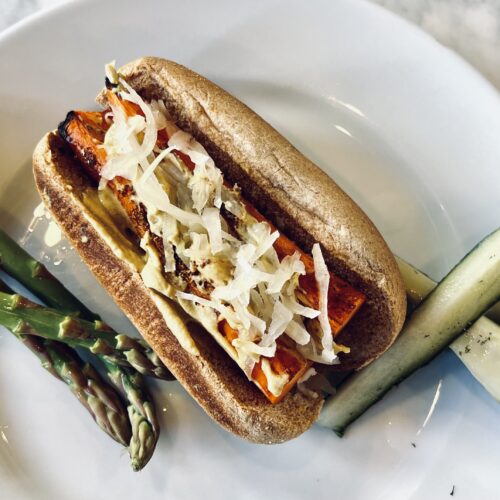 Carrot Hot Dogs
You won't believe these are carrots! A 2-minute homemade spice blend, liquid smoke, soy sauce, and roasted carrots make the ultimate plant-based hot dog. Serve on your favorite bun with mustard and sauerkraut. Kid-friendly and easy!
Ingredients
Seasoning Mix
3

tbsp

whole black peppercorns

2

tbsp

coriander seed ( 1 tbsp plus 1 tsp ground)

1

tbsp

dried minced garlic (or 2 cloves)

2

tsp

carraway seed

2

tsp

dried mustard

2

tsp

smoked paprika

1/2

tsp

allspice

1/2

tsp

cayenne pepper (optional)

1

tsp

salt
Carrot Hot Dogs
6-8

large

carrots, peeled

6-8

tsp

soy sauce

6-8

tsp

liquid smoke

olive oil spray
Serving
8

hot dog buns

mustard, sauerkraut, and your favorite toppings
Instructions
Pre heat oven to 450 degrees F.

Line a baking sheet with foil or silicone mat.
Seasoning Mix
Combine all ingredients in a blender and process until spices are ground.
Carrots
Peel carrots and slice almost all the way in half lengthwise. (You want to create a groove to drizzle the soy sauce and liquid smoke) Spray carrots with a bit of olive oil spray.

Drizzle into the groove of each carrot: 1 tsp of soy sauce and 1 tsp of liquid smoke.

Sprinkle each carrot with 1/2 tsp of the seasoning mix.

Roast in oven for 35-40 minutes. You want the carrots to be tender but not soft.

If desired, slice the carrots the rest of the way until you have two halves.
Serving
Place desired amount of carrot into each bun.

Top with mustard, sauerkraut, or your favorite hot dog condiment.
Looking for some other great dinner ideas? Try these Ultratruffle favorites:
Mushroom Pastrami Sandwiches on Rye