A Bit of History
Back in my Beantown days, I had the pleasure of eating at the Union Oyster House. This Bostonian landmark boasts a unique historical distinction as the oldest restaurant in the USA serving patrons since 1826. On a cold winter's day in February, just before another Nor'easter, my parents and I enjoyed our favorite New England dish: clam chowder.
Chowder, like chili recipes, has many variations and regional differences. Traditional New England chowder, a favorite since the early 1700s, uses a milk base. Manhattan style utilizes tomatoes, New Jersey recipes incorporate creamed asparagus and bacon, while other regions use clam juice or seafood broth. Naturally, each restaurant, chef, and region claim to craft the best recipe. I happen to think my Not Quite Clam Chowder is more than enough for a delicious meal.
About the Recipe
After altering my nutrition plan to a 99% plant-based menu, sometimes I need to embrace the 1% and just go for it. This recipe for Not Quite Clam Chowder satisfies my craving for a delicious bowl of chowder while remaining almost 100% plant-based. For this version of clam chowder, I incorporate my favorite chowder ingredients from a variety of regions. My recipe calls for a base of clam juice, which is the only non plant-based ingredient, and oat milk. Pioppini mushrooms provide a fabulous umami powerhouse and texture of bacon. Pioppini mushrooms, or black poplar, are native to Asia but are cultivated worldwide. Don't worry, if you cannot locate this variety, simply substitute shiitake mushrooms. Fresh thyme, Old Bay Seasonings, onion, celery, potatoes, and garlic round out the dish for a fabulous meal.
The best part you can make this amazing dish in less than 40 minutes and kids love it! Homemade Garlic Thyme croutons on top add crunch for that perfect bite!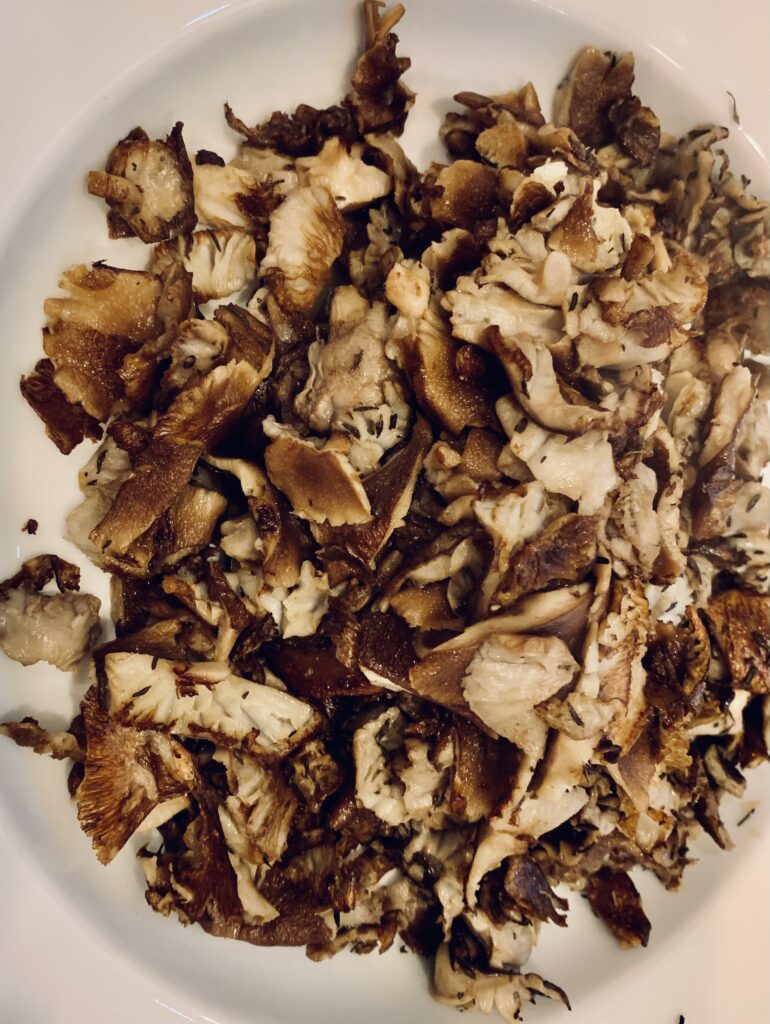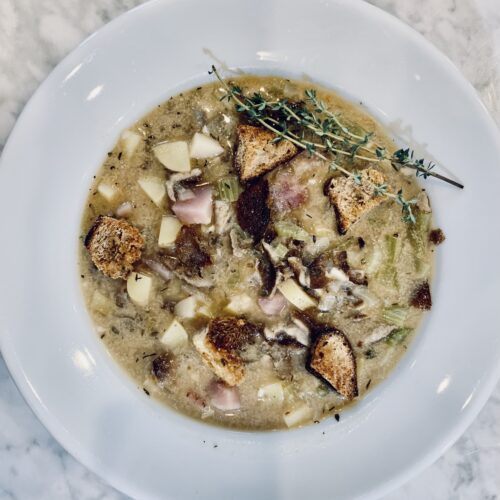 Not Quite Clam Chowder
This wonderful savory "Not Quite Clam Chowder" soup satisfies your craving for clam chowder without the guilt. Dinner ready in less than 40 minutes with a meal for the whole family. Features Piopinni mushrooms, clam juice, oat milk, garlic, onions, fresh thyme, and potatoes. Topped with homemade crispy garlic thyme croutons.
Ingredients
Not Quite Clam Chowder
4

cups

Pioppini mushrooms, trimmed and sliced (or substitute shiitake mushrooms)

1

tbsp

olive oil

1

tsp

dried thyme

1 1/2

cups

yellow onion, diced

2

cups

celery, diced

6

cloves

garlic, minced

3

8 oz. bottles

clam juice

8

sprigs

fresh thyme

2

tsp

Old Bay Seasoning

1

tsp

parsley

3

cups

potato, cut into small cubes

1

tbsp

semolina or all-purpose flour

2

cups

oat milk

1/4

cup

nutritional yeast

salt and pepper to taste
Garlic Thyme Croutons
1/2

baguette cut into cubes

1-2

tbsp

olive oil

1

tbsp

minced dried garlic

1

tbsp

nutritional yeast

1

tsp

dried thyme

salt to taste
Instructions
Not Quite Clam Chowder
Heat 1 tbsp of olive oil over medium heat in the bottom of a large pot.

Add the mushrooms, a pinch of salt, and dried thyme.

Cook approximately 3 minutes per side until golden brown. Transfer mushrooms to a plate and set aside.

Add 1/2 cup of clam juice to the pan and scrape the bottom. Cook 1 minute.

Add celery, onion, garlic, another pinch of salt, black pepper, fresh thyme, and Old Bay seasoning. Cook 6 minutes over medium heat.

In a separate measuring cup, whisk together flour, milk, and nutritional yeast.

Once the celery and onion mixture has cooked, add the remaining clam juice, milk mixture, and potatoes to the pot. Bring to a low boil. Reduce heat and cover pot. Cook 15 minutes.

Taste and adjust seasonings.

Add mushrooms to the pot.
Garlic Thyme Croutons
Combine all ingredients together in a bowl. Toss to coat bread. Toast in air fryer for 5-10 minutes or roast in oven at 400 degrees until crispy.
Craving soup? Try these other Ultratruffle favorites:
Butternut Squash Chipotle Chili with Chocolate Coffee Bourbon Stout
Roasted Poblano Pepper, Tomatillos, and Corn Chowder
Shiitake Lentil Soup with Fresh Herbs