A Bit of History
I live on a one-way street and am constantly driving past a black and white sign that is routinely ignored by most drivers. I never knew that edible pea pods contain fibers that only run in one direction; nature's built in one-way street! Uni-directional fibers lends to a pea pod that can be easily chewed. Even though fossil evidence dates peas back to almost 10,000 years ago, the sugar snap pea did not make its debut until 1979 by researchers in Idaho. Sugar snap peas, beets, and spring asparagus also happen to star in my latest Farro Mason Jar Salad recipe.
About the Recipe: Farro Jar Salad Recipe
For jarred salads and other storage, I use Le Parfait glass jars. I like the closure and rubber seal and they are wide enough to stuff a lot of veggies. Nevertheless, any large glass jar will work just fine for this salad recipe.
Crafting a jarred salad is all about layering the ingredients. First, start with your sauce or vinaigrette. For this recipe, I love my roasted beet sauce with a bit of garlic, cumin, and Aleppo pepper. You can make a large batch of this sauce and store jars in the freezer for future use. Next, add your favorite cooked grains such as farro or quinoa. Then, begin to layer your vegetables. In my Farro Jar Salad recipe I used chopped rainbow carrots, blanched asparagus, blanched sugar snap peas, radish slices, and air fried artichoke hearts. Finally, top the jar with your favorite mixed greens like arugula or spinach. When ready to eat, pour the contents of the jar into a bowl, stir, and enjoy. These make the perfect meal prep lunches for a busy work week!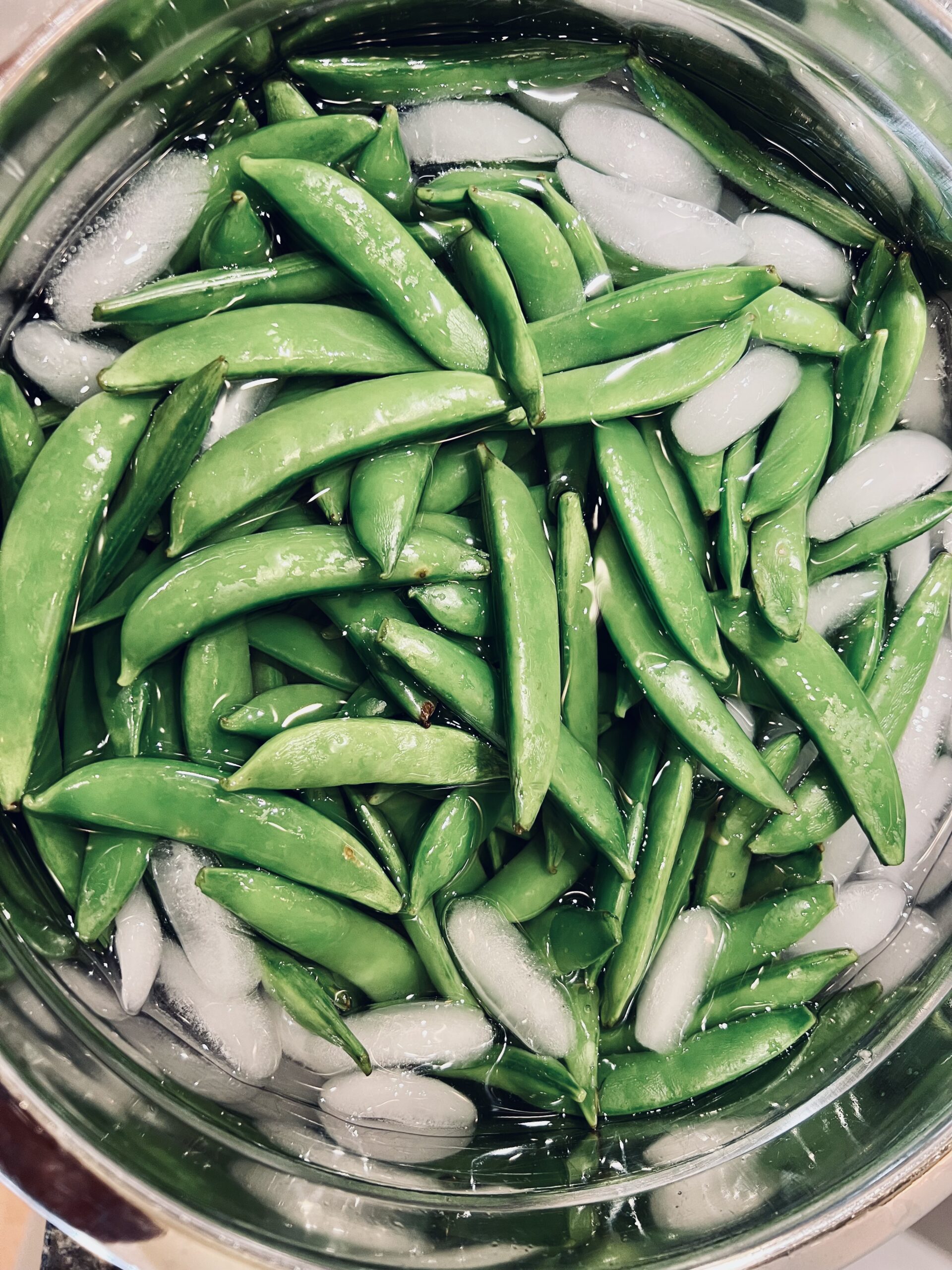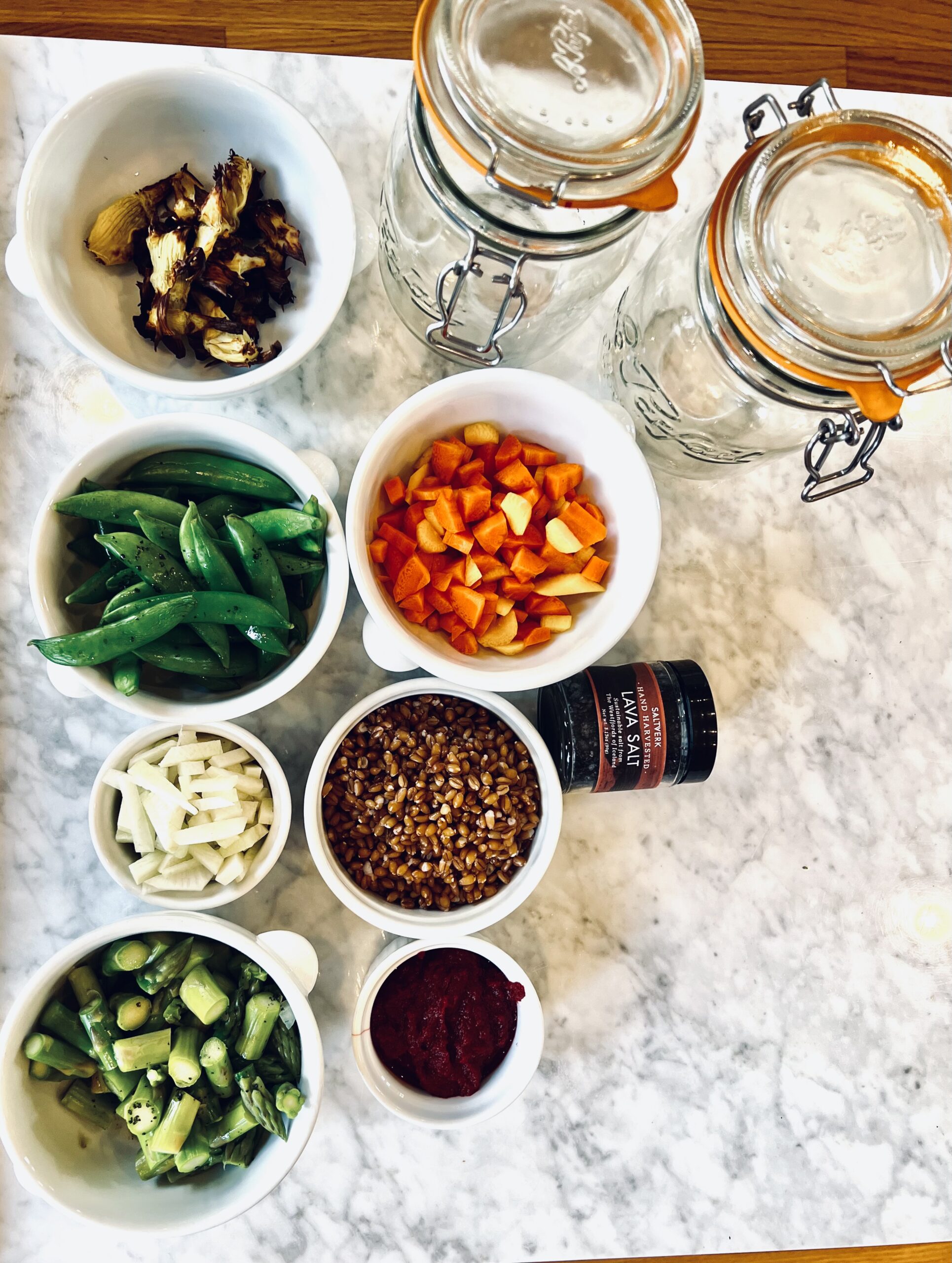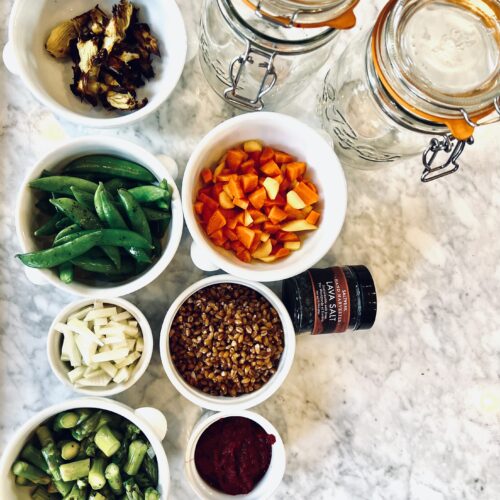 Farro Mason Jar Salad with Roasted Beet Sauce
A healthy, delicious, meal prep lunch packed with whole grains and fresh vegetables. Easy to assemble and fun to eat. Features roasted beet sauce, farro, rainbow carrots, asparagus, snap peas, radish, artichokes, and spinach.
Equipment
2 large mason jars

Blender for Beet Sauce
Ingredients
Roasted Beet Sauce
1

cup

roasted/cooked beets

1

lemon

juiced

1

clove

garlic, peeled

1

tsp

cumin

1

tsp

tahini

2

tsp

Aleppo pepper or substitute a pinch of red pepper flakes (optional)
Mason Jar Salad
1/2

cup

roasted beet sauce

1

cup

cooked farro (or substitute cooked quinoa if gluten sensitive)

1

cup

rainbow carrots, chopped

1

cup

blanched asparagus, chopped

1

cup

blanched sugar snap peas

1

cup

canned artichoke hearts

1/2

cup

radish, diced

2-3

cups

spinach

salt and pepper to taste
Instructions
Roasted Beet Sauce
Combine all ingredients in blender and process until smooth. Taste and adjust seasonings.

I store any leftovers in the freezer for future use.
Blanching Peas and Asparagus
Bring a medium saucepan of water with a pinch of salt to a boil.

Fill a large bowl with ice water and set aside.

Add peas and chopped asparagus to the boiling water for 90 seconds.

Drain and immediately transfer to ice water for 3 minutes. Drain again and set aside until ready to use for salad assembly.
Salad Assembly
Scoop 1/4 cup of beet sauce into the bottom of each mason jar.

Next add 1/2 cup of cooked farro to each jar.

Layer the vegetables: 1/2 cup each of carrots, asparagus, peas and 1/4 cup of radish into each jar.

Finally pack spinach leaves and a sprinkle of salt and pepper (optional) before sealing the jar.

Store in the refrigerator.
Looking for other easy lunch recipes? Try these other Ultratruffle favorties:
Mediterranean Ancient Grain Bowl
Rainbow Carrot Gyro Pita Wraps
Farmer's Market Fattoush Salad