A Bit of History
Gyro, a popular street food, in Greek, Turkish, and Arab cultures takes its name from the Greek word gyro meaning to circle or turn. Aptly named, traditional gyros contain meats such as beef, lamb and pork cooked on a vertical, oscillating rotisserie. Inspired by the wonderful spices and flavors of this classic dish, I crafted a plant-based version. In my recipe for Rainbow Carrot Gyro Pita Wraps, I skipped the meat and rotating rotisserie and used beautiful marinated roasted carrots instead. However, don't worry your family will certainly be circling back to the kitchen for another serving!
According to author Diane Kochilas, modern gyros made their debut in Greece circa 1922 by Armenian refugees. Many Armenian immigrants set up small shops and often sold gyros wrapped in pita bread. After World War 2, the gyro wrap began to migrate globally with various groups of Greek emigrants seeking new homes. Today, gyros are one of the most popular street foods typically served with tzatziki, onion, tomato, and fried potatoes.
About the Recipe: Rainbow Carrot Gyro Pita Wraps
Lately, I have been focusing on recipes that I can prepare in advance and use for quick meal preparation during the hectic work week. This recipe takes a little bit of time for roasting the carrots, but very little work, which makes it ideal! Simply, peel the carrots, remove the ends and toss whole carrots with a few garlic cloves in the oven. While they are roasting, mix the marinade in a large shallow container. Once the carrots have cooked, slice thinly and add to the marinating dish and refrigerate.
Meal assembly comes together in a snap. Slather your favorite pita bread with tzatziki sauce (either homemade or store bought), and top with air fried or roasted veggies. I like to air fry zucchini and asparagus, add a few slices of red onion and fresh tomatoes for the perfect wrap. Mixed greens are another great topping addition. These make an easy quick dinner accompanied by a salad and roasted potatoes or a great pack and go lunch.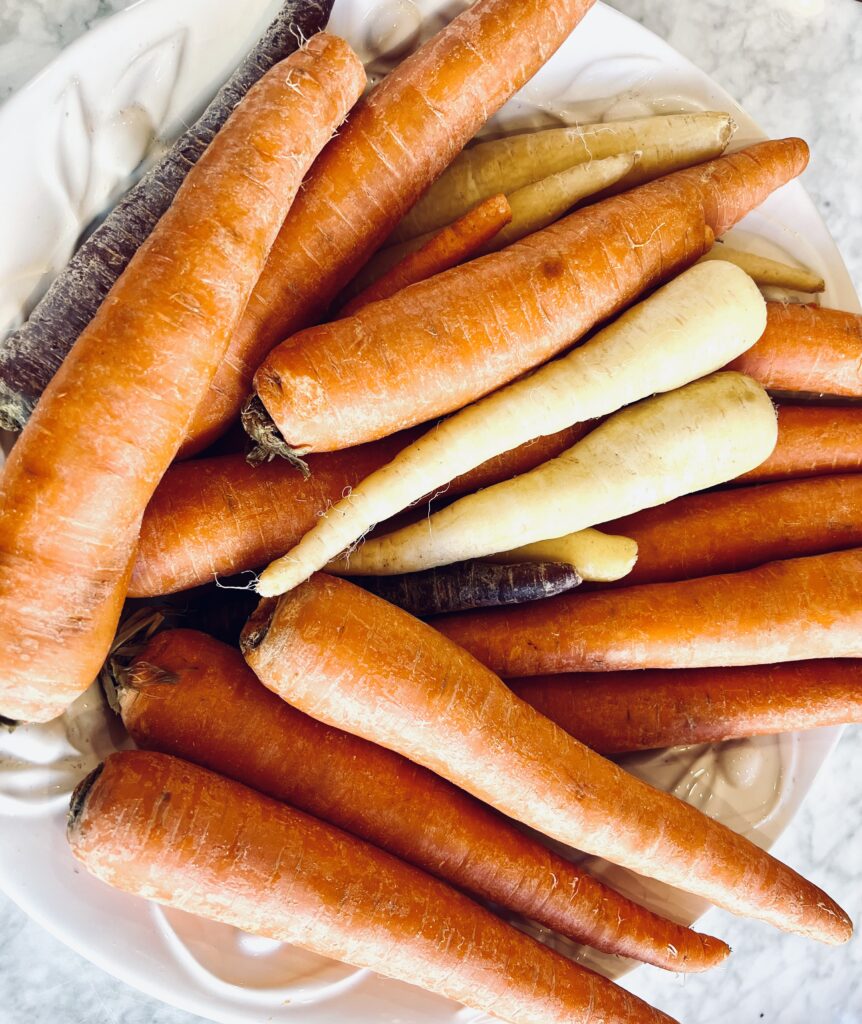 The gorgeous carrots, asparagus, and zucchini for this recipe were provided by Rainbow Packaging Corporation specializing in same day harvest and delivery!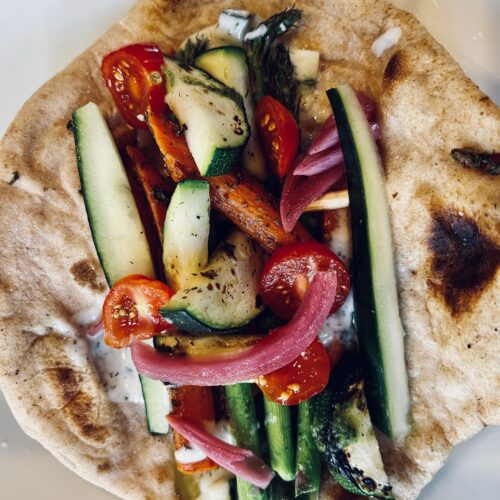 Rainbow Carrot Gyro Pita Wraps
A plant-based version inspired by the flavors of a classic gyro sandwich. Features marinated, roasted Greek spiced carrots, fresh pita bread slathered with tzatziki, and topped with roasted asparagus and zucchini. A great recipe to meal prep for quick assembly.
Ingredients
Marinated Carrots
8

large

carrots, peeled and ends removed

2

cloves

garlic, peeled

1/2

tsp

dried oregano

1/2

tsp

thyme

1/2

tsp

dill

1/2

tsp

Aleppo pepper (or substitute 1/4 tsp of red pepper flakes)

1/2

tsp

sumac (or substitute 1/2 tsp paprika)

1

lemon juiced

1/3

cup

water

2

tbsp

red wine vinegar

salt and pepper to taste
Additional Items for Assembly (all optional but really good!)
roasted asparagus*

roasted zucchini slices*

tzatziki sauce

red onion slices

fresh pita bread

fresh tomato slices
Instructions
Roasted Carrots
Heat oven to 425 degrees F

Place whole peeled (ends removed) carrots on a lined baking sheet.

Wrap peeled garlic in foil and place on baking sheet.

Roast carrots and garlic in the oven. After 20 minutes remove the garlic and set aside. Continue roasting the carrots until browned approximately another 20-25 minutes.

Once carrots are cool enough to handle, slice lengthwise into thin strips.
Marinade
In the bottom of a large shallow dish, combine oregano, thyme, dill, Aleppo pepper, sumac, lemon juice, vinegar, water, and a pinch of salt.

Remove garlic from the foil. Add garlic to the marinade. Then add carrot strips. Toss to combine. Allow to marinate for at least 4 hours before using in wraps. Taste and add any additional seasonings. Store in the refrigerator until ready to assemble sandwiches.
Assembly
Slather your pita bread with tzatziki sauce. (See link to recipe in notes).

Top pita with desired amount of marinated carrots.

Top with roasted or air fried asparagus & zucchini slices, and red onion slices before rolling the pita into a wrap.
Notes
Homemade plant-based tzatziki sauce recipe.
*I like to air fry my zucchini and asparagus before adding to the wrap.
Looking for some other great sandwich ideas? Try these Ultratruffle favorites:
Carrot Ginger White Bean Spread with Roasted Beets & Pita
Portobello Burgers & Fries with Sun dried Tomato Miso Spread