For Courtney…
About the Recipe: Rosemary Thyme Fig Jam
A few weeks ago my very kind friend who also happens to be my neighbor invited me to pick some delightful figs from her backyard tree. I was so excited as the timing was perfect! Rob was making pizza/flatbread dough and I had an idea for a new creation. Figs are naturally sweet and delectable and pair with a variety of fresh herbs. My herb garden contained magnificent rosemary that would compliment the fresh thyme in my latest CSA box. For this particular dish, I combined the figs with some honey and herbs to create a sweet and savory jam.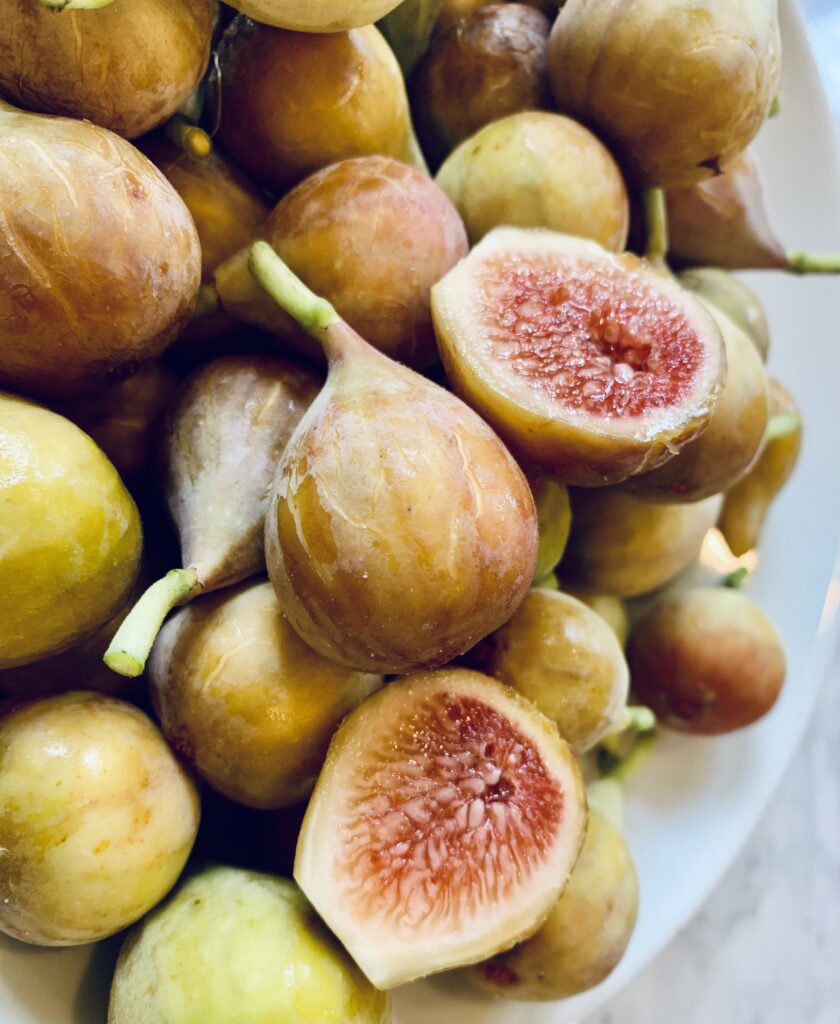 ---
Listed below is our favorite method for crafting homemade pizza dough. We love using a variety of toppings and often make several different pizza/flatbread combinations and serve them tapas style.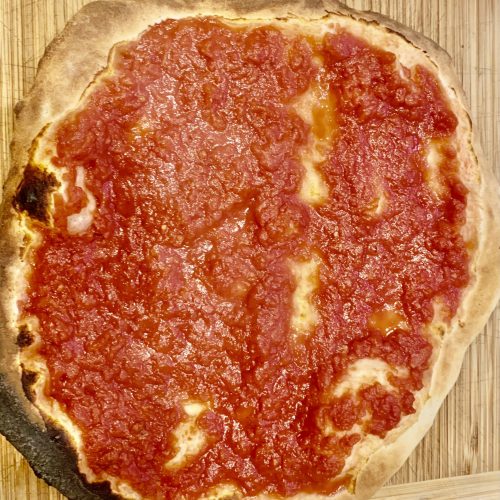 Homemade Pizza Dough
Easy Homemade Pizza Dough
Ingredients
600

grams

Caputo 00 flour

4 cups

355

grams

warm (105-115 deg F) water

1 1/2 cups

1/2

tsp

active dry yeast

1 1/2

tsp

salt
Instructions
Place 1 1/2 tsp of salt into a glass measuring cup. Tare scale to zero and weigh 355 grams of warm water. Stir and set aside for salt to dissolve. The salt adds elasticity to the dough.

Weigh 600 grams of 00 flour and place in the bottom of a stand mixer. Add the yeast to the bowl.

Once the salt has dissolved, slowly pour the water into the stand mixer while on low speed. Turn mixer off when a soft dough forms and let rest for 10 minutes in the bowl.

When rest is complete, use a dough hook to mix for 5 minutes. A ball of dough should form.

Weigh the dough and divide into three equal parts. Cover with a damp kitchen towel and allow to rest for 90 minutes.

After 90 minutes, knead the dough balls. Start at the outside of the dough ball and knead inward. Let rest another 30 minutes before rolling or tossing.

Next, place the dough on a floured surface (we use a handheld flour shaker to cover the countertop with flour), and flatten with your hand.

Once flat, shape the with your hands…there are many techniques, use the one that is easiest for you. I like to pinch the dough while holding it in the air, and work around the circumference. This allows gravity to slowly stretch the dough. Once it is big enough to fit over my closed fists, I gently stretch the dough with my fists, slowly rotating the dough. Eventually you will get a nice dough round which is thin enough to read newspaper print through. This is the goal thickness.

Next, flour your pizza peel, and place the dough on the peel. If your peel is stainless steel, you need to move quickly or the dough will stick to the peel. My personal preference is to use a wood peel for "launching the pizza", as the dough doesn't stick as much to the wood, and use a thin metal one for getting it out (but this is certainly not necessary).

Dress you pizza with toppings of choice. Make sure the dough still slides on the peel, before launching the pizza onto the pizza stone.

Check the pizza a few times during its cook time and rotate as necessary.

Slide the pizza out of the oven and cut on a wooden cutting board with a rotary pizza cutter and enjoy.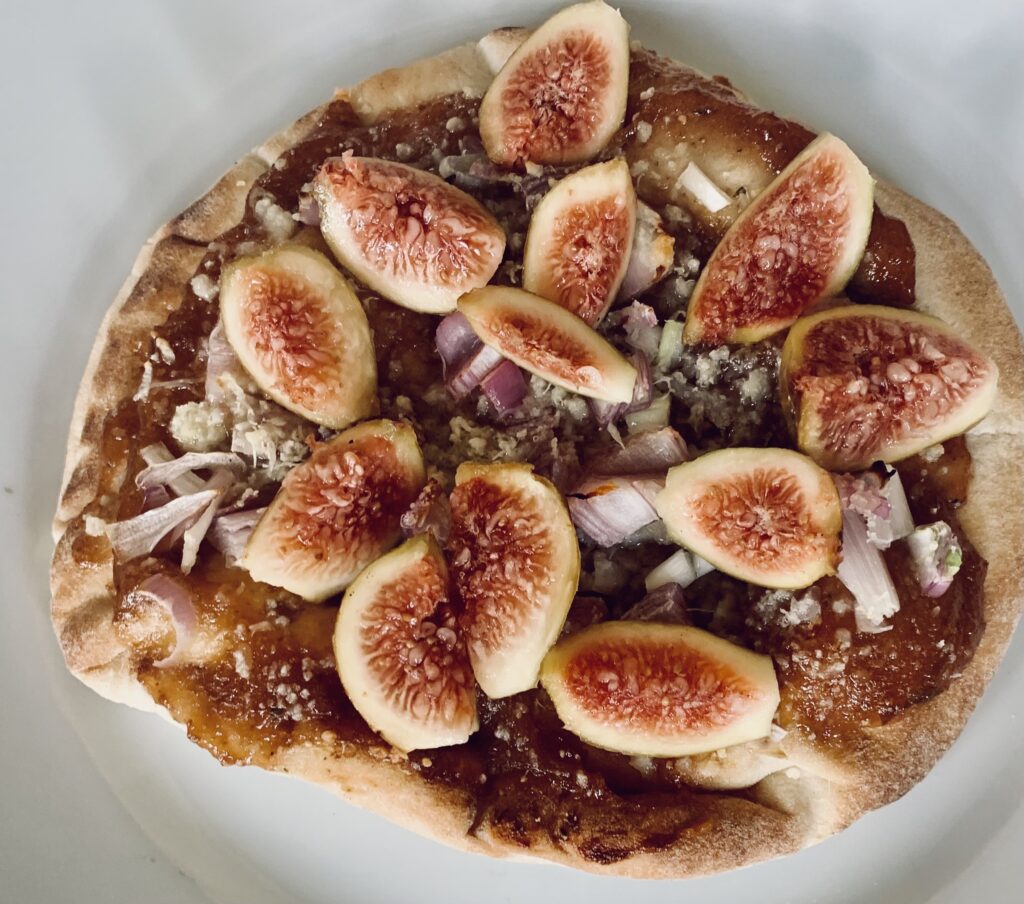 To create this pizza, spread the Rosemary Thyme Fig Jam onto the dough and sprinkle with sea salt, minced garlic, and shallots. Bake in the oven and then top with fresh figs and additional sea salt. You could also finish the pizza with some spicy arugula leaves!
---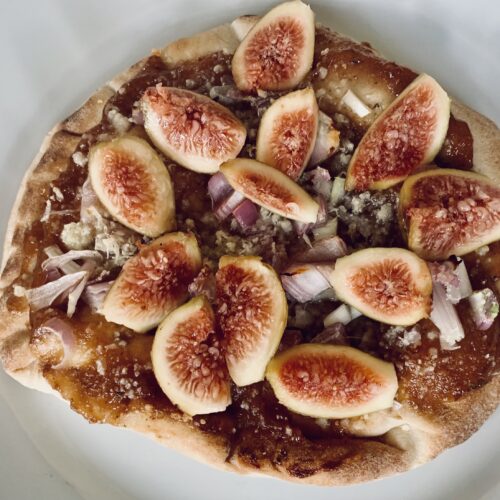 Rosemary Thyme Fig Jam Flatbread
A delightful sweet and savory combination perfect for topping a delicious homemade flatbread or pita.
Ingredients
3

cups

fresh figs

1/2

cup

honey(substitute sweetener of choice if vegan)

1

lemon juiced

2

sprigs

fresh rosemary

4

sprigs

fresh thyme
Flatbread/Pizza
6

cloves

garlic minced

1

large

shallot minced

1

pizza dough (see recipe)

1

cup

fresh figs chopped

2

cups

arugula (optional)
Instructions
Remove stems from figs and cut in half.

Combine three cups of figs, honey, lemon juice and fresh herbs in a medium saucepan and simmer until mixture is reduced (about 30 minutes).

Remove sprigs of fresh herbs.

If desired, transfer mixture to a blender and process until smooth.
Flatbread/Pizza Dough (see ultratruffle recipe)
Roll out pizza dough and top with fig jam.

Sprinkle garlic and shallots and sea salt on top.

Bake as instructed and remove from oven.

Top with fresh figs and arugula.
Looking for some other great recipes? Try these Ultratruffle favorites: