A Bit of History
Evidence abounds from many ancient societies regarding the use of poppy seeds. During the Bronze Age (around 2500 BC), Minoans concocted a milk from poppy seeds for sedative purposes. In addition, documents from ancient Egypt and Sumeria demonstrate similar uses. Today, poppy seeds appear in recipes throughout the world, with Turkey leading production efforts. They not only provide a wonderful nutty flavor to baked goods such as these Citrus Raspberry Poppy Seed muffins, but are also packed with thiamine, folate, and fat. Interestingly, it takes almost 50,000 poppy seeds to fill one tablespoon!
Since all parts of the plant could contain opioid alkaloids, keep poppy seed consumption moderate! In fact, eating poppy seeds may produce a false positive drug test. Multiple studies demonstrated a positive drug test shortly after ingesting poppy seeds, but the USADA (United States Anti-Doping Agency) states that in most cases this is unlikely. Despite this, both Seinfeld and The Discovery Channel feature episodes involving positive drug tests after eating poppy seed muffins and bagels.
About the Recipe: Citrus Raspberry Poppyseed Muffins
This recipe comes together in 27 minutes or less and tastes like you spent all day making it! Simply zest the citrus and combine the wet and dry ingredients together. Soy yogurt and oat milk keep these muffins moist and soft. I incorporate my favorite jam into the batter to provide a touch of sweetness. Cherry, raspberry, strawberry, or blueberry jam all complement citrus flavors well. In addition, I love adding semolina flour to baked goods for texture and to enhance the nutty flavor. Semolina flour is milled from durum wheat and contains significantly more protein and folate versus regular common wheat flour. This is due to the milling process, which incorporates the most nutrient dense components into the flour. Semolina flour is also used in homemade pasta and couscous recipes.
These muffins will disappear fast in your home, be sure to set some aside to pack in lunches or for a delicious after school snack. They also make a perfect grab and go breakfast on those hectic mornings!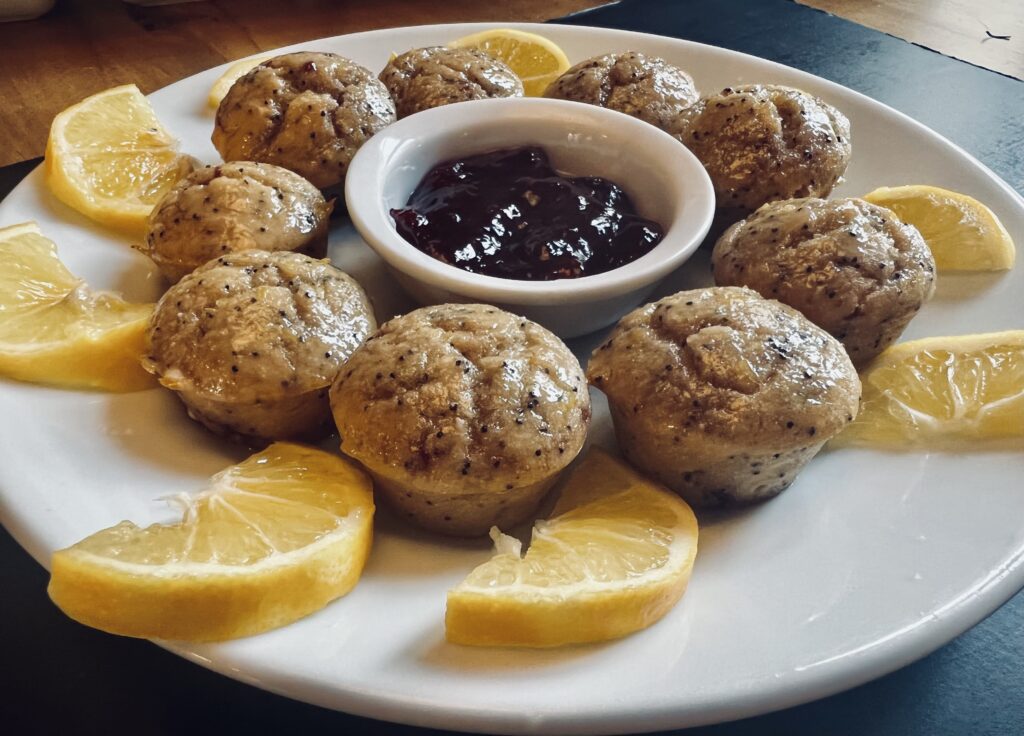 Helpful Tools & Ingredients
Bob's Red Mill Semolina Flour:
My family and I like this particular brand of semolina flour the best both for taste and texture.
Silicone mini muffin pan:
I use this silicone lined mini muffin all the time! I love not using individual liners.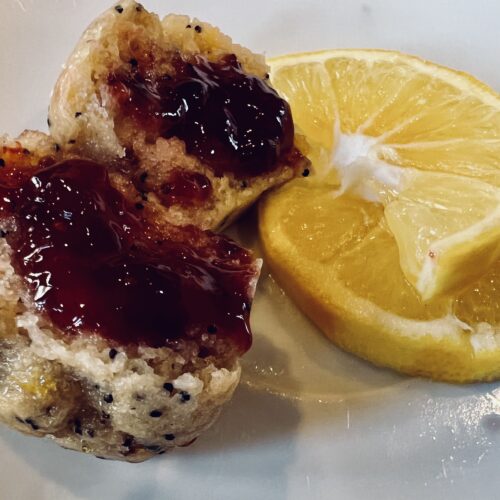 Citrus Raspberry Poppy seed Muffins
Fresh lemon and orange zest combined with soy yogurt, oat milk, semolina flour, and raspberry jam for a touch of sweetness. Perfect for a quick breakfast on the go, snack, or school lunches.
Ingredients
Dry Ingredients
1

cup

four

2/3

cup

semolina flour

1/4

cup

sugar

2

tsp

baking powder

1/2

tsp

baking soda

1/2

tsp

salt

1

tbsp

poppyseeds
Wet Ingredients
1

tbsp

olive oil

1

5.3 oz container

vanilla soy yogurt

1/2

cup

raspberry jam (cherry, blueberry, strawberry, or blackberry also work well)

2

Meyer lemons zested and juiced

1

Orange zested and juiced

1/3

cup

orange juice

1/4

cup

oat milk
Optional Glaze
4

tbsp

powdered sugar

1

tbsp

oat milk
Instructions
Combine dry ingredients in one bowl and whisk gently to combine.

Combine wet ingredients in a separate bowl and whisk gently to combine until the jam is incorporated.

Pour the wet ingredients into the dry ingredient bowl and whisk gently to combine.

Spray silicone lined mini muffin pan with oil.

Spoon batter into a silicone mini muffin plan.

Bake at 350 degrees F for 20-22 minutes. Remove from oven and allow to cool.
Optional Glaze
Whisk together powdered sugar and oat milk.

Using a pastry brush, lightly coat each cooled muffin top with glaze and allow to dry.

Serve with additional jam if desired.
Notes
*Any type of jam without large chunks of fruit will work. Raspberry, Cherry, Blueberry, Blackberry and Strawberry varieties complement the citrus flavor.
Looking for more quick breakfast recipes? Try these Ultratruffle favorties:
Wheat Berry Breakfast Bowl with Roasted Grapes