---
A Bit of History:
Chances are you have eaten Gorp and Scroggin even if you don't recognize the names as trail mix. In New Zealand trail mix is called Scroggin. Gorp is an acronym (good old peanuts and raisins or granola, oats, raisin, and peanuts) often used by hikers in North America. It is also a verb meaning to eat greedily (see article here). I am definitely guilty of gorping trail mix, especially if it is my Trail Mix Breakfast Cups with a few chocolate chips!
Native Americans consumed a type of trail mix that contains dried buffalo meat. I know my kids would not approve that addition to their breakfast cup. Horace Kephart, credited with a modern version of trail mix, included it in his 1910 camping guide. On the contrary, California surfers in 1968, also stake claim to the delicious sweet, savory combination. Trail mix is so popular today; it even has its own national holiday on August 31st.
About the Recipe: Trail Mix Breakfast Cups
Trail mix is a great snack for hiking or endurance running. The carbohydrates from dried fruit give you a quick energy boost and the healthy fats from the nuts keep you full.
Lately, my girls have been on a trail mix frenzy. They love creating new mixtures of nuts, dried fruit, and of course chocolate chips! I have a feeling a lot of extra chocolate chips are being sampled during this process. I started to wonder if I could turn this into a healthier option for breakfast by incorporating whole grains. Trail mix for breakfast turned out to be a beautiful, easy, quick, breakfast that children and safely prepare.
Essential Components of Gorp and Scroggin
Whole Grains: uncooked oats, cooked farro or wheat berries.
Nuts or nut butter: peanuts, almonds, walnuts, pecans, pistachios, cashews, or hazelnuts.
Dried fruits: strawberries, raisins, blueberries, cherries, dates, figs, or cranberries
Chocolate: chocolate chips or cocoa powder.
Milk: any non-dairy milk of choice.
Optional: granola and additional sweetener if using cocoa powder.
One of our favorite combinations is listed below. The possibilities are endless; get creative and use what speaks to you!
---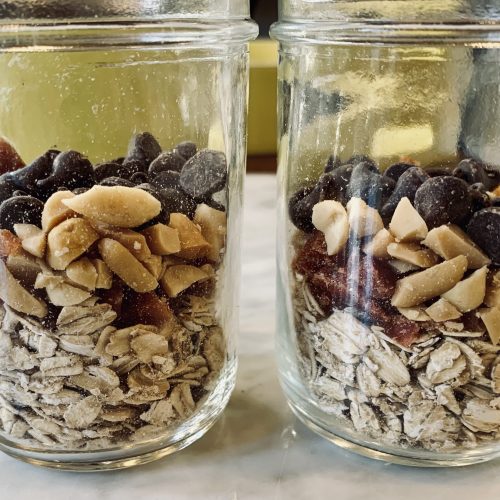 Gorp and Scroggin: Trail Mix Oatmeal Breakfast Cups
A quick, plant-based kid-approved breakfast featuring whole grains, nuts, dried fruits, and chocolate. Easy to prepare in advance.
Ingredients
1/3

cup

old-fashioned oats

1

tbsp

chocolate chips

2

tbsp

peanuts chopped

2

tbsp

dried strawberries chopped

1/2

cup

unsweetened almond milk
Instructions
Measure oats, chocolate chips, peanuts, and dried strawberries into a glass jar.

When ready to cook, pour contents of glass jar into a microwave safe bowl.

Add almond milk and microwave for 1 minute 30 seconds. Stir and enjoy!
Looking for some other easy breakfast recipes? Try these Ultratruffle favorites:
Citrus Raspberry Poppyseed Muffins
Cherry "Almond Joy" Baked Oat Cups