A Bit of History:
People have been using turmeric for over 4,000 years, most likely originating in the Vedic culture of India. Throughout its long use, Turmeric played an important role in cooking, religious ceremonies, and Ayurvedic medicine. Historians discovered traces of garlic, ginger, and turmeric in ancient Indian cooking pots from 2500 BCE. Over time, turmeric slowly traveled to China, Asia, Africa, and Europe especially along the silk road trading routes. Today, cuisine throughout the world incorporates turmeric, especially in curried dishes, as a coloring agent, in medicine and supplements, and in my recipe for Golden Milk Overnight Oats. (This fascinating chart lists over 50 different names for turmeric.)
Most of us are familiar with turmeric and its golden hue. Turmeric produces a phytochemical called curcumin, which provides the signature yellow color. Many of us have probably stained our hands for a few hours handling the fresh root. (I still have kitchen towels stained yellow from wiping up spilled turmeric powder on the counter!) Besides its signature color, turmeric boasts some potentially amazing healthy benefits. One example is Curcumin, a chemical components in turmeric, that has anti-inflammatory properties. In addition, turmeric is part of ongoing research in the treatment and prevention of cancer and a host of diseases from IBS (irritable bowel syndrome), ulcerative colitis, and lupus (see website).
About the Recipe: Golden Milk Overnight Oats
My latest CSA box from Spade and Clover gardens contained some beautiful fresh ginger and turmeric roots. Therefore, I had plenty to use in some curried dishes and also to make a wonderfully spiced and fragrant golden milk. Golden milk makes a fabulous addition to oatmeal, pancakes, lattes, and baking. Today, I decided to make some golden milk overnight oat cups to speed up those weekday breakfasts!
---
Ingredients for Golden Milk
---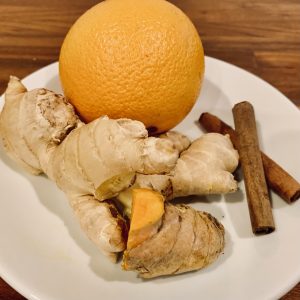 Golden Milk
A delicious spiced almond milk with cinnamon, cloves, ginger, turmeric, and zested orange. Perfect by itself or use in coffee, oatmeal, smoothies, and baking.
Ingredients
2

cups

unsweetened almond milk

1/3

cup

water

1

tbsp

cinnamon or 2 cinnamon sticks

1/4

tsp

ground cloves

1/2

inch

peeled ginger root roughly chopped

1

inch

peeled turmeric root roughly chopped

1

orange

zested and juiced

1

tbsp

honey, maple syrup, or date syrup
Instructions
Combine all ingredients together in a small saucepan.

Simmer gently for 20 minutes. Taste and add more sweetener of choice if desired.

Strain milk and store in refrigerator until ready to use.
Golden milk can be prepared in advance and stored in the refrigerator for multiple uses.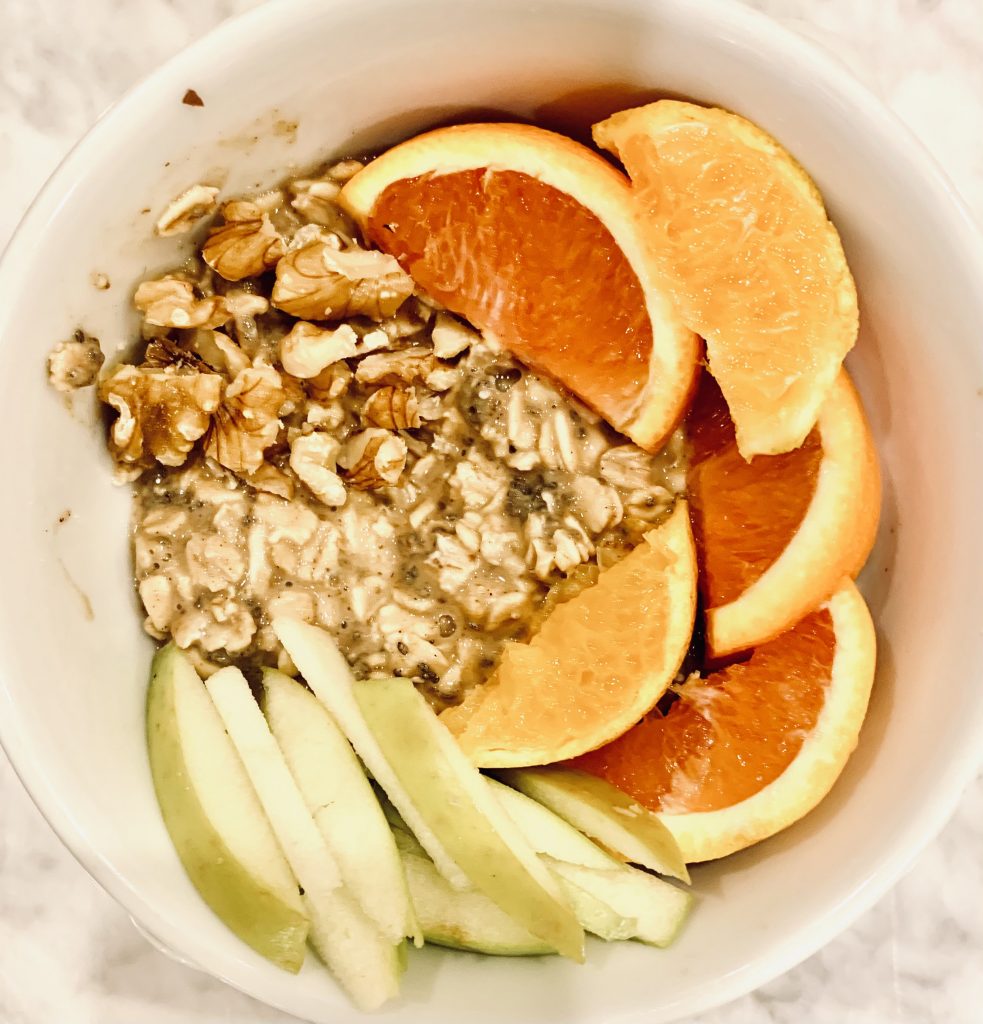 Overnight Oats with Golden Milk
An easy, prepare in advance, overnight oat cup with golden milk, maple toasted walnuts, oranges, apples, and chia seeds.
Ingredients
1/2

cup

oats (I use old-fashioned)

1 1/2

tsp

chia seeds

1

tbsp

maple toasted walnuts*

2

tbsp

apple butter or maple syrup

2/3

cup

golden milk*
Maple Toasted Walnuts
1

cup

raw walnuts

1-2

tbsp

maple syrup
Instructions
Maple toasted walnuts
Heat oven to 350 degrees F.

Toss 1 cup of walnuts with 1-2 tbsp of maple syrup.

Toast in oven for 5-7 minutes until golden brown. Remove from oven and let cool.

Store in an airtight container until ready to use.
Overnight Oats
Combine oats, chia seeds, maple toasted walnuts, apple butter or maple syrup, and golden milk in a container. Stir.

When ready to serve top with fruit of choice, additional nuts, and maple syrup if desired. Fresh oranges and crisp apple slices pair nicely with the ginger, cinnamon, and turmeric flavor profile in the golden milk.
Notes
*substitute with your favorite nut 
*see recipe for golden milk
Looking for some other great breakfast ideas? Try these Ultratruffle favorites:
Baked Cranberry-Pumpkin Oatmeal
Blackberry Rosemary Jam with Belgium Waffles