A Bit of History:
---
There is something about the smell of freshly baked chocolate chip cookies that is so comforting. Whenever I would drive home from college, my mom would always have a batch waiting. It was a good thing she waited until I was almost home to bake them. With my dad and brother around, they didn't last more than an hour or two.  These One-Bowl Vegan Chocolate Chip Cookie Bars won't last long in your home either!
Historically, quite the opposite is true. Cookies have been in existence since the 7th century AD! (I guess the grapes still win for oldest food origin on my blog thus far). The delectable little wonders first appeared in Persia as the cultivation of sugar developed. Cookies made their way to Europe during the Muslim conquest of modern Spain and by the 1300s were common throughout Europe!
About the Recipe: One-Bowl Vegan Chocolate Chip Cookie Bars
My whole family loves cookies, but often times I find the pantry lacking enough chocolate chips to make a batch. This recipe is perfect for such occasions. You can mix the batter in one bowl and add whatever mix-ins you have on hand. We use 3 1/2 to 4 cups of mix-ins. It is fun to let the kids get creative and see what they choose to add.
This is the version we made this past weekend, as my husband requested salty pretzels as one of the mix-ins. I love making these bars with tahini or sesame butter. The wonderful flavor of toasted sesame seeds really elevates the taste.
---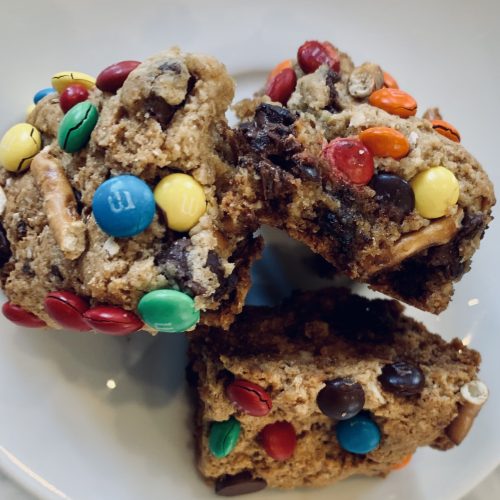 Limitless Chocolate Chip Cookie Bars
A one bowl, 5 minute preparation, for a fun, kid-friendly dessert with limitless possibilities.
Ingredients
1 1/2

cups

flour

1 1/2

cups

rolled oats (depending on texture preferences either leave whole or blend into flour)

3/4

tsp

salt

1 1/2

tsp

baking soda

1/2

cup

brown sugar

1/3

cup

sugar

2

tbsp

tahini

1/3

cup

almond butter or nut butter of choice

1/3

cup

unsweetened non-dairy milk (you may need an additional tablespoon at the end)

1

cup

chocolate chips (use non-dairy if vegan)

1/2

cup

chocolate candies (such as M&Ms or non-dairy candies of choice)

1/2

cup

crushed pretzels, other mix in, or additional chocolate candies
Instructions
Mix all ingredients together in a bowl except for chocolate candies. I always start with 1/3 cup of non-dairy milk and add an extra 1-2 tbsp if needed.

Place batter in an oiled baking pan.

Press chocolate candies evenly across the top of the batter.

Bake at 350 degrees F for approximately 30 minutes until cake tester comes out clean and tops are golden brown. Since ovens vary, I like to start checking the bars at 20 minutes. Let cool completely before cutting. We like to store any leftovers in the freezer.
Notes
Note: have fun with the mix in options. You need about 4 cups total. Other mix in options are dried fruit, puffed rice cereal, coconut flakes, or nuts.
Looking for other great cookie recipes? Try these Ultratruffle favorites:
One Bowl Chocolate Chip Biscotti Cookies
Apple Pie Biscotti with Ginger Orange Glaze
Healthier Chocolate Caramel Brownies with Zucchini, Dates, and Banana