A Bit of History
The date palm tree, Palma dactylifera, takes its name from the Greek word daktylos. Daktylos translates to finger and describes the shape of the cultivated date palm fruit. Historians postulate that date cultivation began in approximately 4000 BCE. Not to be outdone, scientists discovered date palm fossil records from over 50 million years ago.
As testimony to their long history, perserverance and dates go hand in hand. Harvesting dates, an endurance feat lasting 7-10 years, makes an ultramarathon look like a walk in the park! Under normal circumstances, wind pollinates date trees. However, in order to yield a commercial crop farmers must hand pollinate date palms. Once the fruit on the trees reaches its peak, farmers cover it for protection. Unfortunately, dates do not ripen at the same time. Therefore, farmers must cycle through this labor intensive process until all the fruit from each tree is harvested.
About the Recipe: Healthy Chocolate Caramel Brownies
Thankfully, you won't feel like you have to undergo an endurance sport to enjoy these delectable healthy chocolate caramel brownies. My unsuspecting children named these wonderful treats "brownies", before they knew the secret ingredients. Two speechless children stood before me, once I confessed that the brownies contained zucchini, banana, dates and maple syrup. After two seconds, they asked for more brownies. I decided, while watching my kids lick their hands, that these are the ultimate finger food! My family gobbled these up and request a fresh batch daily! They make perfect after school or before sport snacks or an amazing after dinner treat.
For this recipe, the caramel sauce is crafted from plump Medjool dates, which contain a wonderful amount of fiber. Almond butter, tahini, and maple syrup round out the 10-minute caramel sauce providing a much healthier fat content compared to butter or oil. The brownie portion, with a cake-like texture and moistness, easily comes together in two parts. First, blend oats, oat milk, bananas, zucchini, dates, and a bit of caramel sauce. Adding the caramel sauce to the brownie portion replaces any need for butter or oil and provides sweetness. Second, combine the blended and dry ingredients together. Finally, pour the batter into a pan, top with additional caramel sauce if desired, bake and enjoy.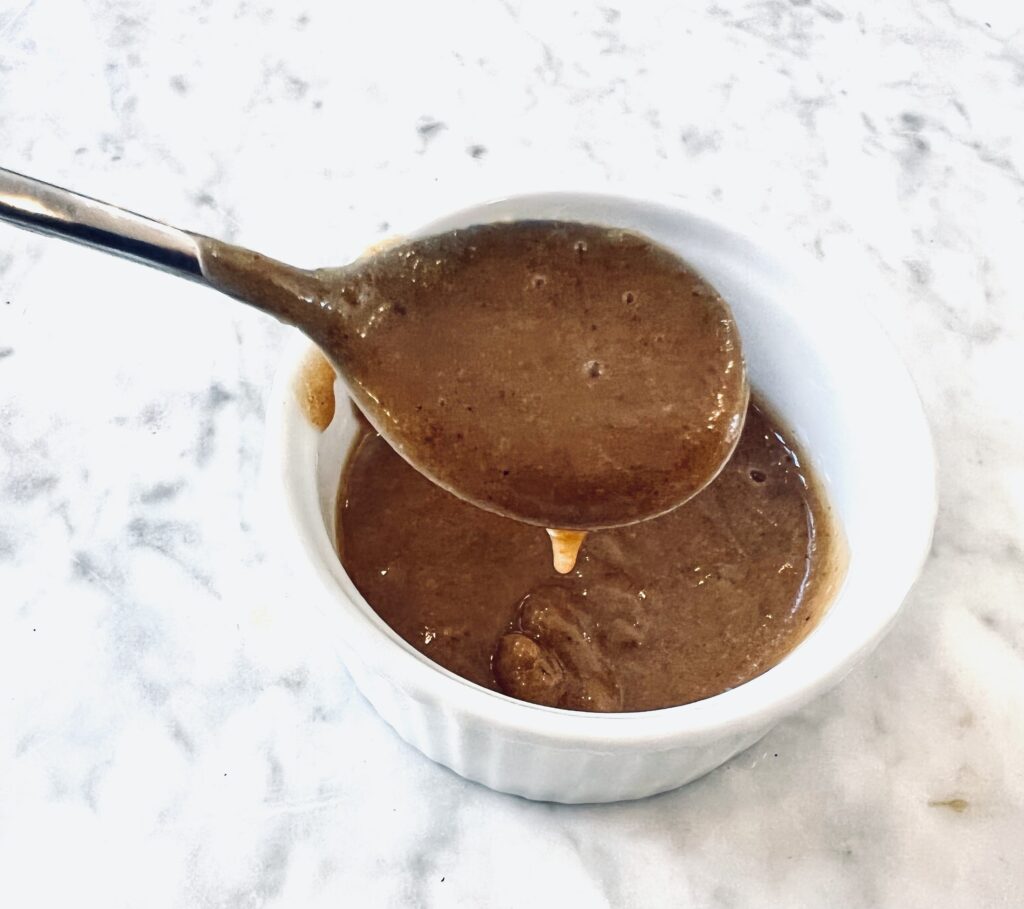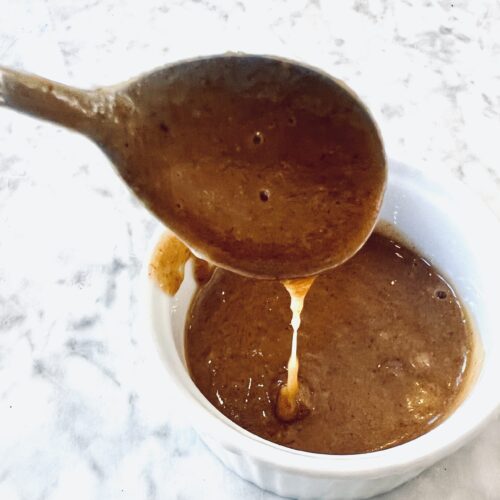 Vegan Caramel Sauce
Smooth, velvety caramel sauce without butter ready in 10 minutes! A perfect topping for ice cream, oatmeal, pancakes, and brownies.
Ingredients
2

cups

pitted Medjool dates

1/2

cup

almond butter

1/2

cup

tahini

1

cup

maple syrup

1

tsp

salt

3/4

cup

oat milk

1

tsp

vanilla (optinal)
Instructions
Combine all ingredients in a small saucepan and simmer 5 minutes over medium low heat.

Transfer to a blender and process until smooth.

Makes approximately 3 cups of caramel sauce. Store in the refrigerator.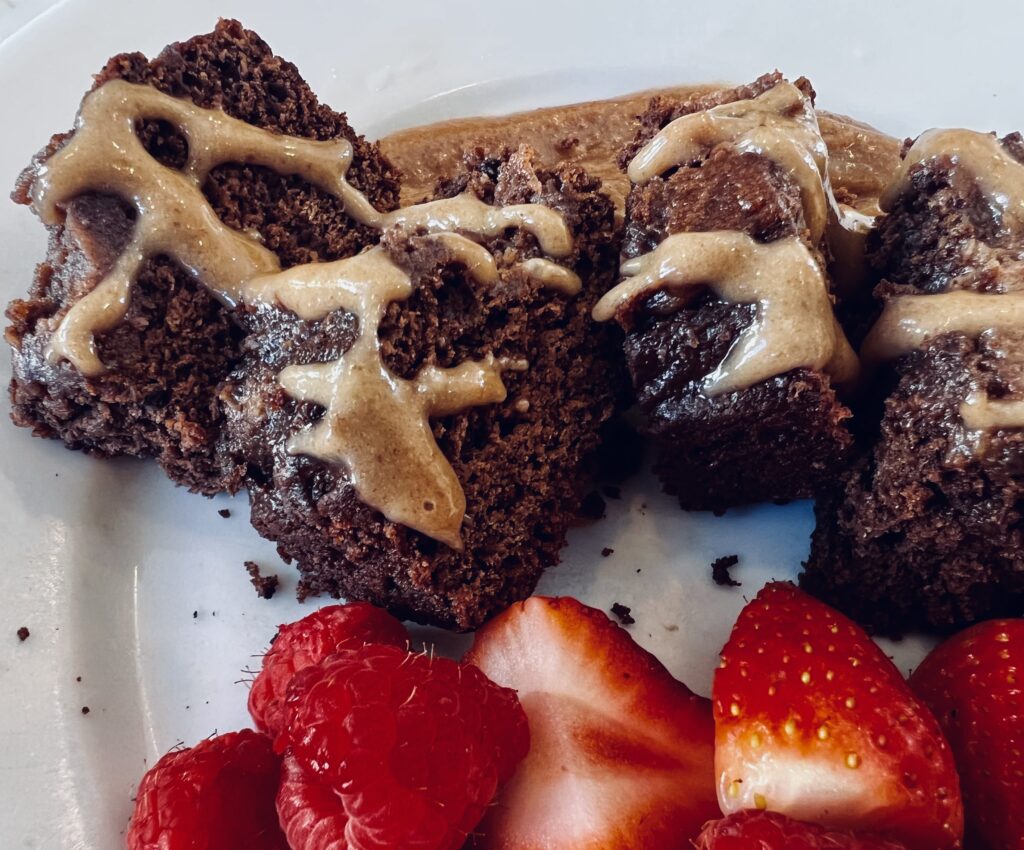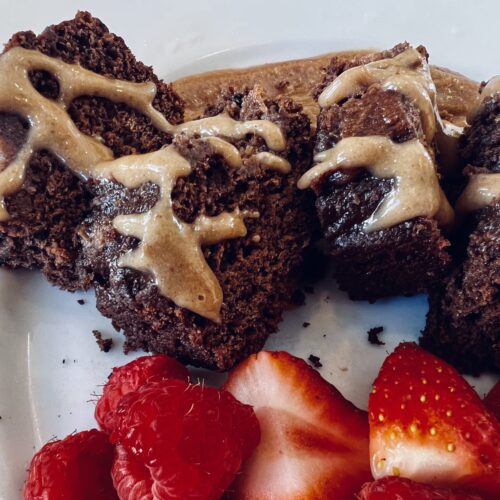 Healthy Chocolate Caramel Brownies
Easy, fast, healthy double chocolate caramel brownies. Dairy and oil free! Kid approved and absolutely delicious. Healthy enough for breakfast and decadent enough for dessert.
Ingredients
Ingredients to Blend Together
1 1/4

cups

rolled oats

1

large

banana

1/2

cup

oat milk

2

cups

sliced zucchini

1/2

cup

pitted Medjool dates

1/3

cup

vegan caramel sauce* (see notes for link to recipe)
Dry Ingredients
3/4

cup

flour

1/4

cup

brown sugar or maple syrup

1/3

cup

cocoa powder

1

tsp

baking soda

1/2

tsp

salt

1 1/4

cup

chocolate chips (use dairy free if vegan)
Topping
1/4

cup

vegan caramel sauce* (see notes for link to recipe)

2

tbsp

oat milk
Instructions
Process the ingredients to be blended in a high speed blender until smooth.

Combine the dry ingredients in a bowl.

Add the blended ingredients to the dry ingredient bowl and stir until just combined.

Coat an 8×8 or 9×9 baking pan with oil spray. Pour batter into pan.

In a small microwave safe bowl, warm 1/4 cup of vegan caramel sauce with 2 tbsp of oat milk for 30 seconds. Stir and drizzle over the top of the brownies before baking.

Bake at 350 degrees F for 35 minutes or until a cake tester comes out clean.

Allow to cool completely before cutting. Store in refrigerator.
Notes
Link to Vegan Caramel Sauce recipe
These brownies have a more cake-like consistency and not as dense as traditional brownies.
Chocolate craving? Try these other Ultratruffle favorites:
Vegan Chocolate Espresso Ganache, Chocolate Chip Biscotti Cookies, Chocolate Cherry Truffles or
Helpful Tools & Ingredients
Pitted Medjool Dates:
I love the flavor of these dates and the freshness. I also enjoy not having to remove the pits!
Cocoa Powder:
I have been using Droste for years. I have not found a better tasting cocoa powder yet.