A Bit of History
When it comes to naming vegetables, mushroom species definitely take the win for creativity and variation. Common mushroom names conjure up great visual images! In this version of vegan mushroom paella with chorizo, I chose Lion's Mane mushrooms. Due to their strange appearance, people refer to lion's mane mushrooms as hedgehog, monkey heads, bearded tooth fungus, and pom-poms.
Lion's mane mushrooms grow in the wild in late summer through the fall and are also cultivated. They have a long history in traditional Eastern medicine and today are believed to confer many health benefits. However, clinical studies for exact benefits still need to be conducted. One of the areas that I am most interested in seeing study results is for protection against dementia. In the meantime, I will happily cook and enjoy these forest delicacies.
About the Recipe: Vegan Mushroom Paella with Chorizo
Paella consists of two essential ingredients in my opinion: rice and saffron. The rest is up to the chef! Bomba rice is the best type to use as it absorbs so much liquid and flavor, three times its volume! Saffron gives paella its signature color and amazing flavor.
Inspired by some of the flavors, especially the spicy heat, found in Portuguese seafood stew, I decided to whip up a paella dish. Lion's Mane mushrooms have a meaty texture and a shrimp/lobster flavor, making them a perfect candidate to replace seafood. In order to keep the recipe vegan/vegetarian, I chose chorizo seitan (a wheat product). One of the many reasons I love paella is vegetable versatility. You can use whatever you have on hand that complements your ingredients! Feel free to use your favorites and other items that may be lurking in your vegetable drawer. The recipe below describes our latest foray with paella.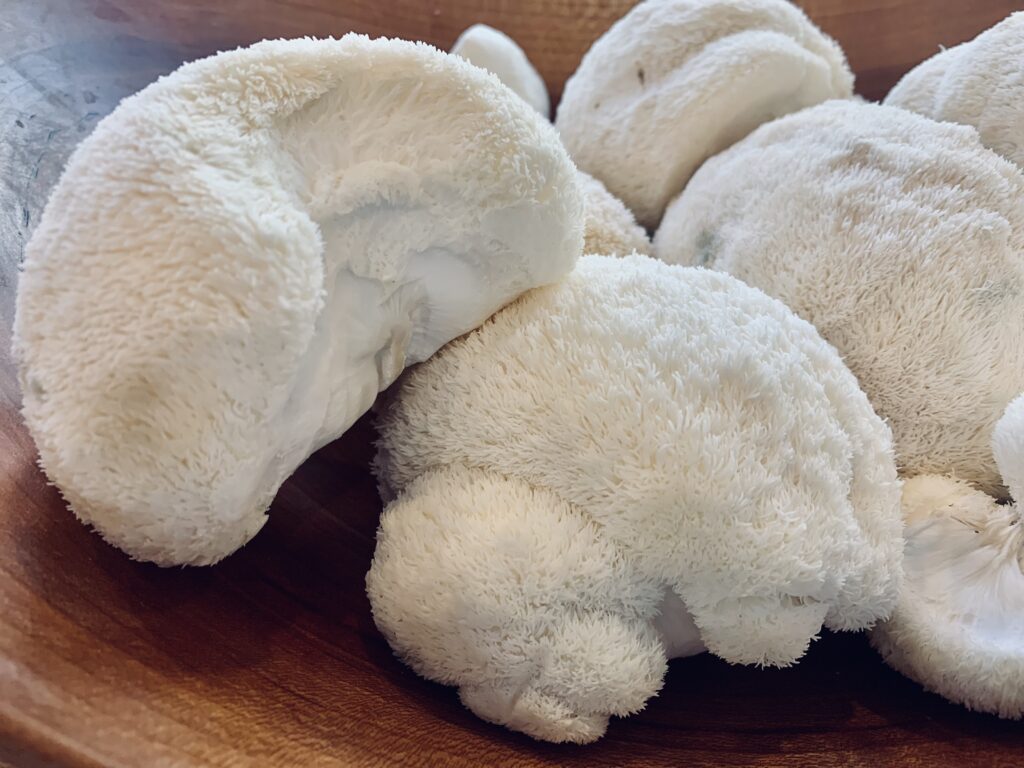 Helpful Tools/Ingredients:
This is my favorite rice to use for paella. I love the flavor and texture.
My trusty paella pan!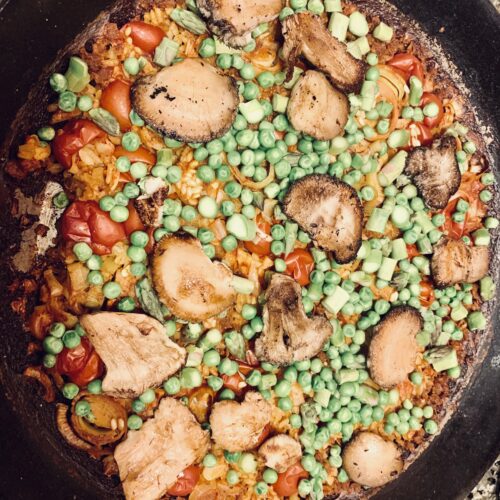 Vegan "Seafood" Paella with Lion's Mane Mushrooms & Chorizo Seitan
Satisfy your craving for seafood paella! A delightful, spicy, vegan paella featuring lion's mane mushrooms, chorizo seitan, garlic, leeks, peas, and asparagus grilled to perfection.
Ingredients
Paella
3

baby

peppers chopped

6

cloves

garlic minced

1

cup

leek chopped

1

shallot minced

4

oz

chorizo seitan, crumbled

1

15 oz

can of cherry tomatoes

3/4

cup

bomba rice

1

cup

vegetable broth

1 2/3

cups

bottled clam juice (if vegan use all vegetable broth)

2/3

cups

frozen peas, thawed

8

spears

asparagus chopped

1/2

tsp

salt

1/2

tsp

old bay seasoning

1

large

pinch of saffron

1

tsp

olive oil

pinch of red pepper flakes (optional)
Lion's Mane Mushrooms
11-12

oz

lions mane mushrooms trimmed and sliced

1-2

tsp

olive oil
Instructions
Heat grill to approximately 375-400 degrees F.

In a small saucepan, warm the broth (or broth and clam juice mixture) with the saffrom over medium heat. Keep warm but not simmering.

In the bottom of a paella pan add olive oil, peppers, garlic, leeks, shallots, chorizo, salt, old bay, and red pepper flakes if using.

Cook on grill for 3 minutes.

Add tomatoes to the paella pan and cook for an additional 3 minutes.

Next add rice and broth mixture to the paella pan. Stir once to evenly distribute rice and DO NOT stir again. Grill for 25 minutes.

Add peas and asparagus and grill for 3-5 minutes more until the rice at the bottom of the pan is crispy and browned but not scorched.

Cover paella pan with foil and remove from grill. Let rest 10 minutes before cutting.
Lion's Mane Mushrooms
While paella is resting, heat 1 tsp of olive oil in a large shallow pan over medium high heat.

Add mushrooms and cook 3 minutes per side, adding more oil if needed. Do not stir until you flip them.

Top paella with mushrooms before serving!
If you enjoy grilling vegetables try these other ultratruffle recipes; grilled scallion vinaigrette, wood fired pizzas, or brussell sprouts with farro and truffle oil.