A Bit of History:
I believe almost all of us could identify a scallion or a green onion, but did you know they are also known as spring onions, sibies, or a Welsh onion? Given these names, one might think that scallions are a native species in Wales. However, the term Welsh onion, actually stems from the German word "welsch", meaning foreign. While, scallions are native to Asia and appear in Chinese medical documents approximately 2,000 years ago; they did not make their way to Europe until the 4th century BC. Thankfully, scallions eventually traveled to North America and star in my recipe for Grilled Scallion Vinaigrette.
About the Recipe: Grilled Scallion Vinaigrette
One night, I was planning on grilling some fresh corn on the cob, bell peppers, mushrooms, and half an onion I found in the refrigerator. It was my feeble attempt at cleaning out the refrigerator at the week's end. While foraging in the depths of my vegetable crisper, I happened upon a beautiful bunch of fresh scallions from my CSA delivery. I decided to throw those on the grill and blend them into a tangy sauce to top the grilled vegetables and potatoes roasting in the oven. It turned out to be a delicious and easy experiment.
Grilled scallion vinaigrette is a great topping for grilled or roasted vegetables, mixed greens, as a burger topping, or for dipping raw vegetables and pita bread.
---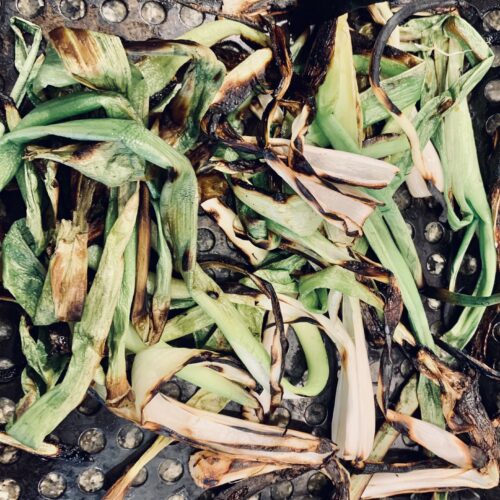 Grilled Scallion Vinaigrette
A tangy and flavorful vinaigrette that is perfect for topping grilled or roasted summer vegetables, salads, grains, and burgers. Grilled scallion vinaigrette can also be served as an appetizer for dipping raw vegetables or pita bread.
Ingredients
1

large bunch

scallions

1

tbsp

dijon mustard

1/4-1/2

tsp

cumin seed toasted

1

lemon juiced

1/4

cup

olive oil plus more if needed (substitute water if oil free)

salt and pepper to taste
Instructions
Grilled Scallions
Heat grill to 450 degrees F.

Trim ends from scallions. Slice each scallion in half lengthwise.

Place scallions in a grill basket and lightly spray with oil.

Grill for 5-7 minutes until charred but not completely blackened.
Vinaigrette
In a small pan, dry toast the cumin seeds over medium heat for 30-45 seconds until fragrant. Remove from heat.

Add grilled scallions, mustard, lemon juice, 1/4 tsp toasted cumin, 1/4 cup of olive oil to a blender. Process until smooth.

Taste and add salt, pepper, or additional cumin. If vinaigrette is too thick, add more olive oil 1 tbsp at a time until you reach desired consistency.
Serving Suggestions: serve with grilled vegetables such as bell peppers, potatoes, mushrooms, corn on cob, asparagus, cauliflower, as a salad dressing for mixed greens, or as a dipping sauce for raw cucumbers and tomatoes.
Looking for some other great vinaigrettes? Try these Ultratruffle favorites:
Orange Ginger Pomegranate Vinaigrette
Parsley Thyme Lemon Vinaigrette