A Bit of History:
I was fortunate enough to be in Washington D.C. to commemorate the 50th anniversary of the Apollo 11 moon landing. We were able to sit on the National Mall and watch a very moving video about the space program projected on the Washington Monument. At the finale of the program, the International Space Station orbited overhead. If you happened to be earth bound in 1969 chances are you remember exactly where you were. As someone who always wanted to go to space camp as a child, I always love to celebrate July 20th. In addition, it's another reason to make a fun, easy, kid-friendly dessert like a Giant Vegan Chocolate Chip Cookie. Maybe one day, my kids will actually watch the series From the Earth to the Moon with my husband and I.
About the Recipe: Giant Vegan Chocolate Chip Cookie
My whole family loves cookies, but often times I find the pantry lacking enough chocolate chips to make a batch. This recipe is perfect for such occasions. You can mix the batter in one bowl and add whatever mix-ins you have on hand. We use 3 1/2 to 4 cups of mix-ins. It is fun to let the kids get creative and see what they choose to add. For this particular giant cookie we used puffed rice cereal, mini M&Ms, and chocolate chips and chunks. My kids decided that some frosting in between the two enormous cookies would be a nice touch. Just like the mix-ins, you have a wide variety of pans that will work for this recipe; brownie pan, cake pan, or regular shaped cookies!
---
---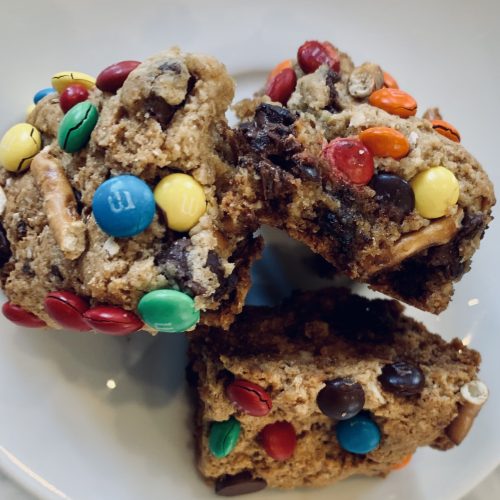 Limitless Chocolate Chip Cookie Bars
A one bowl, 5 minute preparation, for a fun, kid-friendly dessert with limitless possibilities.
Ingredients
1 1/2

cups

flour

1 1/2

cups

rolled oats (depending on texture preferences either leave whole or blend into flour)

3/4

tsp

salt

1 1/2

tsp

baking soda

1/2

cup

brown sugar

1/3

cup

sugar

2

tbsp

tahini

1/3

cup

almond butter or nut butter of choice

1/3

cup

unsweetened non-dairy milk (you may need an additional tablespoon at the end)

1

cup

chocolate chips (use non-dairy if vegan)

1/2

cup

chocolate candies (such as M&Ms or non-dairy candies of choice)

1/2

cup

crushed pretzels, other mix in, or additional chocolate candies
Instructions
Mix all ingredients together in a bowl except for chocolate candies. I always start with 1/3 cup of non-dairy milk and add an extra 1-2 tbsp if needed.

Place batter in an oiled baking pan.

Press chocolate candies evenly across the top of the batter.

Bake at 350 degrees F for approximately 30 minutes until cake tester comes out clean and tops are golden brown. Since ovens vary, I like to start checking the bars at 20 minutes. Let cool completely before cutting. We like to store any leftovers in the freezer.
Notes
Note: have fun with the mix in options. You need about 4 cups total. Other mix in options are dried fruit, puffed rice cereal, coconut flakes, or nuts.
Looking for some other kid-friendly desserts? Try these easy Ultratruffle favorites:
Healthy Chocolate Caramel Brownies
Strawberry Vanilla Ice Cream Pie with Graham Cracker Crust