Breakfast has always been my favorite meal of the day. I am always famished after my morning workouts and I am craving fruit. In my house, my kids and husband love waffles and pancakes. Everyone has their favorite toppings and we are always coming up with new, fun creations based on what fruit is currently in season. We also really enjoy berry picking and forget every time how big those buckets really are. Which means, we come home with more fresh berries than we can eat before they spoil. The kids know as soon as we get home, the pot comes out for jam making. My latest venture included fresh blackberries that Katie and I picked along with fresh rosemary from my herb garden. Blackberries are typically harvested between June and early August in the south. They are rich in antioxidants and delicious! In this particular recipe I love the hint of rosemary to balance the sweetness of the berries and honey. Paired with some easy, fresh Belgium style waffles and you will have a delicious brunch worthy breakfast!
Waffles seem to have originated in ancient Greece, where flat cakes, named obelios, were cooked between two heated metal plates. This tradition and recipe slowly made its way to Europe where iron plates with extended handles, known as oublies or wafer irons, were used to cook a flour and water batter in the 9th century. Over the next few centuries honey and other flavoring ingredients began to be added to the batter. By 1270, an oublieurs guild formed and members produced the cooking irons and some light pastries that eventually evolved into waffles. Waffles made their way to colonial America with the pilgrims. However, it wasn't until 1906, that the first electric waffle iron was manufactured and home cooks have been experimenting ever since!
The jam is also excellent on toast, ice cream, oatmeal, wheat berries, or even incorporated into smoothies. The waffle batter can also be used as pancake batter if you do not have a waffle maker.
---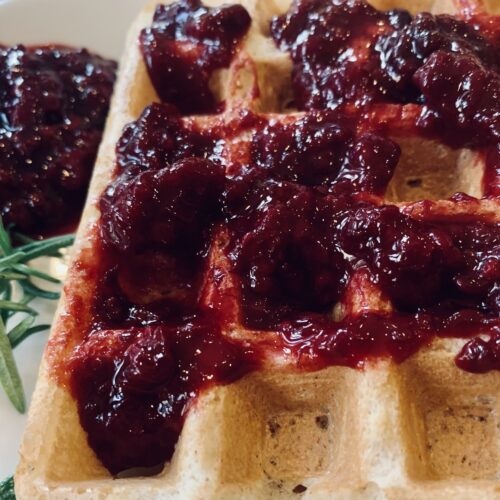 Blackberry Rosemary Jam with Belgium Waffles
A sweet, slightly savory breakfast recipe. Plant-based waffles with homemade blackberry rosemary jam.
Ingredients
Blackberry Rosemary Jam
4

cups

fresh blackberries

1

lemon juiced

3/4

cups

honey (substitute sugar if vegan)

3

sprigs

fresh rosemary
Belgium Waffles
1 1/2

cups

semolina flour

1 1/2

cups

flour (I always use Italian grade 00 flour for extra fluffy pancakes and waffles)

3

tbsp

baking powder

3/4

tsp

salt

2

tbsp

apple cider vinegar

3

cups

unsweetened almond milk

1/4

cup

maple syrup
Instructions
Blackberry Rosemary Jam
Add all ingredients to a medium saucepan. Bring to a low boil and simmer until berries break down and mixture thickens about 35 minutes. Remove rosemary sprigs.
Waffles
Add apple cider vinegar and almond milk to a large measuring cup. Let this mixture stand for 5 minutes while you measure remaining ingredients.

Add flours, baking powder, salt, maple syrup to a large mixing bowl. Add the almond milk mixture and stir gently until incorporated. Let me the mixture rest for at least 20-30 minutes before cooking in waffle maker.