A Bit of History
Historians believe that humans have been smoking foods, especially meats, since the Old Stone Age or paleolithic era. Exposing foods to smoke from burning wood, imparts exceptional flavor and serves as a cooking or preservation technique. Early humans definitely had the right idea! I absolutely love the flavor of smoked fruits and vegetables, especially my latest venture with smoked pumpkin butter.
About the Recipe: Smoked Pumpkin Butter
For this recipe, I chose to smoke butterkin squash with pecan wood pieces to embrace the flavors of autumn. Butterkin squash, developed as a hybrid species between butternut squash and pumpkin, retains the silky texture of its namesake but does not taste as sweet as pumpkin alone. In my opinion, butterkin squash functions well in both savory soups and sweet recipes such as smoked pumpkin butter. Feel free to substitute a regular pie pumpkin if you cannot find butterkin squash at your local market.
Today's recipe requires very little work for amazing results. Simply, cut the pumpkin in half and scoop out the seeds. Place prepared pumpkin pieces in a baking dish and coat with a bit of olive oil. I like to set my grill at about 250 degrees F and smoke the pumpkins for approximately 90 minutes. An ice cream scooper allows you to remove the interior of the smoked pumpkins easily. For a wonderful, sweet and smoky pumpkin butter, simply follow my recipe below. If you choose to use the smoked pumpkin for a savory recipe, simply puree after scooping out cooked interiors. Smoked pumpkin butter freezes well, so I always make a big batch!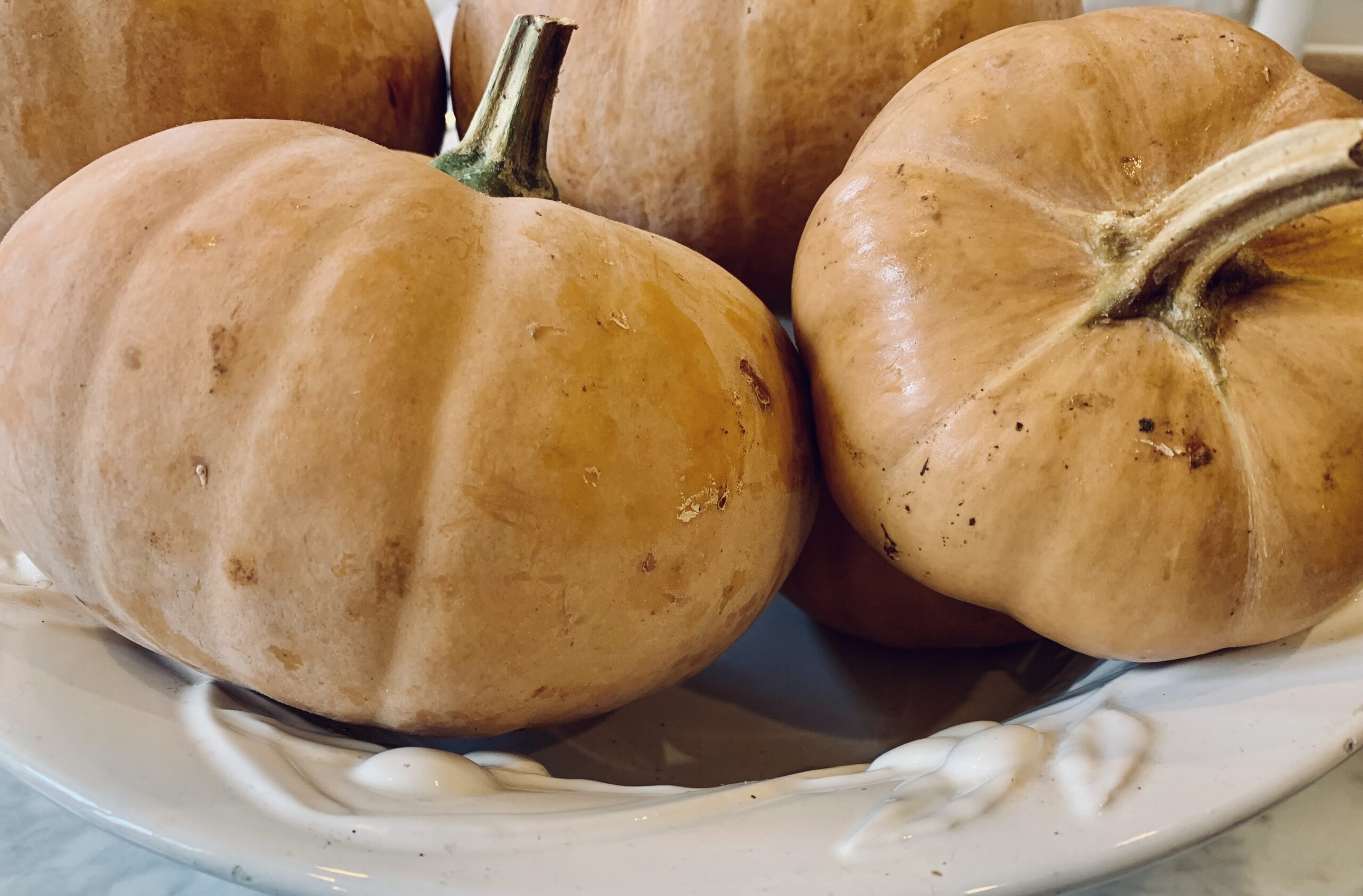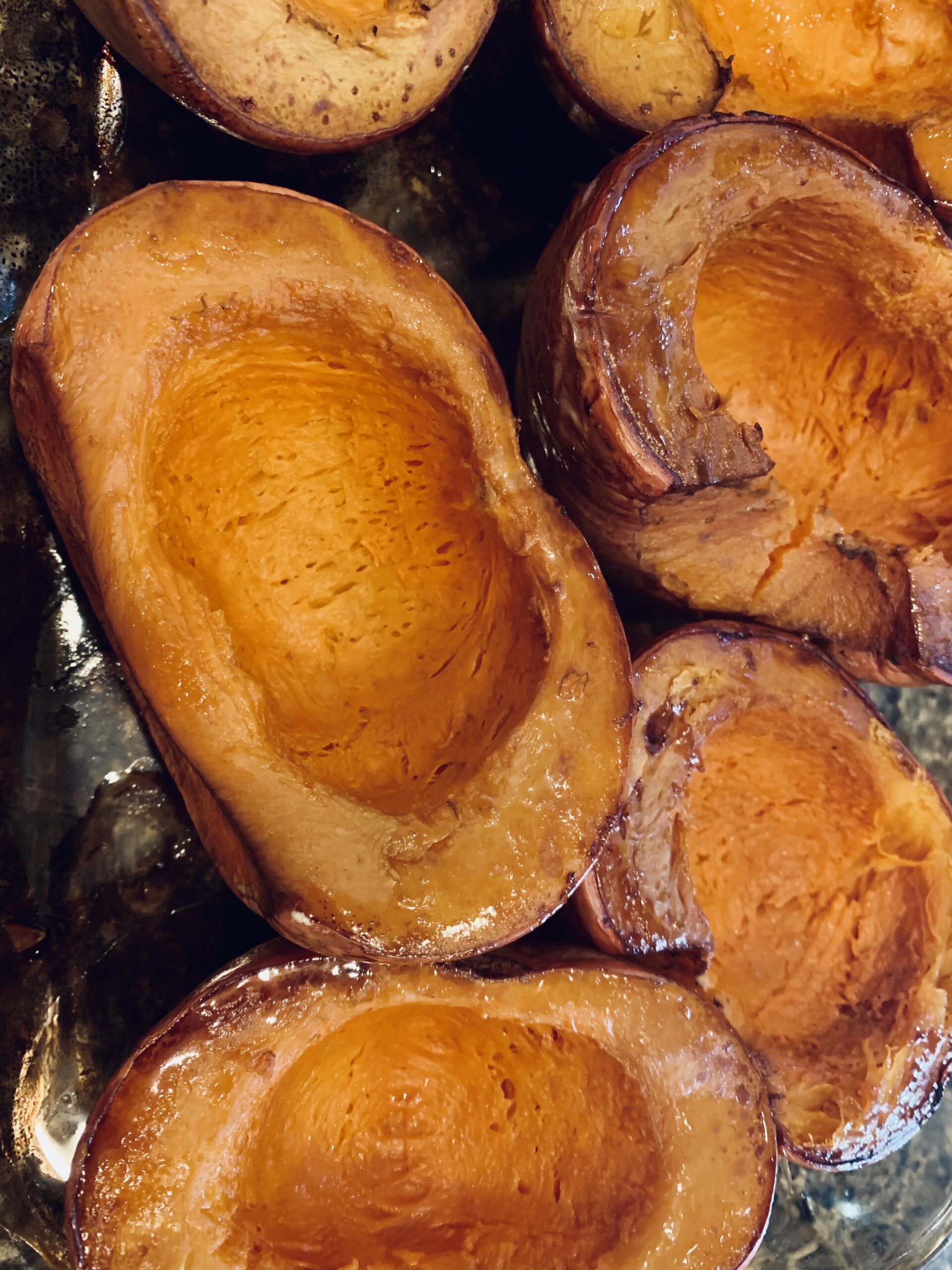 Smoked Pumpkin Butter
A smooth, smoky, irresistible pumpkin butter. Perfect for topping oatmeal, pancakes, or waffles and for making pumpkin bread and cookies. Also makes a wonderful addition to savory soups and stews.
Ingredients
2

small

pie pumpkins or butterkin squash cut in half and seeds removed

4

sprays

oil

pecan wood chips or bricks

1/3

cup

honey (substitute sweetener of choice if vegan)

1

tsp

cinnamon

1 1/4

tsp

cloves

1

cup

water
Instructions
Set up grill or smoker with pecan wood to 250-300 degrees.

Cut pumpkins in half and remove seeds. Spray interior with olive oil.

Place pumpkins in a baking dish with cut side up.

Smoke for 1 hour and then flip pumpkins halves over. Smoke an additional hour until insides very soft.

When cool enough to handle, use an ice cream scooper to remove smoked pumpkin and discard the peel.

Place 2 cups of prepared smoked pumpkin a saucepan with honey, cinnamon, cloves and water. Simmer for 5-10 minutes until incorporated.

Transfer smoked pumpkin butter to a blender and process until smooth.

Allow to cool to room temperature and store in refrigerator.
Try using just the unsweetened smoked pumpkin, in lieu of pumpkin puree or butternut squash, in these other ultratruffle favorites: curried pumpkin dal, chili, and minestrone.