A Bit of History:
Whenever I hear the word primavera, my mind immediately visualizes a bowl of pasta and Botticelli. Of course, I always think of food first! Primavera, translated from its Italian origins, means spring. In the USA, pasta primavera consists simply of a pasta dish with fresh vegetables. Personally, I love making pasta primavera with carrot-top pesto in the springtime to incorporate beautiful, green vegetables after a long winter.
For any art aficionados out there, Sandro Botticelli painted Primavera, one of the great Renaissance masterpieces circa 1480. While, art historians vary in their interpretations of the painting, most agree on a few things. One area of consensus is Botticelli's depiction of the progression of the spring season from left to right on the canvas. Due to its immense size, Botticelli had space to paint over 500 different species of spring plants. I always love this fact as I usually want to add about that many different spring vegetables to my pasta primavera with carrot-top pesto!
About the Recipe:
Pasta primavera, like Botticelli's painting, is open to many different interpretations, making it a wonderfully, versatile dish. One of my favorites way to prepare this classic spring dish, utilizes the whole carrot plant. Whenever I have some carrots with beautiful fresh tops still attached, I make a carrot, mint, pistachio pesto. This simple pesto requires just a few minutes to make in the bender and tastes amazing. Either save the carrots for another use or combine into the pasta dish!
Next, choose your favorite spring vegetables to combine with your cooked pasta. This week, I had some fresh green garlic, asparagus, leeks, roasted beets, and rainbow chard. While the pasta cooks, chop the rainbow chard and cook in a shallow pan with garlic, asparagus, and leeks. Toss the cooked pasta or zucchini noodles (or both if you can't decide!) and combine with a scoop of pesto. Finally, top the dish with roasted beets and spring vegetable medley and dinner is served in less than 20 minutes!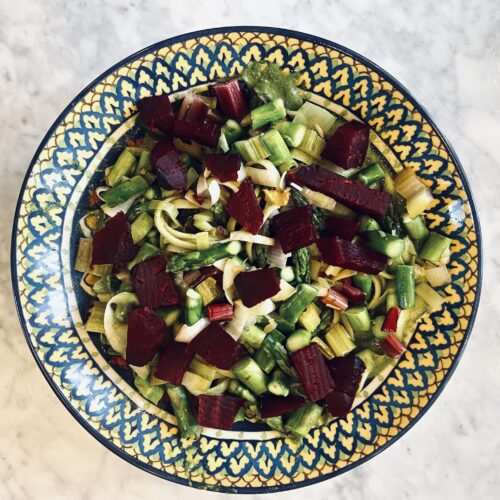 Pasta Primavera with Carrot-Top Pesto
A fresh, vibrant, and healthy explosion of spring flavors. Carrot-top pesto with pistachios and mint over a medley of pasta, zucchini, rainbow chard, beets, leeks, and asparagus. A delicious dinner in less than 20 minutes.
Ingredients
Carrot Top Pesto
1

lemon juiced and zested

4

cups

fresh carrot-top greens

1/2

cup

fresh mint leaves

2

tbsp

pistachios

2-3

cloves

garlic, peeled (or 1-2 green garlic stalks)

1/4

cup

nutritional yeast

4-6

tbsp

water, as needed to thin pesto

salt and pepper to taste
Pasta Primavera
1

package

dried pasta of choice

2-3

small

purple beets, roasted*

1

bunch

rainbow chard, chopped**

1

cup

leeks, chopped

10-12

spears

asparagus, chopped

3

cloves

garlic, minced

1

zucchini, sprialized or cut into bite sized pieces
Instructions
Carrot-Top Pesto
Combine all ingredients into a blender. Start with 3 tbsp of water. Blend until smooth.

Add additional water if needed to thin and season to personal perference with salt and pepper.
Pasta Primavera
Cook pasta according to package directions.

In a large sautee pan, cook rainbow chard, asparagus, leeks, garlic, and chopped zucchini (if using spiralized add at the end) and cook for 8 minutes.

Add spiralized zucchini and chopped roasted beets to pan after 8 minutes and cook for an additional 2 minutes to warm.
Serving
Mix each serving of pasta with 1/4 cup of pesto. Add a scoop of cooked vegetables to top and additional pesto if desired.
Notes
*Beets can be roasted the day before and stored in the refrigerator. To speed up meal preparation, you can use store bought pre-roasted beets.
**Chop the stalks into bite sized pieces. If using the greens as well, chop them and cook with the other vegetables.
Looking for some other great pasta ideas? Try these Ultratruffle favorites:
Chanterelles with Easy Tomato Sauce
Spicy Fig Sauce with Fregola Pasta and Spring Veggies